---

EMAIL INTERVIEW – Bob Snyder and Ken Sinclair
Bob Snyder is the Content Chairman for the pan-European Smart Building Conference in Amsterdam. Now in its 6th edition, the one-day conference focuses on the future inside smart buildings (from building control to conferencing to paging/evacuation systems and about 12 more product categories). The conference is co-located with the giant ISE 2017, a trade show with 65,000 attendees.

---
IoT Makes Smart Buildings Even Smarter

We don't believe a building in the age of digital disruption is truly "smart" until it enables its occupants.

Sinclair: What's new at your Smart Building Conference this year?
Snyder: Each year we pick a theme and this year it's IoT Makes Smart Buildings Even Smarter. We believe there is a lot of confusion about the Internet of Things, about what's possible now and what will be possible in the future. We're fortunate to have some super speakers: Aglaia Kong, CTO Networks at Google… Gabriel Wetzel, Vice President for IoT Projects and Smart City, Bosch Software Innovation… James McHale, CEO at Memoori Research… Claire Penny, Worldwide Solution Leader, Watson IoT at IBM… Greg Leonard, Technical Executive EMEA, Cisco Jasper IoT Cloud and more.

Sinclair: There are, of course, a number of smart building events. What distinguishes this event?
Snyder: First, we are pan-European. I think that provides a different flavor, a different perspective than events in the USA or national (like France-only) events. Second, we run twin tracks of commercial and residential. Third, we are co-located with a sister event that brings in 65,000 system integrators and technology providers into Amsterdam. Yet, the fourth distinction may be most important: while we cover building control, we are probably the leading conference for the smart tech inside buildings that enables seamless, collaborative, healthy and comfortable working experiences. That's our real strength: we don't believe a building in the age of digital disruption is truly "smart" until it enables its occupants.
Sinclair: What do you include in "smart tech inside the building?"

Snyder: Besides building management, we cover cabling, security & access control, paging and evacuation systems, digital signage, wayfinding, IP and network distribution, lighting and lighting control, conferencing and collaboration, control rooms, home automation, wireless technologies, and even projector mapping on the outside of buildings. One big advantage: the day after our conference, our delegates can attend our sister event, ISE 2017, and see most of the leaders in these fast-moving in-building tech segments. It's an integration event, and our history—the history of our audience-- is in integrating disparate technologies.
For example, we have a session about IoT and integration projects, "How the IoT Platform Creates Opportunity in Commercial, Residential and Marine" by Bernhard Huessy, the CEO of nomos system AG, a Swiss IoT platform with 21,000 delivered systems. And another session, "Connected Lighting" from Lennart Ruhl, Head of Business Segment at Osram GmbH, focuses on integrating lighting.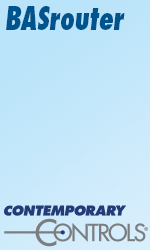 Sinclair: Why should Americans visit your conference?
Snyder: I think we appeal to executives looking for new perspectives, the European angle. We tend to do things differently. Love it or not, it's better than hearing the same old things. Also, it is a great way to research the European market—and an even better way to launch into it. We offer a great networking opportunity which brings in executives from most of Europe in one time, one place. We are all about business.
Sinclair: Thanks for the update, and anything else we need to know?
Snyder: Yes, it's good to know our delegates also get VIP seating for the opening ISE 2017 keynote (which is also the last official session of the Smart Building Conference.)

We're bringing in one of the world's pop stars of architecture, Ole Scheeren. If you Google his projects, you'll find spectacularly modern buildings like MahaNakhon (Bangkok's tallest tower) or Angkasa Raya (a landmark skyscraper in Kuala Lumpur). One look at these projects and you see he is an architect with a different vision.
Scheeren has been awarded numerous prizes including the Urban Habitat Award and the 2015 World Building of the Year (The Interlace) and the Best Tall Building Award (CCTV Tower in Beijing, the world's largest media building with more expensive technology than any other structure.) He co-designed these buildings (as partner-in-charge) with Rem Koolhaas's firm OMA. Now he has his own firm.
I can give your readers a link to an article in Der Spiegel (in English) that spells out why Scheeren is revered as a building visionary.


---


[Click Banner To Learn More]
[Home Page] [The Automator] [About] [Subscribe ] [Contact Us]