---
Smart Devices Provide the Solution?



A native wellbeing interface along with a virtual engineering mode, bringing building operators closer to a finite understanding.





Dave Lapsley,


Managing Director


Econowise Group of Companies
2019 has been somewhat hectic for me personally and also filled with a large degree of uncertain-ty, I am sure you guys on the other side of the pond have been chuckling just a little at the political climate in the UK and our seemingly un-paralleled inability to make decisions, undoubtedly affecting our economic climate and confidence.
I think irrespective of the location we have all heard of late that there is a race to the bottom for contractors and that our engineering capabilities are so poor that we have a crisis point looming.
It is my humble opinion that the reason that we are in this predicament is a lot to do with glamour or perhaps a lack of it? As a profession, we have collectively failed to inspire and mentor our young into understanding how rewarding the Building Automation industry can be; yes, we all know that driving change is a challenge but let's be honest most worthwhile things are rarely easily achieved.
As a consequence of our own failures, we have created issues with skills gaps and what many see as a proverbial monster that we now have to tame in order to assure the future of our industry.
Those that did have the foresight to see this impending mess coming and embark upon Building Automation as a career are now in great demand. The negative to this is that purely due to the lure of the buck, the bandwagon is filling up pretty quickly, inexperience, mediocrity oh and world owes me a living.
Having well and truly gone off at a tangent, I guess it is time to get to the part where I feel that I need to explain; the preceding text certainly does have a high degree of relevance but it is by no means a primary focus.
As an Industry we are, have and will continue to face challenges for some time to come, we certainly have to re-invigorate our image and attract and nurture young, agile minds to ensure that fundamental principles are preserved but it cannot simply stop there, we have to innovate in order to bridge the ever widening gap.
How can we make things easier to implement and manage, how do we provide the answers to a global shortage of skills in minimising what is currently a dramatic impact on our planet's natural resources and ecosystems? The only answer that I personally have been able to see for the last 5 years is to engineer our way out of this predicament.

We cannot simply wait for the big manufacturers to come along with an affordable system which is flexible enough to suit all situations and perhaps, more importantly, all budgets, it is not in their interest to provide an open, scalable platform at a budget and therefore we have to conclude that it is not going to happen.
Some time ago, we questioned; how could this be achieved and was it even possible? Well, thousands of hours down the line I can finally say that I think that I am a small part of a dedicated team of individuals that may just have provided a path to achieve this.
I have been fortunate enough along the way to meet and get to know certain individuals, including some young guns, that right throughout the process has continued to inspire me with their knowledge and dedication to an undertaking that has been a difficult process, that said, in my opinion, the results have been exceptional.
Whilst we had already developed Bubll, which is now becoming a very successful product in its own right, turning standard Android and IOS devices into agile networks of user centric control and information interfaces whilst also offering some very unique engineering functions.

Bubll provides not only simple and cost-effective user connectivity but also includes a native wellbeing interface along with a virtual engineering mode, bringing building operators closer to a finite understanding of both real time occupant comfort combined with plant performance and perhaps even closer to the universal goal of near perfect comfort conditions.

Although we had already achieved something pretty unique, being the ever eternal dreamer, I felt that we could take things one step further.

Taking a holistic look at requirements, for a platform to fully optimise a building it has to understand not only the occupants but also the infrastructure used to provide the required conditions, only by truly understanding both can a complete philosophy be developed and deployed, prioritising comfort whilst simultaneously promoting best practice efficiency.
A system that would be capable of understanding data from buildings and their occupants alike and creating subsequent actions based upon finite information.
Yes, the system may detect conditions that do not meet a standard set of rules applied to a particular space but to be truly intelligent there also has to be a clear understanding of occupant satisfaction combined with energy profiles, all of this data must be gathered and presented to users in a simple yet visually striking format.
Already there with the collection and understanding of occupant comfort, it seemed the next logical step was a platform that provided the same level of understanding with respect to the central services and systems, only by leveraging these distinctly different data sets and then creating outputs will we truly solve what is a relatively complex puzzle.

Our team's brief was to utilise open technology and open protocols to produce an affordable, secure, powerful, flexible yet above all affordable framework that could be implemented at scale and subsequently managed by building operators themselves.

This hypothetical platform had to both simplify deployment, integration and ongoing management as well as make all things possible in the building automation world whilst offering both cloud and site-based deployment capabilities.
Having been in the industry myself for upwards of 35 years, I have had exposure to many systems that are very capable but each has its own drawbacks; therefore, we quite simply had to start from the ground up.
The system had to be capable of being deployed to monitor single spaces as well as scaling to multiple portfolios consisting of multiple sites, even complex energy centres serving large district heating schemes. Above all else, there could be no compromise on quality, functionality, security or cost.

I think that the first question was how would we connect to the site and get the data to a specified URL. There had to be a gateway, but here was the first hurdle; it had to be inexpensive, reliable, readily available and above all secure.
The obvious and only choice for this was to utilise modern smart devices, they harness significant power whilst providing a cost effective solution, in fact, each of us now typically carry more power in our pockets than NASA had available in 1969 for the Apollo 11 moon landing, even the budget end of the smart device market is capable of streaming data rates far in excess of requirements whilst enjoying levels of availability and support that would be extremely hard to better.
As well as utilising off the shelf hardware, the system had to be simple to configure and deploy; utilising both standard BEMS open protocol languages and open APIs in order to accommodate third party system integration.
Whilst we have already touched on it above, step one of three distinct steps was to create a smart application that once downloaded to a chosen device would provide a high speed gateway allowing a secure connection to be established: It had to operate whilst observing strict security protocols and establish full data aggregation to minimise cost of use.
Rationalisation of site data was a key challenge. The system had to be super fast in order to handle critical data whilst offering the user the ability to scale less critical information by setting minimum/maximum poll rates as well as implementing COV type functionality.
Step two for us was to create a user interface to allow configuration of the gateway and smart application; it also had to enable complex site mapping yet maintain ease of use. The interface had to offer a fast method of simultaneously selecting and tagging data from BEMS installations as well as third party systems via a self-serve API engine; either set the system to use standard tagging conventions or configure it to provide bespoke nomenclature.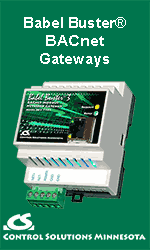 Step three was to prove the biggest challenge of all. We had to provide a means of handling and visualising the data. Site dashboards and palettes in varying formats were required that consisted of simple to understand charts and meters. The user would also be provided with a configurable query engine, allowing standard thermo dynamics and known system operational rules to be applied against selected data.

We also needed to factor in that although our collective knowledge was perhaps considerable, we should by no means consider ourselves the font of all knowledge. Users would require the ability to configure additional bespoke rules, perhaps more suited to their own facilities anomalies. If triggered, alarms would be generated, graphs plots initiated and emails sent to selected recipients. Generation of queries and sub queries had to be possible, as well as an automatic engineering mode that, once enabled, would apply system adjustments to optimise efficiency and environmental conditions seamlessly.
Add the ability to create and run cross site operational and performance reports against selected data points and sets which could be generated at the touch of a button on the server interface. Surely, we will have answered a lot of prayers?

Well, many thousands of man hours down the line and perhaps you have guessed it by now, Sentinll, the mythical system detailed above, has been successfully developed and deployed to the site.
Security was from the onset considered paramount and had to comply with industry best practice. Sentinll has been developed to run entirely behind a private network whilst communicating over HTTPS. Implementation of JSON based access tokens for authentication via an advanced API gateway ensures only authorised access is permitted.
Password strength is maintained by Sentinlls built in validation system to prevent weak passwords from being set by users; Ninety-day change policies are implemented to ensure that regular password updates are applied during which any repeat passwords will also be rejected by the system.

Sentinlls smart application utilises Advanced Encryption Services (AES) whilst the Sentinll Engineering Tool incorporates asymmetric cryptography by way of RSA 2048 encryption, promoting the highest of standards with respect to both online and offline system security.
Multi factor authentication is currently being incorporated which will guarantee that system security is taken to a level that will be considered the next generation.

The creation of each site on the system is a very simple process and requires no real specialist input. Log onto the cloud-based server and follow the journey which is presented in the form of a site wizard.

Users simply complete an intuitive on line form and once a site is successfully created, unique credentials are then provided allowing protected access to defined levels within the system.
Once created and assigned, site administrators can set roles and responsibilities as well as assigning view only access right through to full engineering & configuration functionality. Additional users can be created, each with structured access to the system via automatically generated high strength passwords.

Initial mapping of sites must be configured locally via the Sentinll Engineering desktop application to ensure that stringent security protocols are observed; Subsequent changes to system mapping and aggregation settings can be carried out remotely utilising the Sentinll Engineering server application.
Site mapping can be completed using both single or multi-object drag and drop to a pre-named container tree. Alternatively, template technology is incorporated for instances where repetitive mapping processes may be required. Bespoke templates covering hydraulic pumping systems, air plant and terminal units can be created and saved for repeat use on any connected site.
Sentinll offers a series of standard pre-configured rules and actions that can be enabled in seconds or edited as requirements dictate. Bespoke rules and actions are created utilising simple drop-down box configuration. Either standard or tailored approaches to single or multi-building monitoring, control and optimisation can be implemented from a single operator pane.
Dashboards are subsequently created by way of simple to manipulate widgets. Site information, location maps, Energy performance & Carbon Impact information, as well as charts and meters, can be added in seconds, creating what can only be described as a visual overload of information from BEMS platforms and third-party systems alike.
Site operational reports to varying recipients can be generated; Reports can be configured to incorporate any or all connected data points allowing cross site operational efficiency and cost comparisons reports to be produced for review and action.
As if all of the above did not create the team enough of a challenge, a chance introduction from the Building Whisperer himself, Mr. Nicolas Waern to Phillip Kopp of Conectric Networks prompted additional functionality to be incorporated.

An industry-first smart application provides plug and plays adoption of battery powered LoWPAN and LORA technology devices as BACnet objects, simply add a sensor and pull the battery tab and scan the system with a standard BACnet explorer.
Each unique parameter from the connected device or devices is made available to not only Bubll and Sentinll but also conventional open protocol BEMS platforms. Either integrate these devices into revised BEMS strategies or alternatively use Sentinll's rules and actions environment to create a new overarching strategy without the requirement for site BEMS modifications.
Installation and integration of additional sensors are little more than a plug and play exercise, deployment is simple and above all cost effective. The concept of increased data density along with deeper levels of understanding of operational performance is finally a realistic option and this alone could be considered a definitive answer to the current challenges that we all face.
In summary, is all of this going to allow us to save the world from what some see as impending doom? The answer to this is going to have to be a resounding no. Have we produced something a little bit different and dare I say it perhaps somewhat special by finally providing a viable feature rich yet cost effective option? Will Sentinll open the door to a world that has been firmly closed by the big manufacturers for a very long time?

The answer is to try Sentinll for yourselves. It doesn't cost the earth, but it will certainly help in what must become a unified goal in saving it.

Below FIG A & FIG B are examples of simple dashboards that have been created using fully secured Android device gateways costing under $100-00

FIG A (Sentinll Data only)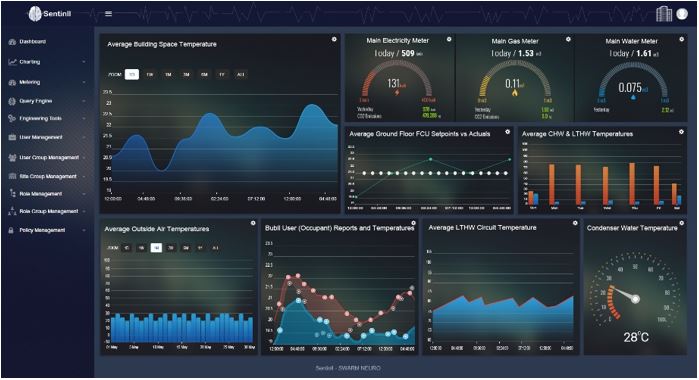 FIG B (Site information, location, alarm widget and Sentinll Data)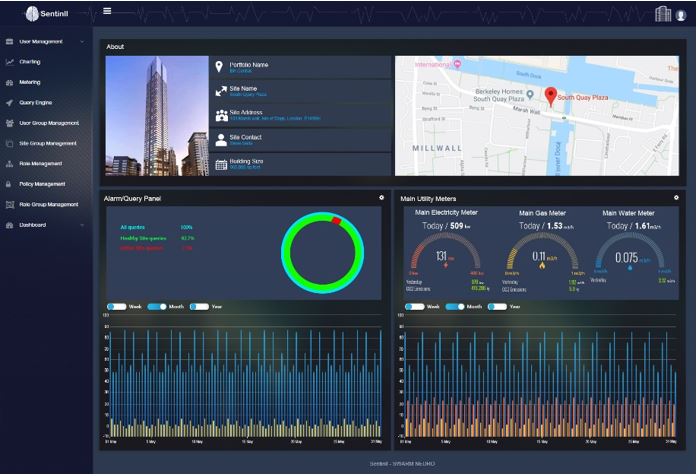 ---

[Click Banner To Learn More]
[Home Page] [The Automator] [About] [Subscribe ] [Contact Us]