---
Quebec Biotechnology Innovation Center
Laval, Quebec, Canada

Caroline Cadieux,
Marketing Manager
Distech Controls

Case Study
HVAC systems serving biotechnology facilities must provide for and maintain environments sufficiently well controlled as to provide for worker safety and health, to minimize process defects and to assure quality.
The Quebec Biotechnology Innovation Center (QBIC) occupies 27,000 sq ft. in the Laval Biotechnology Development Centre (LBDC), a 128,000 sq.ft. multi-tenant building located in the heart of City of Biotechnology and Human Health of Metropolitan Montreal. It is occupied exclusively by companies active in research and development in biotechnology. An important provincial tax program is offered to LBDC resident companies. QBIC offers eight fully furnished laboratory suites (bio-containment 2) including a type 2 reverse osmosis purified water system, natural gas, gaseous nitrogen network, central vacuum system, emergency electric circuits, sophisticated ventilation systems, security, biomedical, chemical and radioactive waste management services.











The Challenge
Since the QBIC is a new build, ACCS Control-Tech, a Distech Controls Open Systems Dealer, had to take into account progressive tenant occupation, while designing systems adapted to a 100% occupation rate.
Furthermore, HVAC systems serving biotechnology facilities must provide for and maintain environments sufficiently well controlled as to provide for worker safety and health, to minimize process defects and to assure quality. Biotechnology facilities must comply with stringent regulations and provide a controlled environment with redundant systems to assure quality.
The QBIC also required a centralized system to manage all sub-systems, including HVAC, laboratory equipment and lighting as well as the different spaces within the building, comprised of clean rooms, labs and office spaces.
The Solution
To integrate all subsystems and offer centralized management, ACCS created an open control system on LONWORKS®.
Controls had to be adapted to the specific needs of laboratories and office spaces and were created around a strategy for:
The system is comprised of 90 Distech Controls' LNS® based free programmable controllers (EC-4, EC-8, EC-12, EC-VAV-C) for laboratory and HVAC control, and LNS based Douglas Lighting Controls products, for the lighting subsystem.
The LONWORKS network was designed and commissioned using Distech Controls' Lonwatcher and the GUI and monitoring tools were created through Londisplay.
The free programmable controllers provided the flexibility to manage the different components and mechanical systems such as the labs' chemical hoods and exhaust fans and the building's fresh air handlers and pumps. They also allowed programming of specific and unique sequences of operation, such as the air volume control strategy to maintain the laboratory at negative static pressure relative to the environment.
The free programmable controllers permit easy and quick modification to the control logic for adaptive energy saving strategies and recalibrations as tenant occupancy and needs change over time.
The controllers were quickly programmed using LNS based plug-ins which can be launched directly from Lonwatcher. The Lonwatcher network management tool allowed fast and cost efficient setup, commissioning and maintenance of LONWORKS Distech Controls and Douglas Lighting products and their interaction. Lonwatcher introduces a straightforward interface for LONWORKS networks, for simple visualization and documentation of the control system's logic, again simplifying modifications to be done to the system as occupancy rates increased.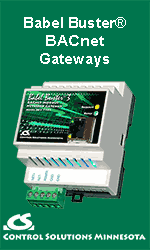 Londisplay (GUI) allowed ACCS to create a custom visual interface for the building. They easily created a comprehensive graphical environment of the facility from top-level site plans to equipment details, adding menus, animations, text boxes and navigation buttons within the graphics pages. Londisplay also gives the ability to display and interact with network data points and information, again for easy modification as occupancy grew. Alarming and data point logging were achieved through Lonwatcher. The alarming function was set to monitor high and low values for temperature and static pressure as well as abnormalities. Moreover, the client has configured customized alarming and data logging.
Benefits
The flexibility of the system allows for simple and quick modification as interior arrangements are modified and added to for each new tenant. With initial construction completed over two major phases, starting in 2002, the QBIC is now home to 9 biotechnology firms.
The centralization of all control logic and subsystems provides for high levels of reliability and flexibility of interaction between all subsystems, making the system easy to maintain and monitor. A significant benefit achieved for the QBIC is complete control over energy management and laboratory conditions. The BAS installed permitted a high precision control strategy, managing sensitive mechanical/electrical equipment while achieving high energy efficiency.
Highlights
Building:
Distech Controls Products:
easyCONTROLS LONMARK Certified Free Programmable Controllers

Lonwatcher LNS Network Management Tool

Londisplay LNS GUI

Total number of controllers: 90

Total number of points: 1200
System Integrator:
---


[Click Banner To Learn More]
[Home Page] [The Automator] [About] [Subscribe ] [Contact Us]