---
ClimateTalk





Collaborative Thinking for a Connected Home




Patrick Lancaster

Alliance Development Manager

The ClimateTalk Alliance
ClimateTalkTM ‐ the solution for communicating Equipment Today, and the Foundation for the Automated Home of Tomorrow
During the technology boom of the 1980s, several key vendors in the PC Industry formed an alliance to resolve a compatibility issue that threatened the future success of home computing. Manufacturers like HP and Compaq were struggling to keep up with the numerous vendor-specific communication protocols designed to connect keyboards, printers and other external devices to computers. Costs were going up, and it was becoming clear that the absence of a unified standard was slowing household computer adoption and may even have an effect on future industry innovation. The result of their efforts is what's known as the Universal Serial Bus (USB)‐ an open standards‐based communications protocol that nearly 30 years later is still the foundation for universal device connectivity.
The Commercial Heating Ventilation and Air Conditioning (HVAC) industry walked a similar path in the early days of the Digital Direct Control (DDC), back when large equipment manufacturers were all introducing their own proprietary communications systems. An industry standard known as BACnet provided the solution once again and helped alleviate the industry's struggling migration to digital controls.
The benefits of open standards‐based communications platforms cannot be ignored. Today, a technology known as ClimateTalk is at the forefront of becoming the de facto solution for the residential HVAC market.
ClimateTalk is an open digital communications protocol that allows every piece of energy consuming equipment in the home to communicate with every other piece of equipment, no matter who manufactures it. The technology is designed to be simple to use and low cost while providing control and diagnostic capabilities for residential applications. It is having a significant impact on the household HVAC market, especially since it is being implemented as an open system.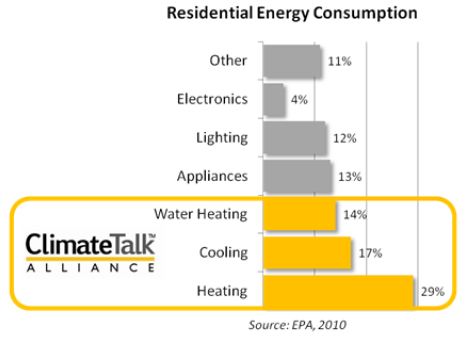 The ClimateTalk Alliance is a non‐profit organization chartered to advance the open communication standards. It consists of a collection of major HVAC, Zoning, and Water Heating manufacturers that includes the likes of Emerson, Rheem, Goodman, ecobee, Honeywell, and several other industry leaders. To put into perspective how much clout this organization has in the residential market, first consider the fact that over 60% of all home energy consumption is used by equipment designed for 3 functions‐ heating, cooling, and water heating. The combined market share of current ClimateTalk Alliance members represents over 80% of that energy use. If there is an organization out there that can solve the market's interoperability issues, this group is it.
Before ClimateTalk, proprietary communication solutions have dominated the residential HVAC equipment industry. For years these closed networks have been adding cost and complexity for distributors, contractors and homeowners; yet it is unrealistic to think that the residential HVAC industry will be able to retain multiple, incompatible communications standards. The natural difficulty in serving this industry is compounded by the fact that the end products may serve for twenty or even thirty years whereas communication technologies are evolving much faster. A consumer can only benefit from a vendor‐specific protocol when all components in their home are from the same manufacturer and of a relatively similar age. However, the only time a typical household contains a complete residential HVAC system of the same brand is when the house is initially built. When something breaks down, only the faulty product or component is replaced.
If you think about it, it's not unusual for the heating system, water heater, indoor AC, outdoor AC, etc. to all be different brands that have been installed or replaced over a span of several years. The ClimateTalk Alliance is laying the foundation that allows these devices to interact.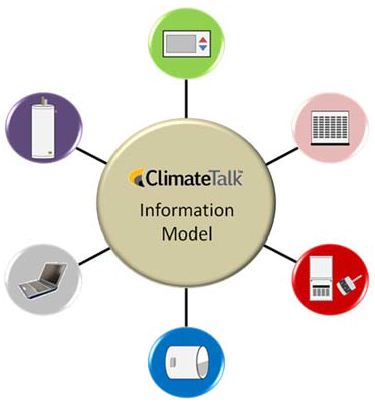 ClimateTalk is uniquely positioned to provide an interoperable solution as an open application standard. The technology simply defines the language of messages that are transmitted by energy‐consuming equipment in a way that is network agnostic. This means it can utilize any means of communication already in place whether it's RS‐485, ZigBee, Bluetooth, Wi‐Fi, etc., and makes it possible for devices made by different manufacturers to intelligently communicate with each other.
So what does this all mean? Well, for equipment manufacturers, this is the solution to the interoperability issues that have plagued the marketplace for years. It allows them to focus on developing intelligent equipment without worrying about how to interoperate with other devices in the home. Atthe same time, the ClimateTalk message sets grant each device the ability to make their own decisions.
The big objection that many vendors have with adopting an open-sourced protocol is that they don't want to have to give up the intellectual property (IP) that makes their equipment unique. With ClimateTalk, there are minimum requirements for a network object to communicate and in addition, the standard can accommodate proprietary messaging. This provides flexibility and customization within a common framework that still allows manufacturers to protect their "secret sauce." This promotes innovation in the industry and encourages customers to adopt premium efficiency products.

All that said, costs are‐ and will remain‐ a primary concern when implementing any kind of solution. Adoption, migration, and maintenance expenses must stay reasonable to achieve an ROI that makes developing networked residential equipment a sound business decision. This is where ClimateTalk really shines.
To promote and ensure industry‐wide adoption, ClimateTalk IP is openly published and Royalty-free. In addition, since it is a data‐centric model, the system intelligence resides in the routing of the information; not in a computer. This eliminates the need for an independent hardware device or a robust internal processor which significantly reduces the per‐unit cost. And since every enabled component‐ old and new, can communicate on the network; no system becomes obsolete, and consumers are more willing to adopt premium efficiency equipment.
And it's not just the equipment manufacturers that win.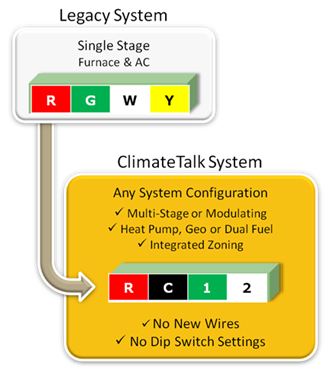 Contractors and technicians benefit as well. The Auto‐configuration feature simplifies installations, which minimizes contractor training and reduces costly call backs. This allows veteran and amateur installers alike to expand their areas of expertise, and ensures they set up devices from unfamiliar manufacturers correctly, the first time. And since components are recognized on the network automatically, contractors can now establish a foundational communications architecture that enables "Plug n' Play" interoperability of energy consuming applications and devices, as well as freedom from vendor-specific, proprietary integration requirements. In other words installers do not need to be communication system experts to establish a network of ClimateTalk devices.
The Digital Diagnostics are even more impressive.
The issue with servicing most HVAC equipment is that often times there is no way to diagnose a fault in the system other than for the technician to come inspect it themselves. Even then, they may have to make multiple visits to retrieve replacement parts or tools needed to get the job done. Digital equipment may offer error messages that simplify this process, but the technician must still make a visit to retrieve the information. With ClimateTalk, technicians can access diagnostic information remotely, before dispatch, and arrive fully prepared for the task at hand. The result‐ reduced call backs, increased accuracy and billable efficiency on service calls, and stronger technician reputation. Manufacturers also benefit from fewer warranty claims, and, in the long run‐ enhanced brand value.
The demand in the market for premium, energy‐efficient HVAC systems is growing but often high end equipment isn't quoted or installed. This is typically because of the complexity associated with installing multiple proprietary systems, the additional training required to get the job done, and the potential costs of a bad installation.
Because the ClimateTalk Alliance is taking a true open‐standards approach, contractors and homeowners are able to choose from a variety of best‐in‐breed vendors to select the products that are right for them, at a price that's right‐ without worrying about how to integrate it into the network. A critical factor in achieving the lowest total cost of ownership is the overall manageability of a network implementation. Robust features like auto‐configuration, plug n'play, and digital diagnostics have a significant impact on daily operations by supporting field deployment, configuration, and in‐depth views of the health of the network.
The HVAC market already recognizes the benefits of an open standard through the adoption of NEMA DC 3‐2008 wiring schemes denoting common termination requirements and conventions for 24Vac signals for Heat, Cool and Fan functions. ClimateTalk has been designed to continue this legacy of plug and play connectivity.

The potential Energy Savings cannot be ignored either.
Eventually, the Smart Grid will be deployed across all utility networks, and cover all geographic areas of countries across the world. Commercial, industrial, and domestic buildings alike will all share detailed consumption data and provide utility companies enhanced control over the distribution of energy. ClimateTalk offers customers the ability to control and monitor energy usage on their own terms.
Because of the growing awareness of energy consumption among homeowners, when it comes time to replace failing equipment, the homeowner will demand smarter and best‐of‐breed brands that support open communications and can share information. Products that cooperate and communicate with the Smart Grid will emerge as market leaders.
The future of ClimateTalk is even brighter.
ClimateTalk has the potential to grow any business through its' innate ability to easily expand product lines and service capabilities. ClimateTalk open standards are architected with innovation in mind. Separation of application and protocol requirements enable seamless integration of new applications on the network and a mixture of industry proven physical mediums to carry on the conversation. ClimateTalk provides a unique approach to enabling expansion while preserving backward compatibility required for the life cycle of HVAC, water heating and other mechanical type systems.
HVAC systems are just the beginning; consider all of the other devices and components that consume energy in the home. Message sets can be expanded to accommodate many other control applications such as pool equipment, energy management systems, and an unlimited number of applications that can benefit from advanced controls and diagnostics capabilities. Through this technology a single thermostat or other gateway device could act as the single point of contact for controlling all residential equipment, and enable the development of an advanced user interface that has remote access capabilities. Easy adaptability, through the use of the reference sets, is one of the strengths of the ClimateTalk open standards.
The capabilities demonstrated by ClimateTalk applications today are a strong foundation to support increasing demand for communications and connectivity in the home‐ whether it is for participation in the Smart Grid or for improved performance enabled by automation. However, the real end‐game with any industry standard is demonstrated multiple vendor interoperability. As of today, over a million ClimateTalk‐enabled devices have been sold, but it won't be until many different manufacturers and service providers start investing in innovation capable of using this standards‐based protocol that the market can truly begin to reap the benefits of a connected home.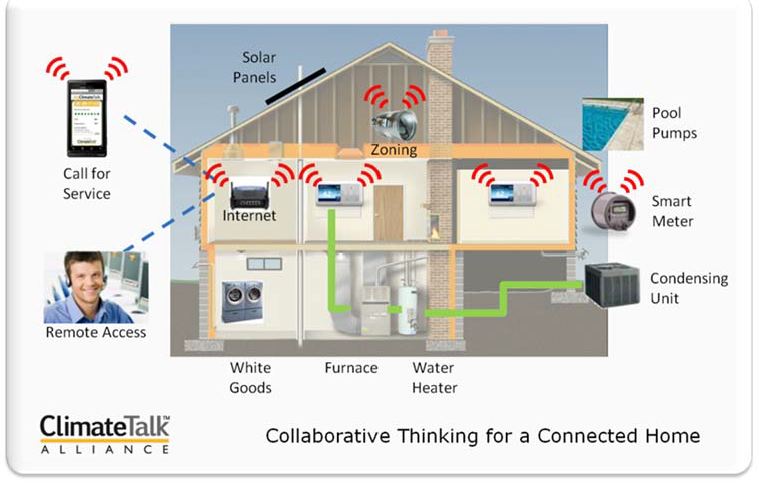 In addition, the success of any standard is attributed to the degree to which a solution can deliver a true multi‐service platform and expand to include future application types, even those not thought of today.
ClimateTalk is the flexible and future‐proof solution the industry needs.
The impact this technology can have on your business cannot be overstated. ClimateTalk is already changing the landscape of home automation, and the best is yet to come. Come join us at www.climatetalkalliance.org.

---


[Click Banner To Learn More]
[Home Page] [The Automator] [About] [Subscribe ] [Contact Us]