---
BACnet-N2 Router

N2 Device 1:1 Publishing to BACnet Enhancement


Steven E Jones

Managing Partner,

The S4 Group, Inc
Over the last several months, we have discussed upcoming enhancements to the BACnet-N2 Router. These enhancements are now undergoing field-testing. One of the most requested enhancements has been for us to publish each N2 device as its own BACnet device. This article contains details about this enhancement, as well as its related capabilities.
N2 devices are published as individual BACnet devices under a virtual BACnet network
System-91 points published under appropriate BACnet Data Object types.
BACnet point instance numbers restructured so that they always reflect the originating MetasysŪ Region and Object number.
N2 Open BD region data is mapped to the appropriate BACnet data object types
Details of the enhancements follow.

1. Publishing of N2 Devices as BACnet Devices
We now publish each N2 device as individual BACnet devices under a virtual BACnet network. The integrator assigns the unique virtual BACnet network number under which all N2 devices appear. By default, the N2 address of each N2 device is the device ID for each N2 device. This selection can be changed as desired by the integrator. Each virtual N2 device provides all of the typical BACnet device attributes, including reflecting the operational status of the virtual device.

As a best practice, the integrator should assign a unique BACnet virtual network number to each BACnet-N2 Router through our S4 Open Management Console. If you choose to use the same BACnet virtual network number on all BACnet-N2 Routers, then it is your responsibility to ensure that the assigned BACnet device IDs are unique across all BACnet-N2 Routers. The BACnet-N2 Router publishes N2 points as standard BACnet data objects with unique instance numbers as described below.

The BACnet-N2 Router itself has a presence on the local BACnet IP network. The integrator is free to specify the BACnet network number and Device ID associated with the appliance. The device status is exposed to BACnet applications and controllers via the Operational Status attribute for the device. BACnet timing parameters, segmentation support, etc. specified for the BACnet-N2 Router and are globally applied to all BACnet virtual networks and devices hosted on the appliance.

2. BACnet Data Object Instance Numbers
With the new publishing method, the N2 address is the default BACnet device instance number. This gives us the latitude to utilize the data object instance numbers to convey additional information about the origin of the point.

According to the BACnet Standard, the maximum value that a Data Object instance number can be is 4,194,303. Instance numbers must be unique within each BACnet device instance and Data Object. Digit orientation for this discussion is 7654321.

We are utilizing the instance number to convey as much information as possible about the origin of the published point, transparently to BACnet. BACnet Data Object Instance Numbers published by the BACNet-N2 Router consist of three components:
MetasysŪ Region Number –This numeric code will reflect the N2 Open, VMA, or System-91 Region in which the point originated.
MetasysŪ Object Number –This will always reflect the Originating MetasysŪ object number.
MetasysŪ Operation –Reflects the type of N2 operation that writing to this point will perform.
MetasysŪ Region Numbers are encoded in digits 7 and 6 according to the following table. The table also indicates the BACnet data object type that the point is published to.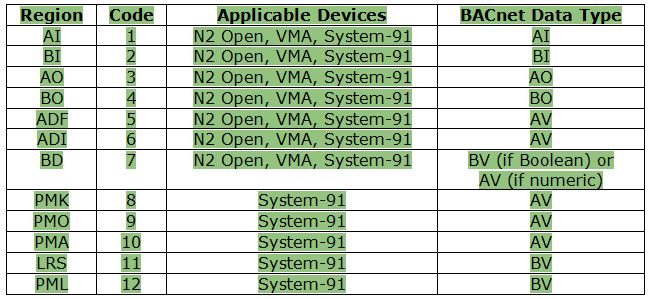 MetasysŪ Object Numbers are encoded in digits 5,4,3, and 2 according to the following convention.

The allocation of four digits for the MetasysŪ Object Number gives us a very clean way of handling alias point names for the N2 devices, while still guaranteeing unique instance numbers. Each N2 Open Region has 255 objects. Therefore, when we run into alias names, we can simply increment digit 5. That will easily provide 9 aliases that still allow digits 4, 3,and 2 to reflect the MetasysŪ object number. If there are more aliases than this, we can use convenient ranges of objects numbers above 255 previously not used. Those cases are rare.

For System-91 devices, using digits 5,4,3, and 2 as the object number gives us plenty of room to represent all possible points in the device. Object numbers for System-91 devices reflect the object number and MetasysŪ Region for the point, as assigned in JCI documentation.

MetasysŪ Operation is encoded in digit 1 according to the following table.


3. Publishing to Specific BACnet Data Object Types
Our original implementation of the S4 Open Appliances published all points as BACnet AV or BV points. With this enhancement, System-91 data objects are published to appropriate BACnet data objects as BI, BO, AI, AO, AV, or BV points. In addition, this capability is extended to N2 Open and VMA devices to give the integrator complete control over how points are published to BACnet.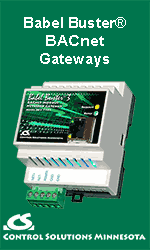 4. MetasysŪ N2 Open BD Region BACnet Object Type
In N2 Open devices, the points in the BD Region can represent either a Boolean value or a small integer internal value. These points are published to BACnet BV or AV point types respectively. When editing the Devices Type Templates, we adjusted the source strings, data types, and BACnet data object types for BD points to reflect how the points are actually used.

Summary

As soon as field-testing completes, the new capabilities will be released as the next production version of the S4 Open Appliances. After that, all new systems will be delivered with these capabilities. Existing customers with active Software Assurance agreements will be eligible for free upgrades.

These enhancements continue our efforts to integrate MetasysŪ systems to BACnet in a way that beings the integration incrementally closer to looking and acting like a pure BACnet environment. The ultimate goal is to provide our partners with power and control without complexity. (How are we doing so far, and what would you like to see from us in future enhancements?) Let us know how you think we are doing.


---


[Click Banner To Learn More]
[Home Page] [The Automator] [About] [Subscribe ] [Contact Us]