---
There are a number of important activities underway within LonMark International that are worth sharing with readers of Automated Buildings.

LonMark International to exhibit at GovEnergy, Aug. 19-21 in St. Louis, Missouri. This annual training workshop and trade show is designed to address the challenges of federal energy management. Please be sure to visit LonMark at booth number #1612.

Department of Defense (DoD) publishes new LonWorks Specification
The Department of Defense (DoD) recently published the new Unified Facilities Criteria (UFC) 3-470-01, which supports United Facility Guide Specification (UFGS) 25 10 10, LonWorks® Utility Monitoring and Control System (UMCS) and the UFC 3-410-02, which supports UFGS 23 09 23, LonWorks Direct Digital Control for HVAC and Other Local Building Systems. Both documents provide in-depth detail on the requirements to utilize LonWorks control networking technology into Federal facilities.

The UFC 3-470-01 LonWorks Utility Monitoring and Control System (UMCS) criteria enhances the openness of design of the LonWorks UMCS, which will be used to achieve utility cost, energy, and manpower savings for electrical systems, heating, ventilating and air-conditioning (HVAC), and other utility systems and equipment across all U.S. Army Corps of Engineers (USACE) and Air Force Civil Engineer Support Agency (AFCESA) projects.

The UMCS is part of a two-tier set of open guide specifications developed by the United States (U.S.) Army Corps of Engineers and provides detailed guidance on the design of a supervisory monitoring and control (front-end computer and network) system based on LonWorks technology. A UMCS based on LonWorks technology – currently deployed in a number of bases across the United States, including Fort Bragg, Fort Bliss and Fort Hood – permits connection of open and interoperable control systems, reduced reliance on sole-sourced, closed proprietary systems, and increases the value and sustainability for the U.S. Government. The criteria identifies the requirements for the design and procurement of a UMCS that supports the integration of multiple vendors' control systems.

Core requirements in the facility criteria include:
Usage of LNS (LonWorks Network Services) – an open network management platform for installing, commissioning, and accessing the devices on the network supported by hundreds of companies.
LonMark Certified products – ensures interoperability, reduces engineering and installation time, and provides a very high level of interoperability compliance.
Products are required to comply with ISO/IEC 14908 – ANSI/CEA 709.1 LON® (Local Operating Network) open protocol communications for all field devices to ensure a common networking platform.
Open integrated front-end network architecture using well defined IT-based standards for network data access to ensure
sustainability, reliability, and lower cost of ownership for the DoD.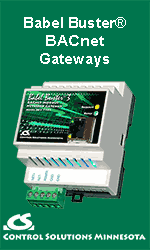 LonMark establishes 500 testing locations for its professional certification program
Having certified over 500 people worldwide, the LonMark program is popular among integrators and installers of LON based systems. LonMark International is making it even easier for people to take the LonMark Certified Professional (LCP) exam as it supports 500-proctored testing sites in North America. The addition of these new Castle Worldwide sites will dramatically improve the availability and accessibility of exam scheduling for candidates in the United States and Canada.

LonMark's Professional Certification Programs —comprised of the LCP and LonMark Certified System Integrator (LM-CSI)—provides a comprehensive professional education and testing program for manufacturers, integrators and end users involved in the design, specification, integration, installation or maintenance of LonWorks® control networks. This program establishes a proficiency standard to assure end-users that they have access to a resource pool of professionals with industry knowledge and experience.

To view a listing of the cities, states and ZIP codes in which Castle Worldwide sites are available, please visit https://www.castleworldwide.com/castleweb/clients/testing-services/ibt-testing-sites.aspx.



---


[Click Banner To Learn More]
[Home Page] [The Automator] [About] [Subscribe ] [Contact Us]