---
Who's Your Competitor?

It is vital at this point to do real research including out of the normal box stuff to understand where the world your business serves is going and what you feel you can deliver.


Mike Welch,

Managing Director & Co-Founder

Control Network Solutions Ltd
As a BMS/BAS SI are you really sure you know who your competitor is?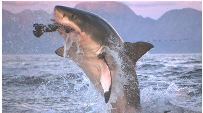 Most times you think it is the HVAC business up the road, some big System Integration organisation, or maybe the growing number of OEM's adopting the same BMS/BAS web convergent platform technology you are working with.

Actually it is most likely one or both of these.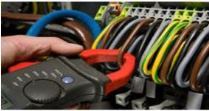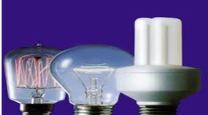 So why should you care or need you care?
As with all the other similar SI companies worldwide, you are probably having to run harder and faster everyday just to standstill as a business delivering HVAC solutions.
This results in proposals not properly scoped, leading to inaccurate costing of jobs, inaccurate scoping of work, resulting in later misunderstandings between you and your customer on what was believed to be included in your proposal and what wasn't. So more wasted money, time and resource which impacts on the back log of work and projects for you.
The other potentially catastrophic problem for your business is there is no time or energy for strategy thinking, much like the seal above who is focussed on the immediate tasks and not noticing something more dangerous is fast approaching.

Let's all diversify, that's the solution?
Ah, you say in a moment of foresight, I know - we will diversify! Not an unreasonable strategy but how, into what, at what cost, risk and opportunity? When should you act upon this? Today, tomorrow, next year? With no quality time or thought you could find yourself chasing the latest craze in the industry. Hey everybody is excited aren't they, much blogging, forums and events talking about it. It must be good, right?
The point is, since resources and time are limited, you really need to focus on something your current customers might really appreciate, want and need whilst leveraging as much of the existing experience and knowledge your organisation already has. For sure, you will have to invest to learn more new skills and technology than exists in your business today. However, this might be organic or through partnering.
It is vital at this point to do real research including out of the normal box stuff to understand where the world your business serves is going and what you feel you can deliver. That research might begin here:
LinkedIn - Industry Groups, Online Industry Magazines, Market Research Groups
Twitter - Technology, Product and Industry groups
Core technology forums -

Talk to your current technology platform providers

Market research and discussion organisations

Look beyond your city, state, even country. The world is becoming an ever smaller place in which to do business. International business is not as frightening or difficult as it once was. I have had comments from international clients telling me it is easier to do business with my company, with better service than local suppliers a few miles down the road, even though we may be located several thousand miles apart.
Ideally what you are looking for is something to deliver that is effectively "right next door" to what you already deliver. So, for example, if you deliver HVAC solutions, lighting control could well be an obvious choice.
Why?
Same customers, same buildings, same technology and tools.

Most commercial and public buildings need more and more sophisticated control of lights.

All building developers, owners, manager and users are focussed on energy, operations and maintenance costs. How could they ignore lighting - the largest or second largest electrical load in the building, according to the IEA?
Most building developers, owners, manager and users are ever more focussed on the latest energy building rating agency accreditations such as LEED, BREEAM, Green Energy, Energy Star, etc.
More and more stringent local and national building codes across the developed world demand both for new and retrofit build smarter and more integrated (not interfaced) control solutions to meet their requirements.
Finally which bit of the existing $1.4bn and growing lighting controls market don't you wish to participate in?
A Real World Example

So what is the picture saying –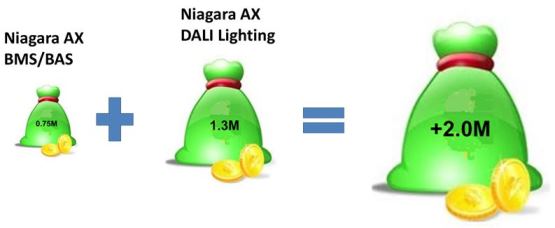 A Niagara System Integrator took a strategic business decision to add intelligent lighting control to their existing BMS/BAS product and services offering. They researched the market including, web searches, talking to Tridium their core technology Partner, the End Clients (building owners, developers, managers, users). This Niagara SI Partner is based in Johannesburg, South Africa but their research was not limited to their city or their country, not even their continent.The result was they contacted a Niagara Developer whose name came up as a potential provider of what they needed.
Next they invested in acquiring an initial evaluation kit, became certified in its use and installed it along with other existing equipment in their demonstration room. They became familiar with how this solution enabled their intelligent lighting offering and what their business proposition would be to their market. They developed well considered market material and spent the following months promoting their new found capability. Twelve months later they are bidding a number of intelligent lighting control projects alongside their traditional BMS/BAS offerings.
Their first success is summed up in the above picture. They are just completing the commissioning of this prestigious Global Bank project and are already bidding additional such projects.
Notice the value of the intelligent lighting controls and commissioning business was almost twice the value of their traditional BMS business in the same building for the same client. You might correctly imagine that this Niagara SI's CEO is pretty pleased with himself and the initial investment.
More examples are emerging click here to keep up to date.

Conclusion
Coming back to the original question - if you are not considering such changes to your business today, beware because others are.

Who are they? Well not just your fellow Niagara SI/OEM competitor but the Electrical Contracting industry is speaking about the need to widen their skills in order to offer BMS/BAS/Lighting control capability, click here for a UK view and I have read other similar discussions in the US.
The traditional lighting controls industry is also beginning to explore opportunities to move into the BMS/BAS arena – check out the facts online.
Be careful that you don't find yourself suffering the same fate as that seal!

---
About the Author

Mike Welch is Managing Director and Co-founder of Control Network Solutions Ltd based in Hampshire, England, 45 minutes from London. With a degree in Engineering, Mike has worked in sales and marketing of leading edge technologies from semiconductors to intelligent peer to peer control networking.

CNS creates products and solutions based upon open communication protocol standards for the global commercial and public built environment. It has been a Certified Niagara AX Product Developer and Tridium Partner since 2005.
CNS has created an innovative and lighting controls market disruptive Niagara DALI driver called elitedali Multidrop for Niagara AX®. Building on this CNS launched this year an innovative Niagara EnOcean Ethernet driver, CNS-Enocean, for wireless/batteryless devices such as switches and sensors. Both products are available through the Niagara Community Partners.


---


[Click Banner To Learn More]
[Home Page] [The Automator] [About] [Subscribe ] [Contact Us]