---
HVAC/DDC Training Solutions




Addressing the growing need for affordable "non-corporate" training for students pursuing a career in building automation related industries.


Jon Vietti,
Owner/Director
DDC Support Services
DDC Support Services, a new company based in the Portland, OR area, seeks to address the growing need for affordable "non-corporate" training for students pursuing a career in building automation related industries.
"An increasing number of technical colleges and formal apprenticeship programs are wanting to include a DDC controls component to their HVAC, electrical and energy technology degree programs", states Jon Vietti, owner and director of the new company.
The DDC Support Services' approach to training is to provide portable and table-top mounted trainers coupled with course curriculum that is both embedded in the "brains" of the trainer and included in a student workbook, thus providing students with a highly interactive learning experience.
The trainers are "web-enabled" and only require PC's that have a web-browser and the latest version of JAVA SE.

PT-121 Trainer: Introduction to Direct Digital Controls – HVAC Focus

The flagship of the trainer lineup is the PT-121. This trainer is designed to introduce the student to a sampling of many of the control devices and network protocols currently in use in the HVAC/DDC industry.
Multiple sensors provide live temperature, humidity, and CO2 measurements. All components are wired into the IO module for interaction with the JACE controller.
LON, BACnet, and Modbus network protocols are incorporated. Both hardwired and wireless Ethernet are presented.
The weatherproof ABS transit case has built-in wheels and an extendable handle, as well as desk-top mounting tabs. All backplates and frames are produced with a CNC lathe for precise fit and durability.

Flexible curriculum: Large lab/classroom to "Do-it-yourself" format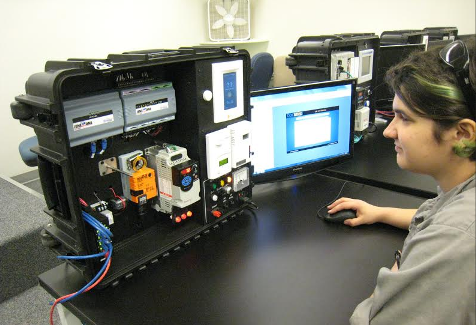 One of the goals of this company is to design a trainer and curriculum that can be used in a large, instructor led college type classroom, but also in a small scale, self-led training environment. Technical colleges, HVAC, and controls contractors, even self-motivated individuals who want to invest in their own career, can utilize these units.

The "Level 1: Introduction to Direct Digital Controls – HVAC Focus" curriculum is included with the PT-121. A "Level 2: DDC for the HVAC Service Technician" curriculum is currently being developed and should be published next year.
The trainers and curriculum are designed to be used stand-alone, or they come pre-configured to be daisy-chained via Ethernet to allow an instructor access to any trainer from his PC.

PT-78 Trainer: DDC Object Oriented Programming

The PT-78 is a portable DDC programming trainer specifically designed to provide advanced training for programmers who have Tridium Niagara AX® programming experience, but who want to increase their knowledge base or want to learn the Sedona Framework® for programming unitary DDC controllers. (Note: Currently this trainer is only available to clients who have at least one Niagara AX certified employee on staff.)
The PT-78 provides interaction with several "virtual" devices such as a Heat Pump, RTU, ERV, and Lead/Lag Pump Loop Controller.
"Real-time simulators allow students to test their programs in a graphical virtual environment. They can scenario test and refine their program before it is actually installed in the field", says Vietti.

The controller provided with the PT-78 trainer is the BAScontrol20 controller from Contemporary Controls. This device is ideal for this type of training because it is easily configured through a web interface, it has 20 configurable IO points, it is BACnet IP compatible, and it is fully programmable using the open licensed Sedona Framework®
Custom Options for Specific Client Requirements

In addition to the pre-configured trainers, DDC Support Services can provide "custom" portable trainers, demo units, and test equipment that is specifically designed for the needs of the clients.
On-site training is available within the Pacific Northwest region. And consultation services are available to those interested in starting or expanding their existing training programs to include a DDC training component.
Vietti states, "Our specific goal is to provide high quality, up-to-date training that is flexible and affordable. Our general goal is to provide job creation and career advancement opportunities in the Building Automation Industry."
---
About the Author
Jon Vietti is a "Controls Specialist" with over 30 years experience in the electrical, HVAC, SCADA, PLC, and industrial process controls industries. He has an FMA credential from BOMI and is Tridium Niagara R2/AX® certified. He is a passionate educator and advocate of hands-on, relevant, and universal educational opportunities for those who wish to pursue excellence in the Building Automation Industry.


---


[Click Banner To Learn More]
[Home Page] [The Automator] [About] [Subscribe ] [Contact Us]