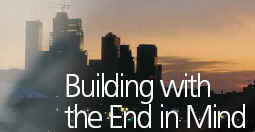 Joel Lehman, Vice President, Sales,
Johnson Controls Americas
and
Kim Metcalf-Kupres, Director of Global Marketing
Construction, Johnson Controls

Every building begins with a vision. Now a new approach to construction helps owners fully realize that vision in brick, mortar and technology. It's called Knowledge-Based Integration.
When an organization decides to build, it is usually for reasons beyond adding square footage.

This article which originally appeared in the Johnson Controls-sponsored supplement to the May 2003 issue of CSE focuses on knowledge-based integration.
A school district may envision a new high school wired for online instruction and distance learning and with classroom environments designed to foster the highest student achievement.
A healthcare provider may decide upon a hospital set up to deliver the highest quality, most cost-effective patient care, built around the best in diagnostic, medical record and networking technologies.
A manufacturer's aim may be to move production from old, inefficient buildings to a new plant with pleasant work spaces, highly reliable processes, low energy costs, and greater throughput - all to make products more price competitive.












Too often, however, after the ceremonial scissors cut the red ribbon, the building falls short of the vision. Sometimes that is because budget realities intervene in the planning stages. More often, it is because the vision and the physical structure part company during the traditional construction process.
The building goes out for bid. A general contractor wins the project. Separate subcontractors bid on the plumbing, wiring, lighting, HVAC, fire alarms, security, and communication systems. Each one takes care of their own piece of the work; but no one takes care of the vision.
It does not have to be that way. An emerging paradigm holds that buildings deliver the best value when the vision drives the project, from conception, through construction and even to on-going operations. That paradigm lies at the heart of a construction approach called knowledge-based integration.
Lower first costs.
Greater long-term value.
In essence, knowledge-based integration means building with the end in mind. Almost every new building project starts with a compelling event - a realization that business imperatives demand better quarters. The goal of the building project, then, is not to meet a schedule or a budget -- but to fulfill those business needs. In knowledge-based integration, business imperatives hold center stage from start to finish. The building is created not as a collection of fragmented systems but as a functional whole. Control and communications technologies integrate with each other - and with the brick and mortar - to deliver in full the results the owner wanted. This approach to technology:
Saves time, because all parties work with clear direction and effective coordination.

Reduces construction costs, because better coordination means less duplication of effort, less wasted material, less rework, fewer change orders, and faster commissioning.

Reduces risk, since one company takes responsibility for the design, delivery, installation and commissioning of the technology systems in the building.

Cuts operating costs, because intelligently applied technology helps save energy, reduce maintenance, and deploy staff resources efficiently - for as long as the building stands.
Beyond brick and mortar:
Technology to the forefront
Knowledge-based integration is not a Utopian ideal - it is a practical discipline, already proven in the field. At its heart are two realities:
That technology determines how well a building meets the owner's objectives.

That technology performs best when designed, selected, installed and integrated with those objectives in focus.
Technology installed piecemeal will cost more than it should and will almost certainly under-perform. The time to consider technology, therefore, is at the conceptual stage of the project.
Knowledge-based integration augments the construction process by adding a technology contractor with authority to decide how comfort, communications, life safety, security, and other control systems will be chosen, installed and operated.
Using a knowledge-based integration approach, a technology contractor should be able to deliver three key components:
Performance technologies. The contractor should be qualified to take true single-source responsibility, to choose technology systems, and to determine which systems need to be integrated to deliver the functionality the owner needs. The contractor should be able to supply state-of-the-art technologies but also be able to integrate systems from different manufacturers.
Predictable processes. The contractor should have a track record of using established, field-proven processes to deliver fully functional installed systems consistently, in any location or industry. These processes should reflect best practices in financial analysis, research, procurement, construction management, commissioning and operations. Predictable, repeatable processes enhance efficiency, drive costs down, and ensure on-time completion for even highly complex projects.
Lifecycle services. The earliest phase of a project is the critical time to look for long-term operating efficiencies. The technology contractor should design the facility with a focus on the operations strategy, including critical needs such as energy management, technology deployment, workforce training and development, and building system maintenance. After construction, the contractor should handle warranty repairs and service for all the technology systems. At a minimum, the contractor should also be qualified to train the owner's staff to operate the building for the maximum effectiveness and lowest cost. Some owners may prefer to work with a technology contractor that also offers outsourced facility management.
A case in point:
California EPA
A growing number of building owners are realizing their vision through knowledge-based integration. For instance, the approach helped make the new headquarters of the California Environmental Protection Agency a showpiece of energy efficiency and a prime example of federal-local government cooperation.
The Joe Serna Jr. Cal/EPA Headquarters Building, a 930,000-square-foot, 25-story office tower, opened in 1999 on what had been vacant land in downtown Sacramento, the state capital. One key objective of the project was to create an exceptionally energy efficient structure, in line with the agency's mission and an example for others in the public and private sectors. Another goal was to provide safe, secure and efficient workspaces for EPA staff members.
From its inception, a technology contractor joined the developer, architect and general contractor among the project's key players. The technology contractor took responsibility for energy efficiency, security, indoor air quality and power distribution systems, coordinating the work of subcontractors involved in those areas.
The finished building incorporates many environmentally friendly features, such as natural lighting, high-efficiency double-paned glass, pre-cast concrete panels with sunshades, and more than 700 rooftop solar collectors. The building is 33 percent more energy efficient than required by the state code in place at the start of the project and 26 percent more efficient than required by a stricter code adopted in 1998.
A security system restricts employees and visitors to designated areas. The security system monitors the elevators, and turnstiles in the central lobby deny access to the elevators for those without clearance.
During construction, the technology contractor helped hold down construction costs - and future operating costs - by integrating building systems. Contractor personnel demonstrated the immediate and longer-term benefits of having one firm install the building automation and security systems, instead of having each installed separately. They also saved the construction team money by providing design assistance for the common wiring network.
Coordination provided by the technology contractor also kept the project on schedule and on budget, helping hold down project management costs, and enabling the general contractor to spend less time on administrative oversight.
Such savings on any given project might go back into the owner's pocket. In this case, the savings helped fund extra amenities that made the project a standout. At the end of construction, the technology contractor led the commissioning of building systems, leading to timely acceptance by local inspectors.
Results in healthcare
and criminal justice
Knowledge-based integration also benefited the Bernalillo County Courthouse in Albuquerque, N.M., and Northwestern Memorial Hospital in Chicago.
At Bernalillo County, a technology contractor helped deliver separate but functionally integrated spaces for the public, judicial staff, and detainees in the county jail. The process also streamlined construction and ensured long-term operating efficiency. The 8-story, 272,000-square-foot building has all controls and communications integrated on a single, high-speed copper and fiber optic cable network. Integrated automation systems control HVAC, fire alarms and security. Energy costs are 25 percent less per-square-foot than in the previous courthouse.
Northwestern Memorial's 22-story, 2.2-million-square-foot facility met its goals to provide a comfortable healing environment, attract and retain top medical professionals, and increase staff productivity. A building automation system with a single-seat user interface gives the facility staff a central point for controlling all systems - boilers, chillers, fire alarms, fume hoods, surgery display terminals, lighting, emergency generators, and others. In patient rooms, intensive care units, laboratories and surgery suites, medical staff can adjust comfort conditions at the touch of a button.
Tangible benefits and lower costs
These examples illustrate the tangible benefits of knowledge-based integration. While details of the process itself can differ with each project, the approach ideally puts the technology contractor in charge of design, installation, commissioning, service, and long-term operation of all low-voltage technology systems in a building. It is fully realistic for knowledge-based integration to reduce the first costs of building technology systems by 10 percent. Long-term savings can be even more substantial, because the technology acts on nearly all major components of operation and maintenance. (Some 75 percent of a typical building's lifecycle costs accrue after construction.)
A paradigm whose time has come
Buildings are huge investments that can substantially affect an organization's performance. Technology in buildings is too important to that performance to be deployed at less than optimal effectiveness. Knowledge-based integration helps building technology fulfill its promise -- and helps building owners to realize their vision.
---

[Click Banner To Learn More]
[Home Page] [The Automator] [About] [Subscribe ] [Contact Us]