---
Wireless Mesh Sensor Networks Enable Building Owners, Managers, and Contractors to Easily Monitor HVAC Performance Issues
Case in Point: Monitoring Schools for IAQ During the Summer Months
The most common class of complaints from tenants who occupy commercial buildings revolves around the climate of the tenant space including temperature, humidity, and ventilation. All of us at one time or another have worked in office buildings, attended schools, or participated in hotel conferences where climatic differences within or between offices, classrooms and conference rooms or from morning to afternoon and evening were astounding. Aside from the obvious discomfort associated with varying internal environmental conditions, there are real economic costs as reflected in lost productivity and wasted energy due to these poorly moderated building climates. Furthermore, in specialized environments such as school classrooms, federal guidelines outline best practices for ensuring proper indoor air quality. Wireless mesh sensor networking, a new networking technology focused on monitoring sensors and controlling actuators, holds great promise in evaluating and eventually managing difficult building climates.
Wireless Mesh Sensor Networks
As the name implies, wireless mesh sensor networks are:
1. Comprised of wireless nodes. A node in this type of network consists of a sensor or an actuator that is connected to a bi-directional radio transceiver. Data and control signals are communicated wirelessly in this network and nodes can easily be battery operated.

2. Arranged in a networking topology called "mesh". A typical mesh network topology is shown in Figure 1. Mesh networking is a type of network where each node in the network can communicate with more than one other node thus enabling better overall connectivity than in traditional hub-and -spoke or star topologies. State of the art mesh networks often have some of the following characteristics:

a. They are self-forming. As nodes are powered on, they automatically enter the network.

b. They are self-healing. As a node leaves the network, the remaining nodes automatically re-route their signals around the out-of-network node to ensure a more reliable communication path.

c. They support multi-hop routing. This means that data from a node can jump through multiple nodes before delivering its information to a host gateway or controller that may be monitoring the network.
The self-forming, self healing, and battery operable attributes of a mesh sensor network make it ideal for temporary environmental monitoring applications in a wide range of facilities.












Case in Point: Elementary Schools
"Twenty percent of the U.S. population, nearly 55 million people, spend their days in our elementary and secondary schools. In the mid-1990s, studies show that 1 in 5 of our nation's 110,000 schools reported unsatisfactory indoor air quality, and 1 in 4 schools reported ventilation -- which impacts indoor air quality -- as unsatisfactory. Students are at greater risk because of the hours spent in school facilities and because children are especially susceptible to pollutants." [http://www.epa.gov/iaq/]
A wealth of information is located on the EPA site concerning best practices in school HVAC system design for both new schools and retrofits. Best practices are also presented for minimizing the likelihood of mold growth (a factor being blamed for alarming increases in childhood asthma) during summer months when schools are vacant and when systems are often turned down or off to save utility costs. Often these best practices rely on "human sensing" of conditions that might be detrimental to long term building health. A straightforward implementation of a wireless mesh sensor network equipped with temperature and humidity sensors can serve as a tireless proxy for human monitoring during the school's summer months.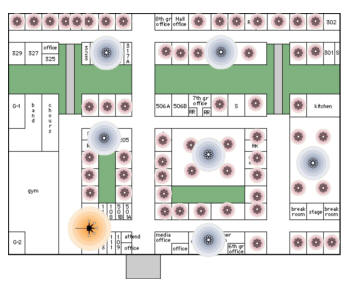 In figure 2 we outline such a system. In this implementation, star nodes (approximately fifty of them, shown in red) containing temperature and humidity sensors are placed in the classrooms. The nodes are battery operated and can simply sit on a desk or shelf in the classroom. The star nodes form a network with six mesh nodes (blue) that are strategically placed in the facility near wall outlets.
As the nodes are turned on, temperature and humidity data immediately flows to the final element of the mesh network, the bridge or gateway node (orange). The gateway device is connected to a PC either directly or through a network connection, enabling remote monitoring. Administration and commissioning of the system is managed through the PC. For example, the system can easily be configured to generate an audible alert in school administration offices if any star node in the network exceeds a certain temperature or humidity threshold. Benefits of using wireless mesh sensor networking in this type of application include:
Easy installation. The system described above can be installed, configured and operational in less than a day. Furthermore, a PC-literate teacher, administrator or building engineer can easily perform the installation and configuration.

Scalable and cost-effective. The system can easily scale based on the needs of the institution. Minimum configuration is one bridge node and one star node plus software. A practical, basic configuration for a 20 room school would include 10 star nodes, 3 mesh nodes, one bridge node, and software. Such a system could be purchased for less than $7,500.

Flexibility. Additional sensors can easily be added to the network to sense a range of items including carbon dioxide presence, glass break, door open and close, etc. and all would use the same platform.

Peace of mind. By installing a wireless mesh sensor network to monitor indoor air quality, town officials, school administrators, and taxpayers purchase much needed peace of mind during the summer months when activity is nearly nonexistent at the school.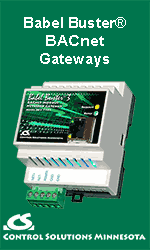 Wireless mesh sensor networks offer powerful new ways to monitor indoor air quality, and without the costs of major new installations or wire runs that are typically associated with these types of projects. These new systems can improve the quality of monitoring dramatically while also making entirely new monitoring applications possible. The benefits, like the sensors, reach far and wide - from improving human health, workforce efficiency, quality of life, and even the bottom line.
---
About the Author
Paul Sereiko is founder and president of Sensicast Systems. Before founding Sensicast, Paul was executive vice president at PinPoint Corporation, a wireless location system company. Prior to PinPoint, he was vice president of corporate marketing for SystemSoft, a developer of Windows utilities. Before joining SystemSoft, Paul spent several years working in a variety of engineering, finance and marketing positions for GTE. Paul has developed, launched and marketed more than 20 technology products in his career ranging from the world's first notebook computer (the NEC UltraLite) to the world's first wireless indoor location system, the PinPoint 3D-iD LPS. Paul received an MBA at Northwestern University's Kellogg school, and graduated from the University of Illinois' Computer Engineering program.
---


[Click Banner To Learn More]
[Home Page] [The Automator] [About] [Subscribe ] [Contact Us]