---

EMAIL INTERVIEW - Barry Haaser & Ken Sinclair
Barry Haaser, Executive Director of LonMark® International
A seasoned marketing executive, Barry Haaser brings over 18 years of industry expertise to LonMark International. As the Executive Director, Barry is responsible for the day-to-day management of this global trade organization. Prior to joining LonMark International, he was the Vice President of Marketing at Alacritech, a provider of network and storage acceleration solutions. Prior to joining Alacritech, Barry was Director of Marketing Communications at Saratoga Systems, a leading customer relationship management solutions provider. Previously, Barry spent 11 years with Echelon Corporation, the leading supplier of control network products, where he held a variety of marketing and management positions. Barry is an experienced speaker, having presented at various conferences in the U.S. and Europe. He holds a Bachelor of Science degree in Business Administration from San Jose State University.
---

LonWorld® Exhibition and Conference












Sinclair: I recently saw an announcement regarding a LonWorld® Exhibition and Conference. What can you tell me about this event?
Haaser: The LonWorld Exhibition and Conference is the world's leading forum for the LonWorks® industry. This annual event draws hundreds of people interested in hearing and seeing the latest technical developments, new products, and industry solutions available based on LonWorks technology. The LonWorld event is great place to make business connections, so the mixed conference exhibition format goes over very well. This year's event is being co-hosted by LonMark International and Echelon.
Sinclair: I know that LonWorld tends to be hosted in different parts of the world every year. Where will it be held this year?
Haaser: For the first time, the LonWorld event will be held in Asia – the fastest growing market for the LonWorks platform. The Chinese economy is booming and Shanghai is one of China's premier cities, so it was the ideal location for LonWorld 2004. China is making massive investments in infrastructure, including construction of new cities, commercial and residential buildings, factories, highways, telecommunications and more. There are a number of impressive projects completed and underway utilizing LonWorks control networks including the LonWorks based Shanghai World Financial Center scheduled for completion in 2007. Attendees will get to hear about many of these projects first hand from the companies managing them.
Sinclair: China can be a rather daunting place for companies based in North America. What are you doing to help companies gain a better understanding of doing business there?
Haaser: We recognize that Asia and China in particular can be rather daunting for companies located in North America and Europe. So, we are sponsoring a Trade Mission as part of the conference program to help companies gain a better understanding of the market and establish relationships with organizations and companies in China. Companies participating in the Trade Mission will have an opportunity to establish relationships with distributors, OEMs, real estate developers, government representatives, and other organizations.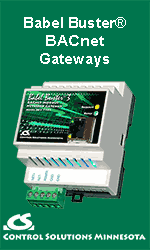 Sinclair: If the LonWorld Conference is taking place in China, how will I be able to follow if everyone is speaking Chinese?
Haaser: The Conference will primarily be held in English, but there are a number of native Chinese speakers. So, conference attendees will receive simultaneous translation from Chinese to English and visa versa. This is extremely important because there are a number of impressive speakers participating in the two-day conference. The conference program is nearing completion, but I can tell you that it will offer a rich assortment of information ranging from practical business insights, to installation examples and technical "how to" sessions.
Sinclair: You've talked about the conference, what is happening in the exhibition?
Haaser: The expo provides a forum for companies to make important business contacts in Asia. While the event is hosted in China, attendees will come from all over the world. If you have never attended a LonWorld event, it is difficult to explain the energy that emanates from this event. Attendees are rarely disappointed in the LonWorld experience. Whether you are interested in making business contacts, generating sales leads, exploring new opportunities or simply learning more about the technology, this is an event not to be missed.
Sinclair: How can I learn more about the LonWorld event?
Haaser: I encourage you to visit www.lonworldexpo.com for further details on the event.
---


[Click Banner To Learn More]
[Home Page] [The Automator] [About] [Subscribe ] [Contact Us]