---
Modern Bioclimatic Facades


When Automation Comes To Passive Solutions, Automations & Architecture Merge And Turn Building Green!

Dr Serge Neuman

Somfy
There's no greener watt than the one you don't have to use! That's why green buildings start with well-designed facades and passive solutions. Automation for dynamic passive solutions not only reduces energy costs and waste, but increases interior environmental quality (IEQ), which has been scientifically shown to increase occupants' comfort and productivity.

Dynamic passive solutions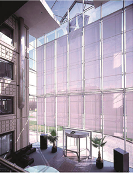 In automation, the definition of a passive solution is "Exhibiting no gain or contributing no energy". That doesn't mean these solutions cannot be moveable, i.e. dynamic!

In architecture, the definition is a little broader: "Solutions managing natural energies and elements in their natural states." For example, a typical passive solution to manage sun gain is a low window wall ratio (WWR) with tinted glass, and in some cases, fixed solar protection. However, the same functionality can be more efficiently achieved with automated solar protections. Automated solar protections can best respond to the immediate needs of the building and its occupants by moving to the optimal position, which is why it is considered a dynamic passive solution.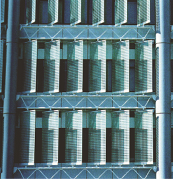 Clearly the dynamic passive solution is more complex but it doesn't necessarily increase the cost of the building. Actually, automated dynamic passive solutions can usually pay for themselves when they are specified in the building's architectural design. For example, the right automated solar protection allows the usage of clear glass with a higher WWR while reducing sun gain and postponing the peak demand for energy during cooling periods; increases free solar heating during heating periods; and extends the periods when the building is neither in cooling nor heating mode! This automated dynamic passive solution also enhances the performance of "daylight harvesting" which balances natural and artificial light and improves IEQ which in turn can increase occupants' comfort and performance.

The human factor
While automated dynamic passive solutions are an ideal fusion of architecture and automation, quality integration can be a challenge to the architects as well as the engineers because the occupant is an extremely sensitive element.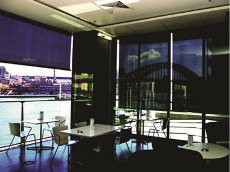 By definition, dynamic passive solutions have moving components, and automation can be disturbing when occupants perceive motion but don't understand why the motion is occurring. Turning off automation when a room is occupied increase occupant acceptance; however, system performance would be limited in terms of energy savings, comfort, or quite often both. Advanced solutions such as the one for bioclimatic facades achieve both optimal performance and an increase of IEQ.

The "bio" dimension of bioclimatic fašades is not just about occupant acceptance. Few businesses realize that the most important and expensive resource of a commercial building is its occupants. Besides energy efficiency, bioclimatic solutions aim to increase IEQ by optimizing the presence of natural light and fresh air. Academic studies have shown that increasing the amount of natural elements in the workplace has a marked effect on occupants and can increase productivity by double-digit percentages. Depending on the location and the building, figures change, but usually improving productivity by as little as 3% pays the energy bill, and an increase as low as 10% pays for all the active solutions within a building.

Integrating dynamic passive solutions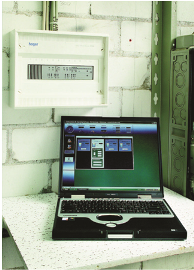 There are several ways to integrate dynamic passive solutions within a Building Management System (BMS). However, with a bioclimatic approach, guaranteeing the integrity of the system is critical. The best system architecture for this is supervised clusters. The dynamic passive solutions are in clusters of their own, and the supervisor coordinates the effort of each cluster thanks to high level functions.

From a building physics point of view there's no reason for convergence of dynamic passive solutions with the active solutions. Because dynamic passive solutions are mostly located on the envelope of the building and active solutions are located in the core of the building, convergence usually brings little savings when it brings any at all. This is quite obvious when a detailed offer with a breakdown by system is requested.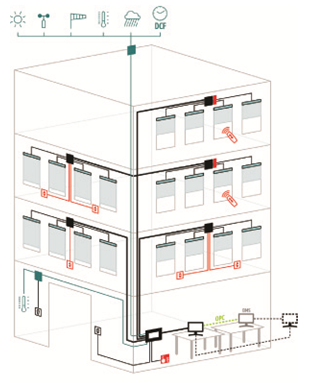 Still, convergence is interesting when it comes to local controls. Many occupants want direct control over their ideal brightness and temperature levels. To answer this challenge, manufacturers have created their own solutions or established partnerships with suppliers of active solutions. These key players provide the right solutions so the engineer or integrator can create an efficient Energy Management System (EMS), Building Automation System (BAS) or even a BMS that ensures both a greener building and a positive occupant experience.

Interesting links:
Bioclimatic facades
http://www.somfy-architecture.com/
High Performance Building Fašade Solutions – Lawrence Berkeley National Laboratory
Sustainable Design for Health & Productivity – Prof. Vivian Loftness


---
About the Author

Dr Serge Neuman is an expert in Green Buildings. He has been a registered expert for the EU and has seated at the advisory board of several research and organizations for several years. He wrote several papers and lectures all around the world about green buildings, climate change and the crucial role of well-designed facades. Serge is currently working for SOMFY and actively participates to the development of SOMFY For Bioclimatic Facades



---


[Click Banner To Learn More]

[Home Page] [The Automator] [About] [Subscribe ] [Contact Us]