---
AHR Expo 2015 – Trends and Products

Part Two - Products



Steven R. Calabrese
Control Engineering Corp.

Contributing Editor

Last month I shared some things that I saw and overheard at this year's AHR Expo, held in Chicago this past January. Industry buzzwords, if you will. This month I'd like to discuss some actual products that I saw, mostly relating to the trends that I discussed last month. As we as an industry continue to grow and progress, we as individuals must stay up on the technologies and stay current with the trends and products of the day. Nowhere can this be better done than at the AHR Expo, held every year in January.

The following products consist of both new and already established trends and technologies. My interest in each of these stems from my personal experiences and my overall industry knowledge (or lack thereof!). It's exciting to watch the new (and maybe not so new) technologies take hold on our industry, and afford us the ability to do things we've never before been able to accomplish.

Wi-Fi Products

Last month I alluded to the term and the technology behind it, without going too far into how the HVAC controls industry is applying this concept. The two products that I encountered at the Expo were a temperature sensor and a relay. First the sensor.

Picture, if you will, a typical BAS space temperature sensor. Got it? Good. Now picture it with no wires. So far so good…? Finally, give it Wi-Fi. Done!

Benefits to this are as follows: the technology is widespread and dependable. The installation is low cost (no wires!). Battery life is expected to be up to three years (better check it annually). The particular sensor that I saw had a built-in data logger. Communication from the sensor via Wi-Fi can be through a router to the cloud, or better yet, through a Wi-Fi gateway to a wired BACnet control system!

The relay was just as cool as the sensor. Again, no wires, just a battery. Install the relay to control some two-state device or piece of equipment (valve/damper actuator, fan/pump starter). Set it up so that it can receive its command via the Wi-Fi wireless network. All kinds of possibilities abound…just don't forget to check that battery!

BACnet Sensors and Thermostats

BACnet has been with us a relatively short time, but has come a long way since its inception. For those who are familiar with the term but don't necessarily know the origin, BACnet stands for Building Automation and Control network, and is a standard developed by ASHRAE, and adopted by the HVAC industry as the de facto standard for the digital communication between products of differing manufacture.

Every year, new products are released on the BACnet platform. No longer just a protocol utilized by the major digital control systems manufacturers, now we are seeing BACnet at the sensor level. So what we are seeing specifically are temperature sensors, humidity, and CO/CO2 sensors, all able to be connected to a BACnet network. This is a big deal. Whereas in the past, we'd need to connect a sensor to a BACnet compatible digital controller in order to read the value of that sensor via a BACnet building automation system, now we can hang the sensor right on the network! Applications abound, and the flexibility afforded with such products makes our everyday design challenges that much easier to overcome.

Communicating thermostats aren't necessarily a new idea. However again it has typically been the major digital control systems manufacturers that have been the ones producing these types of thermostats, mainly to work with their networked control systems. As third party manufacturers move into this arena, we are now seeing thermostats that are BACnet enabled, thermostats that can hang on a BACnet network, regardless of the incumbent digital control system. Again good news for all of us in the HAVC control business that have been challenged with making things work!

BACnet Relays

I offer this as its own topic, and not included in the preceding topic, because of the nature of the device. This is an output device, meaning that we can actually control from this guy. A BACnet relay hangs on the BACnet network. Give it control power, and you can command it to change state over the network wires. What a concept! Especially if you're "one output shy" on a digital controller you're using at any given point in the system. Add a BACnet relay and be done with it. Especially handy for those types of equipment that need to be operated on a time-of-day basis. Simply give the relay a schedule, and forget about it. Good for exhaust fans, lighting, anything else you can think of that requires simple on/off operation.

BAS Routers and Gateways

I'm always amazed with network devices that allow differing networks to communicate with each other. How they do dat? Anyway, I can't speak from a purely technical viewpoint on these topics, as I'm more classically trained in analog electronics and not so much on digital transmission and communication. That said, I'll try my best to share my findings.

More than a couple of booths were featuring routers and gateways. More than I remember from the last time I was at the show. Network routers and gateways are kind of a niche product category. The typical HVAC control engineer knows less about these things that their IT peers over on the other side of the network cable. But we need to at least know the basics, and know that there are products out there that allow us to do some things that we otherwise might not be able to do. Like combine networks of different types.

The routers that I came across were BACnet routers. These devices allowed routing between BACnet/IP, BACnet Ethernet, and BACnet MS/TP networks. Gateways are a little different, in that they actually convert one network protocol to another. The gateways that I observed convert BACnet to Modbus.

Wasn't that long ago that networks of different protocols were separate, and were to be that way forever. Nowadays, we can all but guarantee that we can find a product that will allow two different network types to be connected. The products are out there, proven to work, and ready for you to find an application for!

Bluetooth Test Instrument

I like the concept of Bluetooth. I'm not one to wear a Bluetooth earpiece paired with my cell phone (although I should be!). I do however use the technology to pair my cell phone with a wireless Bluetooth speaker system for streaming music. Works out real well when I'm poolside, and I don't want my precious smartphone anywhere near the water. Bluetooth is a short-range wireless technology, and it definitely has its applications, in the 10-30 foot range.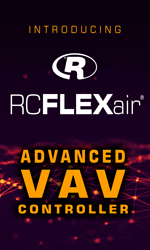 That's why when I came across the term at a booth that was touting their normal product line of sensors and transmitters, I was intrigued. "What can this strange device be?", I thought as I approached the booth and gazed at the product. Upon reviewing the accompanying literature, I learned that it was a Bluetooth-enabled temperature/humidity sensor.

The sensor can be put anywhere…placed on a wall, hung from a diffuser, thrown inside the mixed air chamber of an air handler. You name it. The Bluetooth comes in when you want to access the reading. Get within range of the device, pair your phone or tablet to it, and read the current temperature and humidity values. Or log the readings taken from the past week, and generate a report.

The concept of logging temperature data with a smart device has been around. This is just a new take on it, using a newer technology. We're sure to see more products in our industry utilizing the technologies of the day…what's next?

Tip of the Month: Get yer' WI-Fi on! Go ahead and purchase a WI-FI enabled temperature sensor or relay. Don't wait until you have an application for it. Buy one now, put a battery in it, get to a Wi-Fi hotspot, and get the thing online. There's more to it, I'm sure. For instance, setup through the manufacturer's host site, or something similar. But you need to take the first step, in order to be able to utilize this technology when it comes the time that you really need it!



---


[Click Banner To Learn More]
[Home Page] [The Automator] [About] [Subscribe ] [Contact Us]