---
What exactly is a "Room Controller"?



This year, we launched the embedded CO2 sensor. Later in the year, we will release a wireless Temperature/Humidity/CO2 sensor and VAV specific LUA script for the SE8000.

Gina Elliott, MBA
Marketing,
EcoBuildings Division,
Schneider Electric

What exactly is a "Room Controller"?
It's fully configurable and application specific Terminal Unit Controller. It has built in space temperature with an option for remote temperature sensing. In addition, it can be configured with onboard humidity, and occupancy (PIR) sensing or those sensors can be external to the controller. There are additional inputs and outputs available for use with sequences that relate to the specific terminal unit requirements like outside air, mixed air, discharge air CO2 control, air flow control, etc. You can add a ZigBee wireless communication card that allows for remote wireless occupancy, door and window monitoring for HVAC sequences. Specific to the SE8000 (always has BACnet on board) is the new wireless temperature, humidity, and CO2 sensing. All models can add BACnet or ZigBee communications. All the HVAC control objects on board the controller are BACnet objects and can be read/written to when part of a communicating BMS.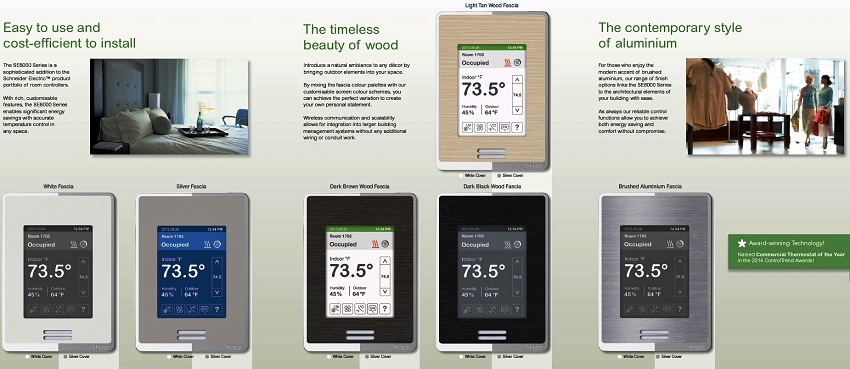 What are the types of terminal units that it can be applied to?
Fan coil units 2/4 pipe, rooftop units, heat pumps, and indoor air quality applications. There are two series available, SE7000 and SE8000. The SE7000 series has a built-in user interface with a built-in configuration utility and an LCD display. Models are selected based on output configuration. The SE8000 was the natural progression of the SE7000 with all the same capabilities. The SE8000 has a color touch screen interface with a built-in configuration utility; it comes with wired BACnet communication on board. The SE8000 always has the temperature on board, and like the SE7000 you can add humidity, CO2, and occupancy sensing. Configuration selections are prompted, and descriptions are in a language that HVAC proficient technicians can understand. There are more than 200 points on a single controller. The room controllers are manufactured with default parameters that allow them to provide control as soon as they are powered and connected.

Can I have on board schedules on a room controller?
In the SE7000 product line, only the roof top unit and heat pump controllers (SE7600 series) have an integrated schedule. All models in the SE8000 product line have an integrated schedule.

What about changing the readout for Celsius or Fahrenheit?
All our room controllers can display Celsius or Fahrenheit. In addition, the SE8000 series supports up to 22 languages.

How is it installed?
Typically, the unit is hardwired to the HVAC terminal unit, and if it is a retrofit, you can reuse existing wiring. There is no specialized labor needed, and you can install one device in less than 15 minutes. You can network controllers via BACnet MSTP or ZigBee (requires a gateway to convert points to BACnet IP) and some models in the SE7000 series will support LON. The SE8000 can support two networks simultaneously (BACnet MSTP and ZigBee wireless).

Is it suited to any building type?
These controllers have been used for Hotels, Dorm rooms, K-12 classrooms, College classrooms, Commercial buildings, retail spaces, historical buildings, medical centers, airports and much more. Hotels like the SE8000 because of the ability to change the language, screen or logo right on the device. You can also connect via ZigBee to additional sensors such as window and door contacts. And, it will integrate with the property management system (PMS). We have a lot of heritage buildings where a hardwired solution will not work within the building aesthetics. You will find the multi-zone controller in office buildings and leased space because of its wireless network capability. Today, we have a million room controllers installed. It is also a favorite with schools because you can send custom messages to the screen for notifications and alerts. The controllers are often used with Building Expert, our "out of the box" BMS specifically designed for the small to mid-size building.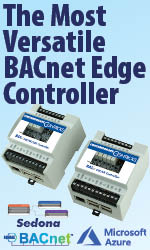 Can it be customized?
Only in our SE8000 product line. We have a library of LUA (open source programming language) scripts for most applications. Our engineering team also works with customers if they have unique requirements.

What are the advantages of using a Room Controller?
It has an easy to understand user interface that gives you a thermostat like a user experience. The interface can be customized to increase ease of use and aesthetics. The controller comes with an onboard temperature sensor, and you can embed humidity sensing, CO2, and occupancy sensing. You have up to 4 AO/5 DO and seven additional external inputs and the ability to add 10 wireless children. All of this adds up to flexibility allowing for the use of the standard included and non-standard sequences of operation. No specialized installation is required, they are configurable, so you don't need to be a programmer or engineer.

Are there any new advances coming this year?
This year, we launched the embedded CO2 sensor. Later in the year, we will release a wireless Temperature/Humidity/CO2 sensor and VAV specific LUA script for the SE8000.

Where can we find more information?
This link will take you to an Interactive Designer where you can design the enclosure, fascia, and screen. There are also videos at this link. You can also contact a Schneider Electric partner or distributor.


---


[Click Banner To Learn More]
[Home Page] [The Automator] [About] [Subscribe ] [Contact Us]