---

EMAIL INTERVIEW – Dan Ritch and Ken Sinclair
Chief information officer and vice president, Connected Services, Honeywell Building Solutions

Daniel Ritch is a Vice President and CIO for Honeywell Building Solutions, part of Honeywell International Inc. He received a BS in History & Education degree from Eastern Michigan University and MSM degree from Walsh College. He has also a certified Project Management Professional (PMP) and has received certification from the University of South Carolina Upstate as a CIO within their CIO Excellent program.

He has been in the technology industry for 22 years (the past 3 with Honeywell) and is lead global system process and technology integrations including; ERP, PDM, CRM and security platforms.

He is currently involved in the transformation of Honeywell's global service operations team aligning the platform strategy with new mobile and cloud based applications –Outcome Based Service, Vector and Pulse.

---
Connected Services

We've introduced Connected Services, a portfolio of building-related technologies that draws from the collective power of Internet of Things (IoT) devices, cloud applications and the deep domain expertise of Honeywell's service engineers.

Dan Ritch, chief information officer and vice president of Connected Services for Honeywell Building Solutions answers some questions about how the Internet of Things is impacting buildings and transforming service, and how buildings can benefit.

Sinclair: What's your take on the Internet of Things and what it means for the buildings space?
Ritch: The Internet of things (IoT) and booming connectivity are fundamentally transforming what buildings are, and what they can do. No longer are buildings simply four walls and a roof. Thanks to IoT and connectivity, buildings can be organizational assets and drive bottom-line benefits. Organizations can put their buildings to work if they have the right technologies in place. The buildings space has a huge opportunity, but the key is knowing when, where and how to take advantage of this connectivity.

Sinclair: What is Honeywell doing to help buildings take advantage of this connectivity?
Ritch: We've introduced Connected Services, a portfolio of building-related technologies that draws from the collective power of Internet of Things (IoT) devices, cloud applications and the deep domain expertise of Honeywell's service engineers. The portfolio helps organizations take advantage of the internet and all of the different sensors and endpoints in a building to help transform what it can do for an organization, and the value it can provide. This can include many things, from providing more detailed, real-time insights into how a piece of equipment is operating to how organizations can address issues faster to save money, to forging a tighter link with employees so organizations can quickly remedy any comfort related issues to keep them happy and satisfied.

Specifically, with this portfolio, we're introducing apps and services that help deepen the connection between buildings and their occupants — from employees and visitors to building managers — to enhance how they operate and the experiences they offer those within them.

Sinclair: Why do you feel this type of services approach is needed? Isn't all service pretty straightforward?

Ritch: This isn't the service of yesteryear, marked by a technician visiting a building on a set schedule, regardless of whether service is needed or not, and calling it good as long as nothing appears to be malfunctioning. Similarly, occupants are no longer left to their own devices to maintain their comfort, either. We feel that connectivity and IoT have transformed the definition of "service," and we're helping buildings take advantage of it.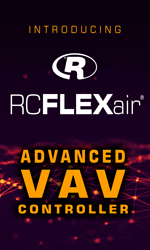 Sinclair: What does this type of connected services approach look like in action, then?
For an office employee, it might entail taking advantage of an app that allows him or her to instantly indicate if the surrounding area is too hot or cold, or to securely move about the workplace with the touch of a screen. For a facility manager, it could also mean using an app, but one that provides real-time facility performance notifications about building equipment to reduce the impact of critical incidents.

Ritch: Additionally, for a building's service and maintenance crew, tapping this type of service approach could mean less time spent manually checking building equipment—an often daunting task for multi-facility campuses—and instead focusing maintenance activities where they can have the most impact on overall building performance, saving time and money in the process.

Sinclair: What kind of impact do you think a service approach that leverages IoT concepts and connectivity can have on a building?

Ritch: Buildings have tended to have isolated technicians at individual buildings. There's only so much one person can achieve by moving throughout a building to check on things, however. If an organization can take advantage of the connectivity and sensors found in today's buildings, they have an opportunity to enable service technicians to work smarter, not harder when it comes to service—and then even quantify how service is tangibly impacting an organization's bottom line.

Imagine combining advanced automation and data analytics and enabling service experts to access and scrutinize building assets around the clock, identifying anomalies and misconfigurations earlier than traditional maintenance. This helps identify building problems and improvement opportunities that can drive energy savings and operational and comfort improvements—and, as noted before, save valuable time and money.

---


[Click Banner To Learn More]
[Home Page] [The Automator] [About] [Subscribe ] [Contact Us]