---
We all know there is change in the Building Automation industry. This article explores the sales and marketing challenges and opportunities System Integrators face, given all the change.
Controls-Con in Detroit last month explored the latest technologies and the possibilities of Building Controls and the Internet of Things (IoT) in commercial and industrial buildings. This month at IBCON, the theme was Recalibrate Using Innovation to Turn Challenges into Opportunities.

Amidst so much industry change, what changes can System Integrators make to compete effectively and meet sales & growth targets?
SI Challenges
A Systems Integrator faces sales and growth challenges on three fronts: 1) with clients, 2) in the market, and 3) in its business.

Challenges from the Client Side
The B2B decision-making process is no longer linear. It is a multi-step process involving completion of "jobs" versus stages of a process.
There are more decision makers in the process, some of whom you may never meet.

IT is involved with the potential to own the decision.

Clients are evaluating you digitally and in-person.
Challenges in the Market (to name just a few)
Single system, single vendor, single building models are disappearing.

Non-traditional competitors are entering the BAS solutions market.

Clients are overwhelmed by the volume of choices and information.

The competition for talent is a major challenge.
SI Business Challenges
Increasing sales efficiency in the face of drawn out deals.

Differentiating your business to establish real value over price.

Gaining sales traction among existing clients with new solutions.

Market visibility for your company in an ever more crowded market.
SI Opportunities
Up to 3X likelihood of high-value deal. According to Gartner in their CSO Update The New B2B Buying Journey and its Implications for Sales

,

"providing customers with information specifically designed to help them advance their purchase has the single biggest impact on driving deal quality that we've ever documented in all of our research." Gartner's research says there is a 3X change in the likelihood of a high-value, low regret deal when they receive quality information that helps them advance.

Differentiate with a Vision of Improvement for the Client's Business. Also from Gartner, "What Sales Should Know About Modern B2B Buyers", B2B customers want a unique perspective on their business and a vision of improvement. This is an opportunity to have a bigger conversation with building owners about the potential of their BAS investments.

Gain Visibility in the Digital Realm. Clients are evaluating you via digital channels throughout their buying process. An SI's ability to win is a matter of both in-person and digital presence with the client team.

Meet IT on Their Terms. IT expects a potential provider to prove their claims through technology demonstrations and documentation. Meeting the needs of this essential stakeholder can elevate a System Integrator above the pack.

Attract new clients and talent with a digital presence and modern brand. Perhaps most important of all is the battle for talent. Just like your clients, the IT savvy talent you need in your business is evaluating you online. The opportunity for System Integrators is to enhance their digital presence and brand to win new business and attract the best talent.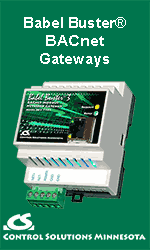 Expect Better Results
Meeting the challenge and capturing the opportunities is a question of both sales and marketing working together. The market will reward System Integrators who are best at meeting the needs of B2B buyers in both a digital and in-person fashion.
Traditionally, System Integrators have succeeded with a strong, in-person sales presence in the market. Five and ten years ago that was a recipe for success.

Today, the recipe has changed. An in-person only approach is insufficient to win the best opportunities in today's Building Automation market.
Marketing's ability to deliver your digital story is essential to complete the quality buying experience expected by modern building owners and managers.

About Your Growth Engine, LLC
Your Growth Engine, LLC, led by Kevin McCaughey is dedicated to delivering marketing services to building automation system integrators that drive sales and growth in their business. More than any other marketing partner, Your Growth Engine knows building automation and security. You get results faster and we work seamlessly as a member of your team due to our industry experience. Your marketing sounds like it was produced by people who work in the industry, because we do! For your System Integration business, Your Growth Engine can Attract New Clients, Increase Sales Effectiveness, Create New Revenues Streams, Enter New markets, and Increase Share of Wallet.


---


[Click Banner To Learn More]
[Home Page] [The Automator] [About] [Subscribe ] [Contact Us]