---
Truly integrated building systems will not become the norm in building design and installation without designers and installers having credentials similar to other design professionals and contractors on the job.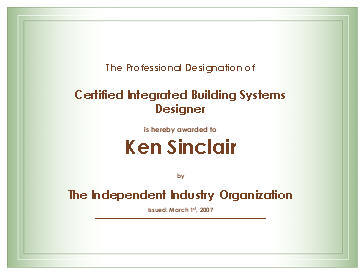 First, let's make clear that in most work involving new construction or renovations, there is a team of professional designers (consisting of the architects, engineers and consultants) and a construction team (consisting of a construction manager or general contractor and supporting subcontractors). This is the traditional design-bid delivery method for construction. Other delivery methods will have similar players in slightly different relationships to each other and the owner. Recently, it has been argued that designers and contractors are one in the same, which may be the case in certain situations. However, for the majority of new building construction, there is a team that designs the building and a team that constructs the building.
The point is this. The industry needs credentials for those designing integrated building systems so that they can be recognized by the design team and owner as having the requisite skill sets and knowledge. The industry also needs certification process for the contractors installing the integrated systems so they can be recognized as having the qualifications to perform the work and properly install integrated systems.
REQUIREMENTS OF THE CREDENTIALS
What should these credentials involve or consider?
Credentials should be provided or issued by an independent body, not a manufacturer, vendor or organization with a particular business or financial interest in the design or installation of the systems. This is especially true on the design side, where the interest of the building owner is paramount and a designer cannot have or be perceived to have a conflict of interest. A designer of integrated building technology systems cannot be coordinating a design with other independent professional such as architects and engineers, and have any credibility if the "credentials" are from ABC Manufacturing Inc. This is not to say that designers should not be knowledgeable of the marketplace and particular products, but just that they be independent from vendors and manufacturers that have a financial stake in the design and construction. Installers may be trained on certain products, but credentials from an independent body would carry more weight.

The designer cannot be called an "architect" or an "engineer" unless that particular person holds a valid license for such. I know we hear of "Network Engineers" and "System Architects", but technically and legally they are not the same as trained and licensed architects and engineers. What persons with integrated building system expertise and skills can be called is "Certified" or "Registered" by an independent body.

Certification or registration will necessitate eligibility, testing and recertification requirements. Tests should be based on a curriculum developed by the independent organization and will need to cover a wide range of subjects, including telecom, building automation, life safety systems, protocols, cabling, management systems, project management, etc. The curriculum will need to be "memorialized" in a manual and taught or reviewed in classes for those seeking certification or registration.

Credentials should provide for at least two different types, one for designers and another for contractors. Designers and contractors do different things, need different skills, and have different work processes. Down the road, specialties of these certifications could be developed (i.e. "Certified Integrated System Designer – Healthcare").
EXAMPLES OF EXISTING CREDENTIALING
There are credentialing models from several organizations that touch on parts of integrated building technology systems. Here are just a couple examples we can learn from:
The Building Industry Consulting Services International (BICSI) has registered designers and technicians in the areas of cabling, networking and wireless. The Registered Communications Distribution Designer (RCDD) covers the design, integration and implementation of information transport systems and related infrastructure components. RCDD certification has been around for 23 years. The RCDD/Network Transport Systems (NTS) Specialist addresses local area networks and internetworking design. And finally the RCDD/Wireless Design (WD) Specialist, which covers wireless systems and wireless design. On the Contractor side, BICSI has credentialing programs for installers and technicians addressing three different levels of expertise. These are referred to as Commercial ITS Installer 1, Installer 2 and ITS Technician.

The American Society of Heating, Refrigeration and Air Conditioning Engineers (ASHRAE) has announced that they will start its first ever certification programs later this year. Initial programs will address healthcare facility HVAC&R design, sustainability, building operations and management, and something called "Commissioning/Integrated Building Design".

ASIS International, the security association, provides certification for Physical Security Professionals (PSP). The PSP covers both the designers of integrated security systems, as well as those that install, operate and maintain those systems.

LonMark, has an initiative for certification on LON systems and is considering certification for Professionals, Installers and Integrators.

Infocomm International, the audio-visual association, has a general certification for those involved in audio, video, display and AV systems. The certification is Certified Technology Specialist (CTS). More advanced certification is available for designers (CTS-D) and installers (CTS-I). Infocomm also certifies companies where at least 25% of their technical sales and support staff are certified.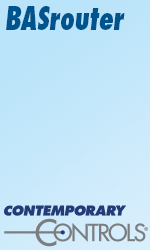 There appears to be plenty to build on to lay a foundation for certification of those involved in integrated building technology systems. No one organization covers the span of knowledge needed for providing credentials for a truly integrated building. It is similar to the situation Tom Lohner has addressed regarding the plethora of conferences and conventions one must attend to stay up on the industry.
THE PATH FORWARD
The path forward to credentialing for integrated building systems will require cooperation among several different organizations. One organization may need to take the lead or be selected by the other organizations to take the lead in administering the credentials, including initial testing, continuing education and renewals, etc. But deciding on the knowledge base for certification, and ultimately the legitimacy of the credential certificate in the industry and marketplace will require organizations who may not have worked together in the past or who even may view each other as competitors to collaborate.
Many in the profession view the legacy building design process and the subsequent installation process as fragmented. Credentialing could be part of the "glue" to bring it all together and enhance the credibility of the industry with building owners.
The major independent organizations involved in some aspect of integrated building technology systems will have to begin the process by:
Coming together to discuss the credentialing

Outlining the skill sets and knowledge based needed to be certified in integrated systems

Deciding on the governance or leadership of such an effort

Scheduling how the knowledge base for integrated systems can be brought together in a manual which could become the basis of the certification
Major industry manufacturers and contractors should be welcomed and invited into the process to reflect their views of the marketplace needs and to assist the industry organizations.
What organizations and private companies are up for this? If you are interested in working with me to facilitate meetings and conference calls to move this approach towards comprehensive certification and credentials, contact me at jim.sinopoli@sinopoli-associates.com.
---
About the Author
For over 25 years, Mr. Sinopoli has worked extensively on projects involving the configuration and optimization of building technology systems and networks. Mr. Sinopoli has spoken on numerous occasions at conferences and seminars focusing on high technology issues and has received the international "Harry J. Pfister" award from the Building Industry Consulting Service International (BICSI).
Mr. Sinopoli has experience in the healthcare, corporate, education, manufacturing, finance, construction and government industry sectors. His clients have included Fortune 100 corporations, the US Postal Service, the US Air Force, major K-12 school districts throughout the county, statewide university systems, airports and ports, the Internal Revenue System, large private and public hospitals, technology companies, and nationwide developers. His international experience includes projects in Asia, Europe, South America and Africa.
Mr. Sinopoli's educational credits include a B.S. in Engineering from Purdue University and a M.A. in Applied Science and Management from Governor's State University. He is a licensed Professional Engineer and a Registered Communications Distribution Designer. He recently authored a book titled "Smart Buildings".
---


[Click Banner To Learn More]
[Home Page] [The Automator] [About] [Subscribe ] [Contact Us]