---
| | |
| --- | --- |
| No! Itís not just a sensor! | Trevor Palmer, Viconics |
I am always taken back by how much is contained within our little thermostat, and moreover how often we are told what a great looking sensor we have!?











The 2008 AHR Expo was no exception of course, but we are gaining ground and providing more visual aids to assist in providing a complete explanation of just what our devices do and where they fit in the market place. With nobody to blame but ourselves, and our engineering department for squeezing so much in a very attractive wall enclosure, I sit writing this review about our devices and am in awe as to how much more they are and will be able to do in the near term.
The latest innovations from our engineering team have been the integration of a passive infrared motion detector directly into the cover of our VT7000 series thermostats. This newly added feature, though basic, adds a ton of functionality at the right time for the market, considering where energy prices are and where they continue to head.
The VI-PIR equipped thermostats essentially utilize the integrated PIR sensor to toggle between a standby set point value (adjustable) during occupied periods. This provides excellent opportunity for incremental energy savings during occupied periods. Take a moment and think beyond the traditional hotel room application, youíll quickly realize there are plethoras of commercial offices and conference rooms in the world, which could realize substantial energy cost savings, not to mention extension of equipment life! Our tests have indicated that the savings are somewhere between 10 and 30% on most applied applications.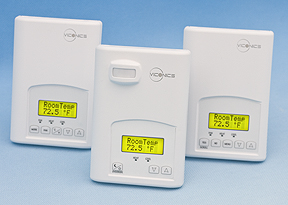 More interesting however is when you consider the application of this type of device when our traditional network adapter (BACnet MS/TP, Lontalk or Wireless) are added into the picture. Security, a different twist on occupancy demand based ventilation are also other options.
The VT76X7 series communicating-thermostats have been another great addition. These devices provide more of a total constant volume system control including temperature and humidity in one device. The VT76X7 series will control hot gas bypass or mechanical dehumidifier, an analog type humidifier, in addition to controlling conventional 2 heat / 2 cool roof-top units. This type of application typically required an expensive programmable controller with multiple peripheral sensors or multiple electronic controllers to accomplish.
Needless to say the interest in Viconics Electronics Inc new products has been unparalleled. The 2008 AHR Expo proved to be the ideal launch pad for many of these new products.
---

[Click Banner To Learn More]
[Home Page] [The Automator] [About] [Subscribe ] [Contact Us]