---
Wireless Commissioning and Market Mega Trends

Wireless commissioning can be easy, and large market forces are pushing its adoption to supply the growing demand.
People like me spend a lot of time discussing the current and future market impact of wireless technology in building automation. Today, I'd like to be more specific and demystify what wireless means at the field level. Although it may seem obvious to some, wireless commissioning is still a mystery to many.

First, I'll take you through the tedious, painful process of commissioning wireless devices and networks. Then, I will address the mega trends that are pushing more and more building stakeholders to prescribe wireless in their building automation solutions.

Warning: I take for granted that you've heard about the EnOcean and ZigBee wireless protocols. If you haven't, look them up.

Commissioning of wireless sensors and actuators
I will be blunt and concise. Here's how you can establish wireless communication between an EnOcean device and a CAN2GO controller (BACnet IP compatible):

1) Place the EnOcean device in range of the controller

2a) Press the learn button in the web interface (online) of the controller and the physical learn button that is on the EnOcean device.

- OR-

2b) Type the EnOcean ID of the EnOcean device inside the appropriate box in the web interface.

3) Click "Save" in the web interface.


How you can commission EnOcean devices with CAN2GO controllers

That's it. This is one way to commission wireless devices in a building automation project.

Network commissioning
I will unfortunately have to be blunt and concise again. Here's how you setup a ZigBee wireless mesh network for a group of CAN2GO controllers.

1) From the comfort of your office, configure your controllers so they are on the same ZigBee channel and have the same network ID. Identify one unit as the ZigBee coordinator and network monitor.
2) Deploy and power the controllers. Make sure the network monitor is connected to the LAN.
3) The controllers will create their own ZigBee network.

How you can create a ZigBee network with CAN2GO controllers

That's it. Wireless discovery and meshing is automatic. This is one way to create a wireless mesh network of controllers in a building automation project.

As you can see, I lied. These processes are neither tedious nor painful. This is wireless building automation today. Consider the issue demystified.

Things to keep in mind
When deploying wireless devices and networks, system integrators should always keep in mind that wireless protocols have different wavelengths, range and bandwidth. The range can be affected by building materials and obstacles such as elevator shafts.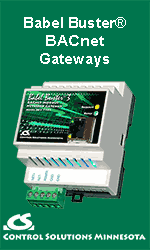 As with wired deployments, it is important to plan ahead. One little known advantage of wireless building automation is that you can link controllers and peripherals in the comfort of your office before deploying them in the field. This is a best practice that we recommended. The only task remaining on site is to position the devices within wireless range of each other. Of course, because communication is wireless, it's easy to relocate devices or add repeaters to ensure reliable communication within the environment.

Mega trends pushing wireless in building automation

Now let's shift gears and go back to our marketing comfort zone to look at the mega trends steering the present and future of the building automation industry.

There are three mega trends fuelling a large increase in demand on the retrofit side. (1) Energy prices tend to increase, not decrease. (2) Since the economic crisis, governments have invested in subsidies, incentives and regulation to push energy efficiency measures in buildings. (3) The crisis has also put more pressure on companies and institutions to cut costs, and energy efficiency is a great way to achieve this goal with payback periods ranging from 1 to 5 years with building automation.

Now here's the kicker: there are also three mega trends limiting the market's response to this increase in demand. (1) Despite the crisis, there is a current labor shortage in our industry, as explained in this article: "According to several recent surveys, most small business owners around the country do not plan to hire due to the uncertain economic outlook... Parts of the HVAC industry seem to be trending in the opposite direction, however, as many contractors say they are planning to hire over the next 12 months — if they can find the qualified people... Unfortunately, there are too few qualified individuals for these open positions." (2) This labor shortage will get even worse as baby boomers start going into retirement. (3) Labor prices, the main variable cost in building automation projects, will remain high.

So, the unstoppable force of increasing demand for energy efficiency in building is about to run into the immovable object of qualified labor shortages. The one way to circumvent this problem is to deploy systems that rely more and more on wireless technologies, because they can be deployed quickly. This allows contractors to do more projects in the same amount of time. It also holds many direct and indirect advantages for the building owners and facility managers.

Market & demographic mega trends are favoring wireless in building automation

Client side benefits
The direct advantage of using wireless in building automation is to lower the total cost of ownership of systems; which translates into faster payback periods. This can vary depending on the project type, but wireless does reduce labor, repair, wiring and conduit installation costs.

The indirect advantage of using wireless control and networking products is a reduction of collateral costs. Traditionally, installing a building automation system has always been an invasive process that created inconvenience for building owners, managers and occupants. Closing a store, a wing, a floor, a department, a classroom or an office just for system installation means losing productivity; losing money. Wireless allows for speedier and more discreet installations, reducing the indirect costs of productivity loss. Less wires, more value.

The permanent advantage of wireless systems is low-cost scalability and flexibility. Adding more points to a wireless enabled system is easy. It can be done at any point during the lifetime of the system for minimal cost. No need to add gateways, inputs/outputs extenders and pull wire. Just add the new points in range of your existing system. The same is true for point relocation. If a sensor is deemed to be in the wrong place, wireless devices can be relocated with minimal labor.

This is why building owners, facility managers and engineering firms are increasingly specifying wireless components for their projects.

Overall, the combination of supply/demand mega trends and client side benefits is steering building automation the wireless way.


---


[Click Banner To Learn More]
[Home Page] [The Automator] [About] [Subscribe ] [Contact Us]