---
The Wireless Way

Relying on the principles of energy harvesting, 250 EnOcean Alliance members worldwide are proving that wireless, self-powered building controls are the future.



Cory Vanderpool
Business Development Director North America
EnOcean Alliance Inc.
There is no doubt that wireless has a bright future for making buildings greener and more sustainable. The day is fast approaching when we can reduce our reliance on hardwired building systems and instead adopt wireless to improve the information about, and increase control over, the energy we use in our structures.

Although wireless building systems are becoming commonplace, no wireless system alone can satisfy all the different, and often changing, requirements. The landscape of offerings includes wireless systems from groups like EnOcean, Z-Wave, ZigBee, Bluetooth and WLAN. Each of these standards plays a role in the building automation marketplace, but the majority of these players have seen limited success. Factors such as frequency, interference risk, range, interoperability and life cycle costs are all important considerations and will help determine which standard ultimately "wins" the wireless race.

When it comes to wireless, traditional solutions include batteries to provide devices with power, but batteries are of particular concern to facility managers since they are time consuming to replace and costly to dispose of properly. Utilizing batteries is ultimately not a "green" solution. Today, wireless systems can instead make use of energy harvesting technology, as they aren't required to route messages for other sensors, allowing devices to operate on significantly less power.

Creating the EnOcean Standard
The EnOcean wireless, open standard for sustainable buildings functions without the use of batteries. Formed in 2008 by leading companies from the building sector, the EnOcean Alliance aims to standardize and internationalize EnOcean wireless technology and is dedicated to creating interoperability between the products of OEM partners. Relying on the principles of energy harvesting, 250 EnOcean Alliance members worldwide are proving that wireless, self-powered building controls are the future.

Wireless sensor modules from EnOcean harvest their power from energy sources in their surroundings, from motion, light or differences in temperature, for example. The amount of energy obtained in this way is enough to send a wireless signal, and turn on a light, for instance. The signal used is transmitted in the 868 MHz or 315 MHz band. Each EnOcean module utilizes a unique 32-bit identification number to prevent any possibility of overlap with other wireless switches. To mitigate transmission errors, the telegram sent is randomly repeated twice in the space of about 30 milliseconds.

In January 2009, EnOcean Alliance published the first global, open specification for energy harvesting wireless sensors, a major milestone in ensuring the interoperability between products from different manufacturers. This published specification, v2.0, contains some 50 EnOcean equipment profiles (EEPs) that enable and support the development of various building automation solutions such as switches and sensors. The publication of this EEP specification was the first step towards creating a new international open wireless standard, which the Alliance hopes will be ratified and released by the IEC/ISO this spring. EEP v2.1 was released January 2011 and offered new telegrams and other minor enhancements, while the latest EnOcean interoperable standard EEP v2.5 is planned for release by the Alliance in April of this year.

Interoperability, an essential function of EnOcean Alliance, is a prerequisite for enabling equipment from different manufacturers to communicate and work together in a building automation system. The specification, devised by the technical working group (TWG) of EnOcean Alliance, now involves over 100 active contributors. It calls for adherence to clearly defined rules and standards, ensuring that all components use the same data formats or protocols, therefore allowing the combination of a receiver from Manufacturer "A" to be paired with a sensor from Manufacturer "B", as well as a sensor from Manufacturer "C". In this way, you can implement non-proprietary, cross facility smart solutions for energy efficient building automation.

EnOcean over IP
Products and systems incorporating EnOcean technology are also easily integrated into common building automation systems, including LON, BACnet, KNX, TCP/IP or Ethernet. Many buildings, particularly larger ones, have the ability to leverage the large bandwidth and range of an existing wired building automation system backbone, whereby the flexibility of wireless can be ideally combined, extending the physical reach of the data they share.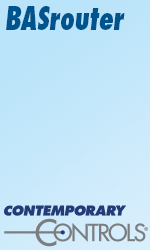 Small and medium sized buildings, on the other hand, are seldom equipped with building automation systems because of the relatively high upfront costs and longer payback periods. IP and web based solutions offer an alternative to these hurdles, either through more cost effective building management systems or more mobile and accessible interfaces.

BSC Software and SCL Elements are leading providers of EnOcean over IP, offering turnkey solutions that are poised to revolutionize the industry. SCL Elements developed a complete line of controllers that are BACnet/IP compliant web servers. Each controller is an autonomous server and when connected to the same network, they merge to provide customers with a single, centralized management interface either locally or remotely.

BSC Software developed a bi-directional EnOcean-to-LAN gateway, capable of buffering 3,000 EnOcean sensor signals. They have partnered with Magnum Energy Solutions, also an Alliance member company, to develop a solution that supports EnOcean devices with switching and visualization services that include lighting, HVAC and security camera integration. This system, ideal for smart metering, allows a building operator real time monitoring of a facility's actual power consumption. Furthermore, all control functions can be made mobile by using a smart phone, with their BoSeMobile app available for both iPhone and Android devices.

Driving Market Adoption of Wireless
The need to reduce energy consumption in buildings has given way to an exponential increase in the interest for wireless technology, particularly energy harvesting. The Alliance is continuing to prove, through an installed base of over 250,000 buildings and documented case studies in various types of buildings across the world, that wireless solutions provide better payback than traditional wired solutions.

Although wired devices tend to be more economical based solely on first costs, the reality is that wired solutions involve considerably more time and labor and can disrupt daily operations, driving up total and lifecycle costs. Further market penetration, product innovation and strategic partnerships with suppliers are helping to bring down the costs of wireless.

To help meet the growing demand for EnOcean enabled products, Alpscontrols.com has launched enoceanparts.com as a streamlined approach to getting products out into the marketplace. An online only distributor of HVAC and building automation products, Alpscontrols.com provides customers with state of the art product search, convenient and time saving project and accounting tools. Contractors and system integrators can select from a wide variety of competitively priced, interoperable products in one convenient location.


---
About the Author
Cory Vanderpool joined EnOcean Alliance as the Business Development Director for North America. Prior to this role, she was Executive Director of GreenLink Alliance, a non profit organization dedicated to promoting energy conservation in buildings and tax incentives for building owners. Before establishing GreenLink, Cory worked in business development supporting a government contracting firm focused on civilian and defense markets. In addition to her work at the EnOcean Alliance, Cory is also pursuing her PhD in Environmental Policy at George Mason University and is a part-time contributing writer at Triple Pundit.

About EnOcean Alliance

Leading companies worldwide from the building sector collected to form the EnOcean Alliance, with the aim of promoting and establishing innovative automation solutions for sustainable buildings. The core technology of the Alliance is the energy harvesting wireless technology for flexibly positioned and service-free sensor solutions. The EnOcean Alliance aims to standardize and internationalize energy harvesting wireless technology, and is dedicated to creating interoperability between the products of OEM partners. More than 250 companies currently belong to the EnOcean Alliance. The headquarters of the non-profit organization is located in San Ramon, CA.

---

[Click Banner To Learn More]
[Home Page] [The Automator] [About] [Subscribe ] [Contact Us]