---
Every month there is a blizzard of information contained in the emails and newsletters that cross my desk on their way to AutomatedBuildings.com. Some of this information is not in the form of any type of content we can publish but I feel I should share with you these snippets, blog bits, and url links that are about to fall off my desktop.
Your next desktop could be a phone
Why carry two devices, when you could carry only one? Your next high-end smartphone has far more horsepower than you'll need on a phone, and more than enough for a laptop. So we've brought Android together with Ubuntu, the world's favourite free operating system, to give you a full productivity desktop that fits in your pocket. Android for the phone experience, Ubuntu for the desktop, all on one device, running at the same time.

So forget the office PC. Just dock your corporate phone and enjoy Ubuntu. Anywhere. One address book. One set of bookmarks. One place for your text messages and email. No more typing on a tiny screen when all you want is a keyboard and a mouse. Seamless integration of your desktop and mobile worlds. Brilliant.

The Internet of Things Meets The Internet of People
Apple, Google, P&G and FaceBook have forced the pace of development in networked computing, catching larger rivals off-balance and threatening to effect fundamental shifts in technology markets. Their strategies reflect the increasing importance of large-scale collaboration and alliances in creating new opportunities. Alliances and collaborative systems are hardly new but as social networks converge with intelligent sensors, devices and assets radical new modes of value creation are emerging. Only those who grasp the new rules of smart systems and collaborative market creation can win key positions.

The World Market for Smart Home Energy Management Systems - 2012 Edition A new three volume study, providing clear analysis and forecasts (to 2016) of the market for eleven key energy management devices, in 26 countries & sub-regions.

BACnet International White Papers and Articles "60+ articles, organized by topic, posted on BACnetInternational.org today"
OPC UA is emerging as a fundamental technology for implementing Digital Factory concepts to increase production efficiency. There can be a lot of discussion about standards but until vendors start embracing them and supply products it is just noise in the wind. During a half day session at the Sixteenth Annual ARC World Industry Forum Conference on February 9, 2012, organized by ARC and Tom Burke, President of the OPC Foundation, some automation vendors made it clear they are adopting OPC UA.
Planar® Mosaic™ architectural video walls redefine interior spaces. The solution allows a video or image to be scaled across three different sizes of LCD display tiles, including a truly square tile. The tiles can be mounted in any positions relative to each other, and individually at almost any angle necessary. Mosaic gives designers endless possibilities for creative expression, and delivers a compelling display of art and information. It is a powerful way to generate a desired emotional reaction or build a brand experience. With unencumbered positioning flexibility, off-board power supplies and sophisticated imaging software, Mosaic sets a new standard for architectural video walls.
Health Services Use of Dynamic Signage: Whitepaper Visual media is particularly well suited to health services environments.Information can be provided on an as-needed and as-available basis, messages are easily interpreted, waiting time can be used to deliver useful healthy living advice and relationships can be enhanced. Hospitals, clinics, physician and specialist offices can enjoy operational efficiencies, education and promotions through their use of a Dynamic Digital Signage. Beyond staff, volunteer, patient and visitor communications, new revenues and support for partner organizations are available through this popular, high impact medium. This paper outlines the value of dynamic signage in the health care environment and the proven approaches to its effective planning, expansion and use.

Watch Video; Multi Award-winning MicroTiles now feature enhanced screen, for better rendering and visibility angles. Christie MicroTiles are building blocks that can be stacked to create any shape or form. The LED light source, coupled with proven DLP® technologies allows better colour reproduction. Christie MicroTiles are rated at 65,000 hours (7.5 years) of continuous use to mid brightness, making it the perfect solution for a rental staging environment.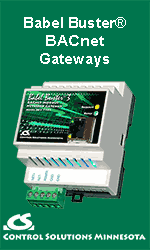 Dear Ken, CABA would like to thank you for attending CABA's Intelligent Integrated Buildings Council (IIBC) meeting and reception during the 2012 AHR in Chicago last month. We had a record turnout for the event and received some great feedback about the initiatives of CABA and the IIBC.
Many CABA members, AHR 2012 exhibitors and attendees of the IIBC meeting/reception provided video interviews to the CABA team and they can be viewed at: http://www.youtube.com/cabaconf . If you would like to learn more about your CABA Research Subscription/Membership or any questions, please contact George Grimes, CABA Business Development Manager at: grimes@caba.org or 613.686.1814 x226.
The February issue of the SkyFoundry Insider entitled Information Alchemy -- Turning Your Building Data Into Money. In this issue we explore how SkySpark enables building operators to drive operational savings by applying automated analytics to their existing energy and operational data. You can download the newsletter at: http://www.skyfoundry.com/file/32/SkyFoundry-Insider-2012-02.pdf

Buy this report? The market for commercial building automation systems is in the midst of revolutionary change in terms of technology and relevance to global energy management. From the 1970s until the mid-1990s, modern building automation consisted of individual systems with simple control panels for switches, timers, and alarms. Today's systems, however, are designed to perform much more complex tasks and play a central role in efficiency. Because commercial buildings consume roughly 23% of all electricity globally, the automation systems that improve, measure, and verify efficiency are a critical part of global energy management.
BACnet for Field Technicians Chipkin Automation Systems presents a short guide filled with practical information.

How awesome is it to be able to get the glass working and talking for you? You gotta watch this video. Images on the glass are just captivating, there is no two ways about it. Samsung has created an incredible interactive computer window that will someday, no doubt, be a part of the more high-tech home and businesses.
---


[Click Banner To Learn More]
[Home Page] [The Automator] [About] [Subscribe ] [Contact Us]