---


EMAIL INTERVIEW – Mead Rusert and Ken Sinclair
Mead Rusert, President, AutomatedLogic
---
Innovative Building-Management Solutions

This feature is like instant replay for a building and takes a lot of guesswork out of troubleshooting.

Sinclair: What is the biggest challenge facility managers face today?
Rusert: For facility managers, having building information at their fingertips is essential to ensuring optimal building efficiency and creating ideal occupant comfort levels. That's why Automated Logic created innovative diagnostic tools like our newest WebCTRL® feature, Time-lapse. This application uses WebCTRL's historic building data and allows facility managers to roll back time in 24-hour blocks, so they can view building conditions as they change. This feature is like instant replay for a building and takes a lot of guesswork out of troubleshooting.

Sinclair: What value does the suite of your products provide to its customers?

Rusert: Our job is to make buildings smarter, more comfortable and more efficient. We provide peace of mind to our customers by providing optimized building control systems that are easy to operate and provide clear insights into complex building systems. Our products are built using a systems approach that involves intuitive and visually appealing analysis tools and reports that enhance the functionality and efficiency of our customers' buildings. When they turn to us, we want them to get the most efficient solutions possible for their specific building needs. Our suite of control solutions gives building owners and facility managers the tools they need to help their building run more efficiently and provide optimized building performance. Building owners and managers also find great value in knowing their investment with us is protected due to our long-standing commitment to providing legacy system support for our products.

Sinclair: What's new?

Rusert: Automated Logic has always provided innovative solutions that serve up information in intuitive ways, and that trend continues with the launch of our Eco-Screen® application in February. This software application provides a visual display of the energy and conservation measures within a building through an interactive stand-alone kiosk or a Web browser. Ideally, a customer would display Eco-Screen on a kiosk in a lobby or shared area to showcase energy-efficient building functions. Unlike other products on the market today, the Eco-Screen application does not require expensive cloud-based fees and third-party involvement, but instead can be easily added to an existing WebCTRL server. This gives building owners and managers more freedom and flexibility, so they have full access and control from beginning to end on what's being displayed and can easily keep information current without additional costs.

We recently introduced the latest version of our WebCTRL software. It is the first WebCTRL release that gives customers full access to the powerful features through the convenience of a tablet without additional browser or device downloads. It includes more browser compatibility and other innovative enhancements, including a new user interface, simplified alarm management and a new multitrend display that brings historical data to the screen in seconds.

Sinclair: What is the company's primary focus going forward?
Rusert: Automated Logic will continue its legacy of innovation by offering building owners comprehensive building automation and enterprise information management solutions to make buildings smarter, more comfortable and more efficient. We see a large focus on building data and getting access to the data quickly and in a way that allows our customers to make quick, informed decisions. The building of the future will be very smart. Systems will be integrated so, for example, the swipe of an access card can turn on the lights in a certain zone and adjust the temperature accordingly. Of course, this is happening now, but such systems will become more prevalent. ALC is well-positioned to be at the forefront with our technology and our integrated expertise and relationships with the other building and industrial systems companies under the United Technologies umbrella.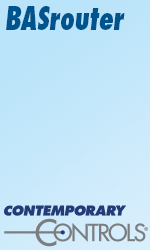 Sinclair: How does your background prepare you to lead?

Rusert: I have been active in energy efficiency and building systems since my very first internship more than 25 years ago as a technical reviewer for energy grants at the University of Wisconsin – Madison. Since then, most of my career has been spent at Carrier Corp., where I held leadership positions in marketing, platform management and engineering. I have participated in several industry groups, including the Air-Conditioning, Heating, and Refrigeration Institute (AHRI); the American Society of Heating, Refrigeration and Air-Conditioning Engineers (ASHRAE); and the Department of Energy Better Buildings challenge. I look forward to leading this talented Automated Logic team.

Sinclair: You're also heading up UTC's new AdvanTE3C Americas group. How does that relate to ALC?

Rusert: With today's buildings becoming more complex, owners need holistic solutions to create the best building possible. UTC Building & Industrial Systems brought together some of the building industry's leading brands. These are the companies that built industries, from elevators to air conditioning and more.

UTC Building & Industrial Systems pushes even further with AdvanTE3C, which is a team of buildings experts in efficiency and environment that will collaborate to innovate and create holistic strategies for better buildings. Automated Logic's building-management products are the foundation of many integrated building solutions. AdvanTE3C will leverage the broad building-management expertise of Automated Logic along with the expertise of the other brands to create buildings that are smarter, more efficient and safer.

---
About Automated Logic Corporation
Automated Logic Corporation (ALC) provides innovative building-management solutions that maximize energy efficiency and sustainable building operation while ensuring comfort. Its intuitive products control and monitor building functions such as heating, air conditioning and lighting for commercial office, education, health care, government and data center markets through a global network of independent dealers and North American branch offices. ALC is a part of UTC Building & Industrial Systems, a unit of United Technologies Corp., a leading provider to the aerospace and building systems industries worldwide. For more information, visit www.automatedlogic.com or follow @AutomatedLogic on Twitter.

---

[Click Banner To Learn More]
[Home Page] [The Automator] [About] [Subscribe ] [Contact Us]