---

EMAIL INTERVIEW – Deb Noller and Ken Sinclair
Deb Noller, CEO, Switch Automation
Deb Noller has a Bachelor of Commerce with a Computing major so is adept in both business and technology. She is also skilled at building relationships and understands the growth and scalability challenges of taking a platform to the global market. Deb is passionate about sustainability and is keen to ensure that Switch helps our customers tell their stories.

---
Fault Detection and Diagnostics (FDD)

Our customers really wanted the ability to set up their own analytics rules without needing to know how to code.

Sinclair: What's new with Switch Automation?
Noller: We've been heads-down working on quite a few developments over the past few months:
First, we released Switch Hub 3.8, which features some new Smart Alert features and a Document Library. Our customers really wanted the ability to set up their own analytics rules without needing to know how to code. Nobody else in our industry is doing these things, so it's a pretty big deal for our customers and those who are interested in Fault Detection and Diagnostics (FDD).

Then last month, we pitched to 200+ investors at Alchemist Accelerator, the premier enterprise accelerator in the U.S., and raised some eyebrows at how our team plans to transform the real estate industry. So much so, that we're hiring. From software programmers to business development gurus, we're preparing to expand our global team in Q1 to keep up with demand.

We also launched a new website: www.switchautomation.com. It's a much nicer user experience and is home to loads of useful info on smart buildings, RETech and sustainability for anyone who wants to stay up to date on the future of technology in the property industry. It's also the best go-to place to learn about the series of educational industry events we'll be hosting in 2016.

Sinclair: What are the events about?

Noller: Frankly, we know that the real estate market is hungry for more information on how to transition from the old world of disconnected BMS systems to the new world of fully integrated IOT, and we can contribute to this gap in market knowledge.…So we partnered up with our customer and generous host AMP Capital along with our technology partners, Microsoft and Intel to have a really honest discussion about smart buildings and emerging trends in our industry.

We call it 'The Tipping Point.' It's really just the point where the Internet of Things, cloud, infrastructure and the real estate executives all converge to change the way that we manage buildings. Hold the sales, hold the 'been there, heard that.'

We ran a survey after our inaugural Sydney event to see what the Sydney property management attendees found most relevant and the overwhelming majority appreciated the talk on the evolution of the broken BMS and how the industry is starved for an actually smart building approach, so we're very much looking forward to our stateside tour. We'll keep you posted on when dates / locations are announced.

Sinclair: So from your perspective, how would someone who might not know anything about technology [but knows a lot about real estate] even approach an actually Smart Building program?
Noller: It's really not as difficult, intimidating or tedious as folks may think. From our experience with building portfolios [large and small], a strategic approach to getting started looks pretty much the same:

Research: As with any smart project, start with research. Set up a few keyword lists on Twitter to keep up with industry conversations, trends and tools. Consider partnering with a consultant to help you navigate the space. Talk to us if you need a recommendation to the consultants who really know their stuff.

Start small: Break the problem down into small, achievable chunks that allow you to measure success, make informed decisions and grow a program from the inside out.

Do something: Build in trial and error time, sure, but the only way you can really educate yourself and your team is to do something. And there is no need to wait, you need to do it now.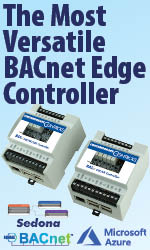 Sinclair: We're talking a lot about Haystack this month—what is the Switch Automation take on BMS naming conventions?

Noller: First of all, anything that helps move our entire, behind-the-times industry forward is a good thing. A thing that we fully support. That said, we think there's a bigger story here than the Haystack schema.

What we DON'T like is when tagging schema limit the functionality and usability for the end user. We DON'T like when engineering nomenclature or a service-provider lens leaves the majority of a real estate-focused audience trying to translate 'CH' when 'chiller' eliminates the jargon-readers-only approach. We DON'T like when tagging is limited to only a fraction of equipment types or measurable items in a building. Basically, tagging shouldn't be a reason that you have to be an engineering professional or a machine to understand your data. And it should certainly allow you to see and measure everything worth seeing and measuring in your building, versus just one or two components—like HVAC, for example.

From our perspective, to really move this industry, we need to simplify and speak normal, human language. From education campaigns to sales meetings to the tagging scheme and implementation process—we need to ensure that people with non-technical backgrounds can operate and find value in a smart BMS program.

---

[Click Banner To Learn More]
[Home Page] [The Automator] [About] [Subscribe ] [Contact Us]