Case Study

Chris Irwin
Regional Director ,
Tridium EMEA
All building services throughout the AFC, including HVAC, lighting, access control, alarm and security systems are connected through various LONWORKS® compatible control devices from different manufacturers.
---
Charged with training the British soldiers of the 21st century, the new Army Foundation College (AFC) in Harrogate is also employing an open building controls solution of the future from open framework specialist, Tridium. Built on the Army's existing site under the PFI scheme at a development cost of over £80 million, the new AFC is a flagship training centre for the Army Training and Recruitment Agency. This hi-tech, high quality residential environment represents the new way forward for troop training, housing around 1500 students and 420 staff in an 18 building campus that consists of accommodation in 132 new or refurbished quarter sites together with full academic and military training facilities. A key feature of the development is the new LONWORKS® building control system designed, installed and commissioned by 2Serve Ltd - the systems integrator for the project. 2Serve has unlocked the potential of this open control system through its use of Tridium's market leading NIAGARA FrameworkTM , enabling delivery of the inter-operability, efficiency, flexibility and life-cycle cost-savings promised by the network.












"The Tridium solution is perfect for this type of open systems project" says Mark Davenport of 2Serve. "It saves on capital cost and allows us to create a fully functioning open LONWORKS® control system, easily accessible through a Web browser and bringing real added value for the end-user."
All building services throughout the AFC, including HVAC, lighting, access control, alarm and security systems are connected through various LONWORKS® compatible control devices from different manufacturers, including TAC, Honeywell and Calon and linked to Tridium's NiagaraTM framework, incorporated within the company's JACE-5 controllers. The Tridium framework manages these multi-vendor devices in the most efficient and seamless way possible, providing real-time control, data logging, alarm handling and scheduling functions, as well as allowing complete and easy access to over 2500 data points on the system via a standard Web browser. Niagara's web serving graphics enable all supervisory actions, such as monitoring and adjusting the various sub-systems to be achieved from any PC without the need to load any special software, which reduces maintenance and training costs. The campus buildings are linked with fibre-optics IP network for building-to-building connectivity. Each building contains one of Tridium's JACE-5 series controllers, which sits on the site-wide Ethernet network, providing integrated control, supervision, and network management for all the LONWORKS® devices including the binding of the Lon devices. In the AFC's multi-building complex, the Tridium Web Supervisor™ software running on a standard PC, manages global control functions, and provides alarm handling and data archiving for the system.
The AFC was built as a PFI project by Jarvis plc, who will operate and maintain all buildings on the site for the next 30 years. M&E Contractor for the project was NG Bailey and building services consultants were WSP. One of the main attractions of the Tridium and Lon solution was the overall life-cycle cost savings of adopting an open rather than proprietary solution. Tridium is a US based company with their European headquarters in Buckinghamshire. The company has established key strategic alliances with leading corporations in the energy services, building automation and data management industries. Tridium markets its products to a wide range of controls manufacturers, HVAC equipment manufacturers, and a network of Tridium Systems Integrators.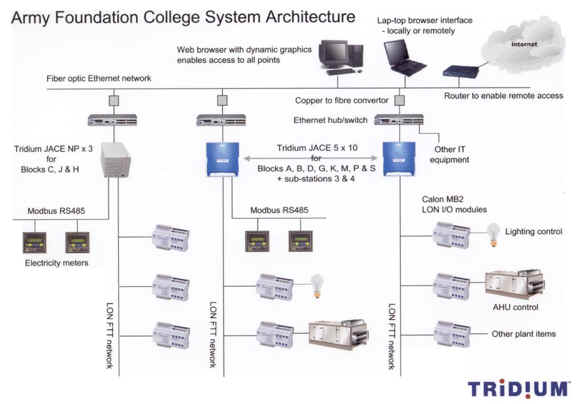 Author's note: The number of Open Lon systems installed in this country - or anywhere else - is still surprisingly small as major manufacturers tend to implement proprietary solutions with the Lon technology which makes them less than fully open and unable to integrate with Lon devices from other manufacturers. So the type of solution achieved at the AFC where, with the benefit of the Tridium framework bringing Lon products from a number of manufacturers together, and handling a variety of functions and applications to create a fully featured, fully functioning system, is still the exception rather than the rule. With this open solution, additions or even replacements can continue to be chosen from best in breed giving the solution the kind of future proofing that will make it cost effective throughout its lifetime.
---


[Click Banner To Learn More]
[Home Page] [The Automator] [About] [Subscribe ] [Contact Us]