Building on BuilConn
a review of BuilConn 2003


Ken Sinclair, Editor
---
I am just back from BuilConn 2003 http://www.builconn.com and am extremely pleased to have been involved as a contributor to the content board, a moderator for several sessions, a panellist for two sessions, plus an overall fan of the BuilConn concept.












Anto Budiardjo's hallucination grew into a vision shared first by a few and then more. The input from the more and their respective mosaics of different but similar large building integration businesses converted the shared vision into a reality. Even with the created reality of BuilConn there was still concern as to whether we could transfer this vision to a fragmented industry, then throw in a few more obstacles such as a war and SARS to test if this concept was really viable. Suddenly it was show time BuilConn 2003, April 23rd to 25th. No more time to think and worry.
Well they came, over 200, they first thought they were hallucinating but then their blurred visions of what they had never seen before started to clear as they saw an industry in a metamorphous of interacting, networking, and generally just getting on with it. The spirit of the crowd was infectious as it fed on itself, creating a feeling of cooperation and objectivity never seen before in our industry. They all got it, moving ahead in today's market is going to require team building and this event allowed them to be in on the first pick of players.
I do not want the feeling of the last few days at BuilConn to end. I want to transfer it to all my readers by challenging them to go where they have never gone and do what they have never done, creating a metamorphous to the future.
The keynote speakers advised us to learn how to speak the language of the building owners and add value to the transaction chain with helping to improve the owners' revenue stream not just in reducing fixed costs. Our present metamorphous to our clients' enterprise is an open invitation for us to show how we can add more value with tightly integrated buildings.
BuilConn demonstrated clearly that contractors and integrators were going to have to deal with several protocols and that they would do that with new partners. All were surprised that those new partners were eager to find them and BuilConn provided the correct arena for this to happen. The DALI protocol, presented by the lighting industry was a great example of yet another protocol that has to be seamlessly integrated into our networked building. The understanding for a unique protocol was clear when all of the issues were understood. All protocols have strengths and weakness and it is not likely that any of them will go away, so let's get over it and get on with it. The transition to the Information Technology (IT) level created the greatest interest and the proposed XML standard for the industry was the hot topic adding greatly to the capability of data sharing.
For a detailed overview of the proceedings at BuilConn 2003 http://www.builconn.com review the web site and download the daily edition PDF to catch up on what you missed. Talk to the folk that attended this event and find out what you missed and find out how you can be part of BuilConn 2004 April 14-16 in Dallas.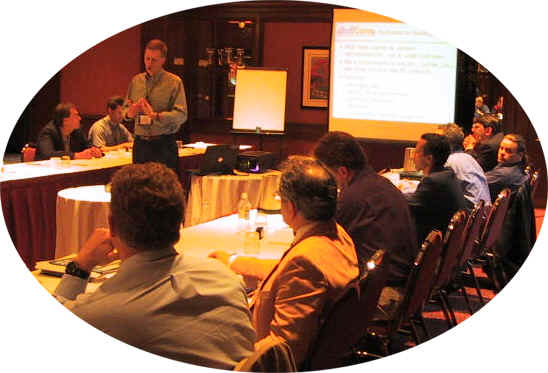 Our Open Letter; To the Building Controls Industry on formation of Open Standards for XML and Web Services became a reality in an extremely well attended meeting both physically and virtually. Again the complete crowd all got it, moving ahead in today's market is going to require working as a team. Want to see the actual presentation?
Paul Ehrlich's presentation for the meeting can be downloaded from the following URL: http://www.caba.org/standard/xml/XML_Web_Services.ppt
CABA has agreed to provide support and a home for this valuable industry interest group that is going to form standards for XML.

Guideline for XML / Web Services for Building Control


Member Listing of XML/Web Services Consortium


XML/Web Services Consortium Meeting - April 2003
The result of the meeting was that XML standards are very necessary and anyone wishing to be part of the developing group should contact Paul Ehrlich, Trane Global Controls Pehrlich@trane.com
---


[Click Banner To Learn More]
[Home Page] [The Automator] [About] [Subscribe ] [Contact Us]