---
The Infometrics service helps building owners to reduce
operating costs and improve occupant comfort.

Jim Lee, President
Cimetrics Inc
Executive Summary
Significant structural problems exist today in the operating management of institutional real estate. These issues result in overspending on building maintenance and energy, undercutting asset profitability. Most real estate owners do not realize the economic impact of these inherent structural problems.











In general, energy costs for buildings are one of the largest variable components of the cost structure and are becoming a larger component as energy prices increase. Over 80% of buildings are never commissioned and the potential energy efficiencies never fully understood. Building management is sometimes assessed based on energy utilization, however tenant comfort is often achieved without a real understanding of energy cost impact.
Additionally, the management and operation of most buildings (even newer and highly sophisticated "smart buildings") is performed by facility personnel or is outsourced completely. While these personnel may be knowledgeable about operating basic mechanical equipment and making simple repairs, they often lack the training and the capacity to actively diagnose the performance of a building and to understand its implications for profitability. This lack of understanding of performance also results in reactive rather than proactive repair and maintenance operations, ultimately a more costly approach for the building owner.
Building owners are beginning to understand the inherent inefficiencies that exist in the operations of their real estate assets. They are proactively looking for ways to improve their return profile. Enterprise-wide thinking has been applied to many aspects of business: supply-chain management, manufacturing, inventory control, quality control, human resources, etc. Now it's time to apply this model to enterprise-wide facilities management. Instead of thinking of building automation as merely a series of controls, it is time to think of it as part of the overall IT infrastructure.
Cimetrics provides independent data analysis and portfolio-wide consolidated reporting to the facilities and energy departments of building owners. These reports analyze and improve energy efficiency and reduce energy, operations, maintenance and regulatory costs, mining data for value.
The results are a wealth of ongoing unbiased recommendations and management information that enable firms to reduce energy and operational costs, identify potential equipment problems in order to avoid downtime, and enjoy the benefits of a continuously commissioned facility. This process of data acquisition, analysis, and reporting is called Infometrics. The Infometrics service provides a means to understand and manage building operations and their implications for cost structure and economic returns. By requiring little capital up front, Infometrics can create an immediate and lasting reduction in the operating cost structure of a building.
Infometrics has numerous potential benefits to building owners, including the following:
Reduced energy consumption and energy cost

Prioritization of equipment maintenance

Reduced downtime caused by mechanical equipment failure

Improved facility operations

Ongoing commissioning of mechanical systems and control systems

Reduced risk of indoor air quality problems

Identification of profitable mechanical retrofit opportunities

Improved occupant comfort

Knowledge of facility energy consumption patterns and trends
Cimetrics Inc. and Infometrics
Cimetrics Inc. provides high-value energy and facilities management services to owners and occupants of commercial, institutional and industrial buildings. Through its flagship Infometrics suite of products and services, the Company collects real-time data from a customer's building automation systems (i.e., HVAC, lighting, fire control, etc.), integrates information from multiple facilities, applies proprietary algorithms, and generates regular and highly detailed reports for the building owner's facilities and energy departments.
Cimetrics was instrumental in developing and implementing the Building Automation and Control network ("BACnet"), the dominant open standard (ISO 16464-5) in building automation communications world-wide. Cimetrics is the world leader in the development of BACnet communication software, network analyzers and routers which, along with their analysis and recommendations, enable the Infometrics solution.
Cimetrics links into a facility's mechanical equipment through the building's automation system and utility meters, acquiring an ongoing flow of operational data. In the past, these raw data have been discarded by building operations staff due to their volume and complexity. Now, however, Cimetrics collects this information portfolio–wide (across multiple buildings) and transmits it to a centralized database where Cimetrics' engineers use a set of proprietary algorithms to analyze and mine it for value. The results are a wealth of ongoing unbiased recommendations and management information that enables firms to reduce energy and operational costs, identify potential equipment problems in order to avoid downtime, and enjoy the benefits of a continuously commissioned facility. This process of data acquisition, analysis, and reporting is called Infometrics.
The ability to create "smart buildings" is taking shape rapidly due to the proliferation of new technologies and the Internet revolution, and Cimetrics has developed the technology and services to make the "smart building" concept a reality for the property owner/manager. To reduce its clients' energy costs and improve productivity, Cimetrics implements its Infometrics solution. Infometrics allows building owners to integrate building automation systems and energy equipment at the building level with information systems at the corporate level. It provides
commercial, institutional and industrial building owners the ability to improve substantially the operating control, costs and efficiency of their buildings through greater communication and interconnectivity of building systems.
Infometrics offers the only complete remote monitoring solution in the marketplace, leveraging Cimetrics' depth of knowledge in system connectivity, proprietary analysis algorithms, engineering and high-touch service. A dedicated analyst is assigned to each client, providing unparalleled access and responsive service on a range of issues from reviewing periodic reports to maintaining communications and problem solving.
Cimetrics' professional team of engineers, project managers and analysts offers expertise in energy management and building operations, and in all aspects of retrofitting facilities for energy and operational efficiency, maximizing clients' potential for significant savings. Cimetrics provides services ranging from energy cost savings analysis to long-term monitoring, analysis and reporting of building data. Cimetrics provides a complete, unbiased solution for a facility's needs. Cimetrics works only for the building owner.
Building Data
The value that Infometrics delivers is primarily derived from data collected from sensors and actuators that are connected to building control systems and building mechanical equipment. When combined with system and equipment set points, the data can tell a great deal about how well the building control system is performing and where the problems are, including issues that can't be detected through simple equipment observation.
There is a vast amount of data available in a large building—if you were to read one sensor every 15 minutes, you would have 35,000,000 data samples after one year! Some buildings have thousands of sensors and actuators. Special tools and expertise are needed to collect, manage and analyze all of this information. It is not surprising that most facility maintenance departments do very little effective analysis of building control system data.
Cimetrics has invested many man-years of effort into understanding how to extract valuable information from building data. Their Infometrics analysts review each facility's points list and building system documentation to determine what data should be collected. The Infometrics system has been designed to ensure that the security of customers' systems and data are maintained.
Turning Building Data into Actionable Information
Facility managers need concise and accurate information in order to help them make decisions about how to maximize the performance of building systems. Infometrics was developed specifically to address this need.
Cimetrics delivers actionable information to Infometrics customers using a combination of state-of-the-art technology and analysis by experienced engineers. Infometrics reports include specific prioritized recommendations, most of which can be implemented at low cost, along with estimates of the resulting savings.
Infometrics analysis and recommendations are based on industry research in the areas of fault detection, fault diagnosis, building system optimization and commissioning. Cimetrics has used that research to develop algorithms and software tools that allow Infometrics staff to quickly and efficiently analyze the data that are continuously collected from customers' building systems.
An Infometrics analyst is assigned to every Infometrics customer. The analyst is responsible for creating a data collection strategy, analyzing the data, producing the Infometrics reports, reviewing recommendations with the customer, and being available to each customer for consultation when questions arise. Each of the Infometrics analysts has years of experience as an energy engineer or mechanical engineer. Cimetrics analysts can also consult with staff engineers that are experts on building control systems, HVAC equipment and data analysis.
Cimetrics believes that the Infometrics approach—skilled analysts using state-of-the-art technology to analyze building data—is the best way to deliver actionable information to customers that want to maximize the performance of their building systems.
The Infometrics process

Collecting data from building systems
The Infometrics system links into a facility's mechanical equipment (heating, ventilation, air conditioning, etc.) through the building's automation system and utility meters, acquiring an ongoing flow of operational data.
Cimetrics collects these data facility-wide from multiple disparate systems through the BACnet protocol, and transmits them securely via the Internet to their analysts. This scalable data processing technology is capable of collecting and analyzing information from thousands of buildings worldwide over long periods of time.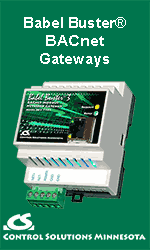 Data analysis by software and engineers
Cimetrics energy, electrical and mechanical engineers use proven algorithms and software to analyze building efficiency. Analysis algorithms apply static data (equipment specs, system topography) and weather information to the operational data collected on each piece of HVAC equipment as well as the entire building's mechanical system.
Infometrics algorithms have been designed based on standard industry techniques and academic research. The analysis team has 100+ years of experience in energy engineering, controls, communications, and software development. Infometrics provides an independent measurement of building systems' efficiencies, focusing exclusively on adding value to customers' portfolios.
Complete report delivery
Periodically, Cimetrics analysts create a report on facility performance based on data which have been collected and processed by the Infometrics system. This report includes management information on energy consumption and mechanical system performance as well as specific, prioritized recommendations. Target energy consumption and operational characteristics are identified and variances from predicted results are analyzed, problems identified and appropriate measures for remediation recommended to the owner.
The ongoing unbiased recommendations and management information provided enables firms to reduce energy and operational costs, identify potential equipment problems in order to avoid downtime, and enjoy the benefits of a continuously commissioned facility. Infometrics' prioritized recommendations uncover hidden maintenance issues, providing a road map to immediate savings. Building staff can now act effectively to create value by optimizing equipment performance, reducing costly downtime and improving comfort.
Customer Benefits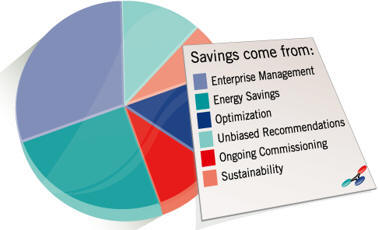 The benefits of ongoing commissioning have been demonstrated and are becoming better known. Several independent assessments have yielded the following estimates of cost savings due to ongoing commissioning and optimization, as shown in the table below.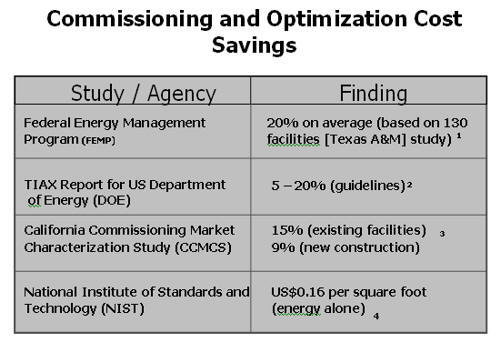 With a low installation cost, Infometrics has achieved a track record of delivering immediate and lasting reductions in a building's operating cost structure. The Infometrics service also gives the customer necessary information for regulatory compliance, occupant comfort/safety and mission-critical monitoring. A sample of actual savings realized to date at current customer sites is provided in the table below:

These figures only consist of measured energy cost savings and exclude maintenance, operational and regulatory benefits.
Case Study: Remote intelligence capabilities help American University reduce costs, improve efficiency
Washington, D.C. – Universities large and small are under intense pressure to improve their educational environments and reduce costs to better accommodate faculty and students. American University faces unique challenges for its 84-acre campus in prestigious northwest Washington D.C. as it transforms itself into "an academically distinctive, intensely engaged and student-centered community", one that provides the ideal balance between financial responsibility and educational priorities. Like most institutions, the University must maximize efficiency without compromising effectiveness.
Client Objectives
The University formulated a 15-point strategic plan that would transform the institution. The plan identified the reduction of costs and increased operational efficiency over three years as keys to the plan's success. In searching for ways to achieve these objectives, the remote analysis and optimization technology that powers Infometrics caught the attention of the University's physical plant management. Infometrics is a comprehensive, ongoing process, performed by industry specialists offsite, that helps institutions resolve operating problems, improve comfort, optimize energy use and identify retrofits for existing buildings and central plant facilities.
A remote analysis and optimization program was created for three of the University's buildings, comprising three components: facility data acquisition, remote expert analysis and reporting. The aim was to give building operations personnel unbiased recommendations and management information so they could reduce costs and enjoy the many benefits of continuously commissioned buildings.
A site survey was conducted with a needs analysis and assessment of all facilities, including gathering relevant, existing performance data and site histories. Cimetrics' Infometrics team also ensured that the University's existing building automation system had the tools and capabilities to facilitate mining, compiling, transmitting and monitoring large amounts of real-time data."
Non-intrusive, secure BACnet™ connectivity was established between the existing building automation system and the remote database to mine and transmit continuous, real time facility data. The Infometrics team installed and configured a firewall-friendly BACnet routing device as the communications interface for 3,000 points.
The analysis and optimization program provides timely report recommendations designed to assist systems engineers with fault detection, troubleshooting and problem solving while prioritizing maintenance issues and reducing downtime.
With the intelligence provided in the analytical reports, the University is given unbiased snapshots of energy, maintenance and operational recommendations that offer opportunities to reduce costs and optimize equipment for reliable operation.
Client Results
The University does not have the metering to verify building-by-building savings, but for the three monitored buildings, resolutions to the types of problems found could lead to savings in the range of $125,000 in potential energy savings.
Physical plant operations had an initial increase in the number of repair work orders in the monitored buildings related to the problems identified through the monitoring process. Most of the problems identified had the potential for, and some were actually having, a direct impact on occupant comfort. The increased ability to find and fix these problems before they resulted in an occupant comfort call is in line with the physical plant's strategic direction and is leading to fewer occupant comfort calls.
The remote analysis uncovers faults, diagnostics and value for the University – through the eyes of expert, unbiased professionals – that cannot otherwise be reasonably detected or uncovered from a one-shot survey of the buildings or addressed with an off-the-shelf software product.
"We're so busy handling day-to-day symptoms that we don't have time to dig deeper into the root causes of the problems. The remote analysis and optimization service gives us the big picture of how our facilities behave and what we should be doing to address the larger issues."
---
---


[Click Banner To Learn More]
[Home Page] [The Automator] [About] [Subscribe ] [Contact Us]