---
From the interested novice to the hardened professional, BAS University offers information field professionals and engineers can rely on for reference on a daily basis.

David G. Evans
Computrols, Inc
In early 2007, Building Automation Systems University ( www.computrols.com/basu ) established itself as a unique centralized resource for both building automation system professionals and students of the industry alike. Created by professional building automation systems hardware and software developer Computrols, Inc. ( www.computrols.com ), BAS University's mission is an ambitious one: to function as the premier online resource for all individuals in the HVAC-R, security, and life safety system industries. Through BAS University's success, Computrols stands to grow beyond the status of an industry leader and into a credible free information source.











With the goal of presenting the most well-rounded single reference point of BAS technology data available anywhere, members of the automation industry around the world can count on BAS University for technical answers at any time. Clearly, one of the biggest benefits is that BAS University can be accessed anywhere an Internet connection is available.
Over time, BAS University anticipates becoming the industry authority via collective contributions from the professional community. It's exciting to consider the depth of knowledge this level of support can unearth. Currently, three primary topics make up the bulk of BAS University's knowledge base: HVAC Controls, Energy Management, and Information Technology (IT) in BAS.
The HVAC Controls section contains a mass of information from calculators and diagrams, to strategies and quick reference guides. HVAC professionals will definitely benefit from these and the many other features on hand. Computrols' own DDC Technical Manual—a veritable goldmine of technical information that's an excellent field reference—can be downloaded.
With BAS University's Energy Management documentation collection, building operators and engineers alike can learn new methods to initiating money-saving techniques. Depending on skill level, these money-saving tactics range from simple maintenance issues to full scale energy policies. Regardless, all have the potential to reduce a building's operating expenses.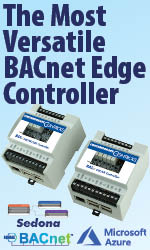 Because information technology (IT) so permeates everything having to do with building automation these days, BAS University organized a separate learning section featuring valuable documentation on the subject. Consider the security of having wiring documentation and network topologies all available to technicians right off the web.
Arguably, no university can be considered complete without a library, so that's exactly what has been added to BAS University. Users can now easily browse dozens of titles that are available from multiple websites for immediate purchase online. No more does looking for a HVAC title mean jumping from one site to another, and another.
These types of reference materials were extremely difficult to hunt down prior to the founding of BAS University. And even once these items were located, there was no guarantee they were proven—or even applicable—to commercial building automation. From the interested novice to the hardened professional, BAS University offers information field professionals and engineers can rely on for reference on a daily basis.
If you have an article, book, or other experienced knowledge having to do with the building automation system industry, you too can contribute to BAS University. Contact Computrols, Inc. at basu@computrols.com or visit www.computrols.com/basu today.
---


[Click Banner To Learn More]
[Home Page] [The Automator] [About] [Subscribe ] [Contact Us]