---

If your job hasn't changed in the last two years, be prepared to change or be replaced. It's lead or get out of the way.

Harry Kohal,
Director of Sales and Marketing
Eagle Technology, Inc.

Previously published
American Public Works Association Magazine
"The APWA Reporter"
Before you decide to lay this article down or dismiss it as not important to me...read on. If your job hasn't changed in the last two years, be prepared to change or be replaced. It's lead or get out of the way.











Best practices have hit the boiler room in progressive government agencies. Once thought to be "not important", or "the guys in the basement", maintenance management is one more area that must be managed using intelligent tools and technology.
The people managing facilities in government today may be male or female, usually have a degree, and are very technology engaged. Building automation systems aid in controlling and managing the environment in modern intelligent buildings, and can control everything form the HVAC system to the elevators, security cameras, window blinds, lighting, fire alarm systems, chillers, and power distribution. It takes a new set of tools to effectively manage and maintain these integrated systems. As baby-boomers retire, these systems capture and perpetuate the tribal knowledge they would otherwise take with them.
The other change that is happening quickly is top management's realization of the need for effective and proactive maintenance programs to get the best return for the investment dollar. Maintenance is a financial center that is demanding new tools and techniques to close the loop for management of intelligent facilities. A wise investment can save money and improve the value of the investment.
The term "CMMS" today is as obsolete as saying WWW as a part of your web address. In CMMS, the C stands for computerized, M for Maintenance, M for management, and S is for system. Using technology to manage and record information is a way of life. Government agencies compete for dollars and must run as effectively as possible to sustain service levels, credibility and customer satisfaction. Government agencies need modern tools to effectively manage the limited resources given them.
Maintenance management is a recognized requirement today for assets that are owned, managed, and operated by business and government alike. In a study published by the Aberdeen Group, 49% of the respondents said that maintenance management was extremely important, another 38% of the respondents said it was very important.1
In the same study, 91% of the best-in-class organizations improved their asset up time compared to 27% of the laggards. Organizations that invest and aggressively manage maintenance see cost savings of 10% or more over those who do not. 10% to the bottom line for profit or programs is the choice the organization makes. The people who have best in class programs get a 97% return on invested capital. This is the story every taxpayer wants to hear, and every politician will support.
An integrated maintenance management solution includes software as a critical part of the program, providing a single repository for all assets. This repository is necessary to go from preventive to predictive and proactive maintenance programs. Lifetime maintenance and parts costs can be stored with the asset database, and repair or replace decisions become a financial analysis. Today's VP or director of facilities must be a combination CFO, purchasing expert, inventory manager, human resource motivator, and equipment expert. This individual's job is made easier by using the correct tools for managing the day-to-day tasks, which also capture and prepare the necessary documents and data to support the expenditure of labor and material dollars. There is no time for this information to be "worked up" in a spreadsheet. The information has to be on-line, real time and readily available to all decision makers.
Maintenance management and asset management systems tie together additional features like bar-code readers to expedite asset identification, inventory functions to manage and control inventory costs, statistical data to look at productivity, mean-time to failure, and assist the organization in looking at peak performance management and predictive maintenance programs.
Dwindling supply of experience
Another driving force for automation is the lack of skilled workers. It is necessary to give workers more complete information to complete tasks, along with the proper tools needed for the job, diagrams and videos for infrequently performed tasks, multi-language support for workers using English is a second language, while the systems are becoming more sophisticated and complex. Maintenance personnel and management must align with a common goal. As baby-boomers retire, the challenge will increase. Outsourcing dollars and activities must be measured and controlled with the same standards as direct labor, giving a single repository for the assets maintenance history.
Proactive programs yield results
Organizations that do not work proactively with an aggressive maintenance program, waste money, shorten the life of assets, are unable to justify their expenditures, and have moral problems. If the programs are not supported from the top, they have less chance of returning results. Using a modern maintenance management system instead of spreadsheets or paper, results in better maintenance programs and statistical data according to the Aberdeen survey. Central control of maintenance programs is facilitated with technology maintenance management system, yielding best-in-class results.
Sustainability and LEED re-certification are enhanced with the integration maintenance management systems. Complete record keeping saves time in the re-certification process, and intelligent decisions occur with solid information to support the decisions.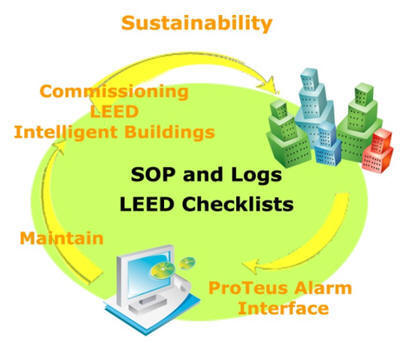 Evaluating a solution
What should you look for in a tool that will support a modern facilities management maintenance program? I am not going to go into a litany of features and functions since the basis for an automated tool selection is well documented in many places on the Internet. I will update the new issues that justify replacing a tool that may have been in place for years, or the new key indicators, which make or break the long-range decisions.
Intelligent Buildings
The system should interface to the intelligent building controls system and all other building systems using an out of the box capability. Look only at vendors that have a track record of supporting such interfaces. Implement the system when construction begins. The data should be entered into the system as a part of the commissioning or retrofit process, giving the facility manager PM schedules, work-orders and an inventory of assets the moment the building is complete. It does not make sense to expect the facilities manager go back and collect data that is available and paid for as a part of another process.
In a progressive facilities management program, the software is 30% of the solution, implementation planning is 30%, top management support and system buy-in account for 40% of the success of a project. Progressive maintenance programs are critical for peak performance while managing with limited resources, and the automated maintenance management system must be up to the task.
---
---


[Click Banner To Learn More]
[Home Page] [The Automator] [About] [Subscribe ] [Contact Us]