---

EMAIL INTERVIEW – Jim Young and Ken Sinclair
Jim Young, Co-founder Realcomm Conference Group

Jim Young is the co-founder of Realcomm Conference Group which produces Realcomm, IBcon and CoRE Tech, the world's leading conferences on technology, automated business solutions, intelligent buildings and energy efficiency for the commercial and corporate real estate industry. As Realcomm's leader, he leads the organization and interacts on a daily basis with some of the biggest companies globally pertaining to some of the most advanced and progressive next generation real estate projects under development.


---
Adoption of Technology Accelerates Within Commercial and Corporate Real Estate Industry

We searched the globe and will be presenting what we believe are the most forward thinking, progressive, visionary, comprehensive, large scale and relevant examples of this next generation of smart buildings, portfolios, campuses and communities.

Sinclair: I've heard you've themed this year's IBcon conference "REvolution" because of the speed we are seeing adoption of intelligent building technology in the industry. Tell us a little about that.

Young: The journey of the smart building has been a long one. We have gone from single solutions with no integration being applied to one building at a time, to open, interoperable, integrated and IP centric platforms connecting multiple buildings in a portfolio. Many in the industry feel we have now jumped the adoption "chasm" to the next chapter of smart buildings and the impact to operations, energy efficiency, sustainability, occupant experience and financial optimization, will be extraordinary. We are very excited this year to present dozens of best practice case studies at IBcon showing how far we have come.
Sinclair: Tell us a little more about those case studies.

Young: Well, for starters our General Session will feature four forward thinking, progressive and visionary industry leaders who are setting new standards for our industry. They'll share what they think the next generation of smart buildings, portfolios, campuses and communities look like and what they are doing in their organizations. It's pretty advanced stuff.

Corporate Campus



Hospitality / Entertainment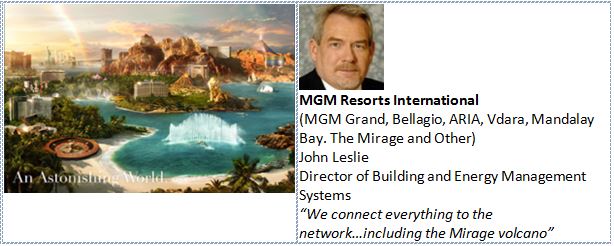 Office Portfolio
Retail – Mall

Sinclair: Wow! Those are pretty impressive examples.

Young: Yes, these individuals and their organizations are definitely at the forefront of intelligent building deployment. But that's not all…that's just the General Session! There will be two days of incredible education sessions. This is by far the most
comprehensive program
on smart, connected, high performance intelligent buildings in the world. We are way past "should we do this?" and are now well into figuring out the best approaches. These are just a few of the
24+ sessions
we are going to have on this topic:
BAS, BMS, EMS, BOS - Uncovering the Smart Building Platform
Building Network Design - IPV6, Wireless and Beyond
EMS Strategies - Getting Beyond Dashboard Hell
Analytics & Visualization - Turning Data Into Action and Results

Realignment - Driving Process Change Throughout the Organization
Extreme Operations – Connecting Everything to the Network

In addition to these great sessions where the conversations and debates will be happening, we have added a new venue called the Smart Building Best Practice Showcase where attendees will get to interact with project leaders from 25+ of the world's most progressive and successful implementations of smart buildings, portfolios and campuses.
Sinclair: What will this Showcase include?

Young: We're really excited about this super-session. We're shaking it up a bit and making it completely interactive. No speaker and panel; we want our attendees to come with their morning coffee and meet the people out there that are implementing this stuff. We have 25 best practices to share so far... and the list is still growing. These projects represent the next generation of open, interoperable, integrated, and IP-centric buildings and their leaders have offered to share both their challenges and successes. In this showcase setting, attendees will have the opportunity to interact face-to-face with each of these leaders and get their questions answered.

Some of the projects we will be showcasing include:
Vornado/Charles E. Smith - Energy Use & Budgeting Using Predictive Analytics
Environmental Systems, Inc. - A Working Example of an Intelligent Building
IBM Research Ireland - Creation of a Smart Building Research Living Lab
Rudin Management - Di-BOSS Digital Building Operating System
GSA's 1800 F. St – Possibly the Smart Building in the US

And a host of other examples from AMP Capital, Liberty Property Trust, Tridel, Forest City, MIT and Procter & Gamble, to name a few. This session alone is worth the price of admission!
Sinclair: How about data analytics? It's a pretty big topic these days; will you be covering that as well?
Young: Yes. Collecting, organizing, analyzing and converting the data into action are the keys to success. The analytics and visualization systems managing the data are at the core of this effort. We have assembled and will present several global best practices about advanced analytics and visualization relating to real estate operations and energy management. In addition to Microsoft sharing how they are now collecting 500,000,000 pieces of data from their corporate campus every day and what they are doing with it, we'll hear from several others whose organizations are doing similar strategic things with the data their building systems are collecting.

BTW, we recently published an article on what Microsoft is doing; here's a link if your readers are interested in more details: Microsoft Collecting 500 Million Building Data Points From Campus Per Day (http://realcomm.com/advisory/advisory.asp?AdvisoryID=579)

Another important session on data will be one we are calling "Getting Beyond Dashboard Hell." Anyone involved with energy issues for buildings and portfolios is likely very familiar with this topic. There are so many dashboards they have begun to blur. This session will hopefully help attendees make some sense of the chaos. We also wrote about this topic in a recent Advisory titled, Facility Information Management Dashboards - Understanding the Complexities (http://realcomm.com/advisory/advisory.asp?AdvisoryID=575)

Sinclair: Sounds like IBcon is the place to be next month if you are interested in the intelligent buildings topic. Any final words?

Young: This year's conference is definitely going to demonstrate the magnitude of what is going on in the industry. We searched the globe and will be presenting what we believe are the most forward thinking, progressive, visionary, comprehensive, large scale and relevant examples of this next generation of smart buildings, portfolios, campuses and communities. These case studies and all the other content being presented will demonstrate to the industry that we have jumped the chasm and that Smart, Connected, High Performance and Intelligent Buildings are at the center of a transformational REvolution that will forever change how we manage, operate and use buildings!
Thanks for the opportunity to share these details with your readers!

---


[Click Banner To Learn More]
[Home Page] [The Automator] [About] [Subscribe ] [Contact Us]