---
A beginner in any industry can easily be perplexed by the variety of technical jargons being used. The energy efficiency industry is no exception. Moreover, the scope of these terminologies have undergone years of evolution to arrive at the current definitions. Through this article, I would like to share some insights on "Energy Benchmarking". These views are based on study materials, which I often refer to, available on the internet.

With rising concerns of energy usage across all sectors, there is a manifold increase in the number of industries that are looking at implementing measures to reduce the energy consumption in their facilities. In their efforts to establish an efficient energy performance plan, the energy managers often have to encounter questions like "How are we doing currently?" and after the implementation of energy reduction measures "How do we know how much we have improved?"

Methods and Standards such as ISO 14001, Energy Monitoring and Targeting, ISO 50001 are all aimed to improve energy management by setting targets. Energy Performance Tracking also known as Energy Benchmarking is often the first step towards achieving long term energy efficiency goals as it defines the building's energy saving potential. Simply put, a benchmarking is an ongoing energy performance review to determine if a building is getting better or worse in comparison to itself, other buildings in the portfolio, and/or peers.

Monitoring, which is the regular collection of information on energy use, is a key component of
energy benchmarking. Its purpose is to establish a basis of management control, to determine when and why energy consumption is deviating from an established pattern, and as a basis for taking management action where necessary. Monitoring is essentially aimed at preserving an established pattern.

Energy benchmarking is a powerful tool to identify strong opportunities for reduced consumption and defining energy performance targets and alongside monitoring improvements in energy efficiency.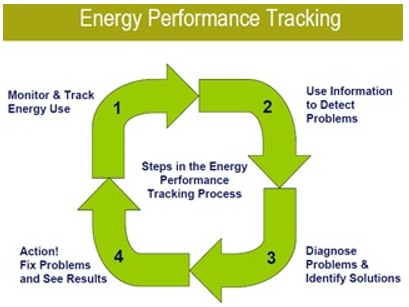 Types of Benchmarking

As per ECO-III(pdf) project there are two types of benchmarks for Whole Building:
Internal Benchmarking: Well documented historical data helps to bring out energy consumption and cost trends months-wise/ day-wise. Trends can be identified by examining energy consumption, cost, relevant production features, specific energy consumption, etc. over time, and can help identify the effects of capacity utilization on energy use efficiency and costs on a broader scale. Internal Benchmarking is mostly dependent on variable parameters and need to be normalized for right analysis. Variable parameters are dependent of type of facility e.g. for industrial it could be per production unit, for hotels it could be weather and booked room nights, for offices it is usually only weather, and for variable shift offices it could be
weather and operating hours, etc.

External benchmarking: Relates to inter-unit comparison across a group of similar units. However, it would be important to ascertain similarities, as otherwise findings can be grossly misleading. Few comparative factors, which need to be looked into while benchmarking externally are:
Scale of operation
Technology
Climatic zone, etc.

Current researchers and scholars further divide benchmarking (Whole Building) based on level
of performance (Sometimes called 'Action Oriented Benchmarking'(pdf)) into:

Portfolio or Whole Building level benchmarks are normally sub-categorized into internal and external benchmarks. These Whole Building benchmarks are sometimes used by Federal Systems for assessing the compliance as part of their rating system. Both Energy Star and ECO-III use this methodology. These are normally operational benchmarks without
emphasizing/normalizing on asset type.

Asset/System level benchmarking: Includes more intricate details that help to benchmark at system level. One example of a tool is EnergyIQ. EnergyIQ provides ways to quickly develop standardized graphs to compare whole-building-level and system-level energy performance.

Equipment/component level benchmarking: Mostly use data from manufacturers or simulation for cases based on DOE2 simulation engine. This level of benchmarking is currently not very functional and requires more sophisticated data and methods.

As per CBERD report(pdf) on Benchmarking in India accuracy and granularity has following relation,
which determines use of benchmarking in Energy Management.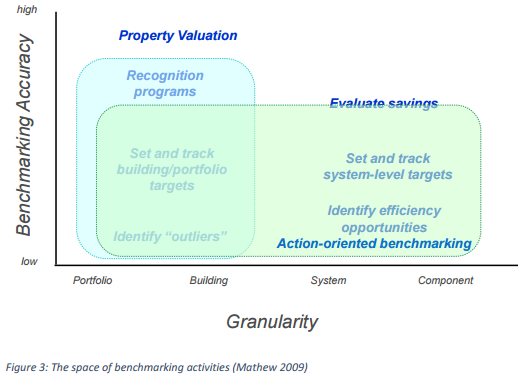 Benefits of benchmarking:

Benchmarking buildings enable building managers to:
Compare energy performance against its peers:

these comparisons can drive energy efficiency upgrades and increase occupancy rates and property value

Cluster and prioritize facilities for improvements:

can help identify the best candidates for upgrades as well as the top performers when applied across a portfolio of buildings

Derive estimates on energy saving potentials:

can help suggest prospective energy savings by comparing a benchmarking score to a "target score"

Evaluate and measure progress:

continuous monitoring over a period of time can help evaluate the effectiveness of the changes in equipment or policies

Demonstrate proactive management of energy issues

: having documented data on a building's energy efficiency and reduced consumption provides a basis to answer potential questions on energy use and alongside conveys an environmentally friendly image
Challenges: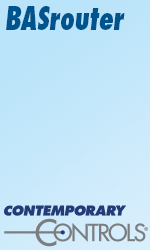 Typical challenges faced by energy managers while benchmarking are:
Data Quality:

The loss of granularity entailed with aggregating data introduces challenges for users and utilities to identify and correct mistakes.

Aligning meter readings:

All meters that need to be included in a building's total energy consumption may not be on the same meter read schedule, or periodic anomalies may preclude alignment of dates for aggregating monthly energy data consumption. This adds complexity to implementation of aggregation and could affect both the ability for a
building to receive a score and its accuracy.

Loss of value for building operators:

Benchmarking is most valuable to building operators when it provides meter-level insights into energy consumption trends. While aggregation can facilitate whole-building benchmarking and regulatory compliance, a single monthly usage total for an entire facility is less likely to give operators actionable insights into energy efficiency opportunities.

Normalizing for Operations:

The benchmark should not have biases with respect to the operating constraints at the building and needs to be normalized correctly for operational characteristics that define the buildings activity. For normalizing the energy use for benchmarking (only for complex environment) a good knowledge of operations, statistics and availability of data is needed. Sometimes, data that has not been normalized can also skew the external benchmarks.

Insights of Benchmarks:

The current analysis focuses on the whole building energy use. It becomes difficult to differentiate between the

impact of equipment, building operation and design on overall performance

. It may be possible that the worst building gets best rating because it uses the most efficient equipment. Hicks and Von Neida (2005) observe that most of the ENERGY STAR rated buildings under

US EPA

"understandably use highly efficient equipment, they are most similar to the poorest performing buildings from a technology perspective."

Conclusion:

Plenty of information related to this topic is available on public forums. The intent of this post was to expose young budding engineers to terms and basics of Energy Benchmarking. Some more study references are mentioned below:

Massachusetts Department of Energy Resources. An MPG Rating for Commercial Buildings: Establishing a Building Energy Asset Labeling Program in Massachusetts. Massachusetts, Dec, 2010.

McCabe, Molly J., and Na Wang. Commercial Building Energy Asset Rating Program: Market Research. Pacific Northwest National Laboratory, April, 2012.
G Redmond, Wolf J Dohack, LD Winges. DOE Commercial Building Energy Asset Rating Program Focus Groups with Primary Stakeholders in Seattle. U.S. Department of Energy Office of Energy Efficiency and Renewable Energy Feb, 2012: 1-40.
Karaguzel, Omer Tugrul, and Khee Poh Lam. Development of Whole-building Energy Performance Models as Benchmarks for Retrofit Projects. Simulation Conference (WSC), Proceedings of the 2011 Winter. 2011: 838–849.
Best Practice Guide to Measurement and Verification of Energy Savings: A Companion Document to A Best Practice Guide to Energy Performance Contracts. Australasian Energy Performance Contracting Association, 2004.
P. Torcellini, M. Deru, B. Griffith, K. Benne, M. Halverson, D. Winiarski, and D. Crawley. DOE commercial building benchmark models. In Proceeding of, 2008: 17–22.
Mathew, Paul and Evan Mills. Monitoring Based Commissioning: Benchmarking Analysis of 24 UC/CSU/IOU Projects. California Energy Commission Public Interest Energy Research (PIER) Technology Demonstration Program. June (2009):1-44.
---
About the Author:

Ankur Thareja is a Senior Consultant – Energy Solutions at Wipro Eco Energy with a career span of almost 13 years focusing on delivering solutions for energy and controls. His areas of expertise include Integrated Building Management Systems, Energy Management Solutions, Remote Monitoring, Performance Contracting, and Intelligent/Smart Buildings.

He is Certified Energy Auditor (CEA) from Bureau of Energy Efficiency (BEE), Certified Measurement and Verification Professional (CMVP) by Efficiency Valuation Organization (EVO) and an Accredited Professional from Indian Green Building Congress (IGBC).

https://in.linkedin.com/in/ankurthareja
---


[Click Banner To Learn More]
[Home Page] [The Automator] [About] [Subscribe ] [Contact Us]