---

EMAIL INTERVIEW – Jim Young and Ken Sinclair

Jim Young is the co-founder of Realcomm Conference Group which produces Realcomm, IBcon and CoRE Tech, the world's leading conferences on technology, automated business solutions, intelligent buildings and energy efficiency for the commercial and corporate real estate industry. He leads the organization and interacts on a daily basis with some of the biggest companies globally pertaining to some of the most advanced and progressive next generation real estate projects under development.

---
Sinclair: Well, Jim, it's that time of year with Realcomm and IBcon right around the corner; how are things going?

Young: Ken, I have been around this industry for a long time and it is changing right before our eyes. We are starting to see real clarity on the state of the industry.

Sinclair: What do you mean by state of the industry?

Young: Well, as you know, building automation is not a new concept. We have had equipment in buildings with some sort of control for a very long time. What we have now, however, are different opinions on what automation means. We have categorized it into three states: past, current and future. The past state consisted of the closed, proprietary, single system, within one building; perhaps using only one vendor solution. The current state is open and interoperable, but reaching back into the past state to increase functionality. The future state, which is being influenced by the IoT, appears to be open, interoperable, integrated and IP centric. Think smart IP edge devices talking directly to the cloud.

Sinclair: How are these different groups, with differing opinions and approaches, getting along?

Young: The simplest answer is chaos. Just look at all the different names we have for these buildings. You have so many different organizations, with different perspectives, all falling under the umbrella of smart, connected, high-performance, green, sustainable, energy-efficient, intelligent buildings, that there is a bit of confusion in the market right now. The other area of controversy is coming from those who want to segment the topic into different groups, such as energy, operations and occupant experience. We believe that a building needs to be viewed holistically: all three of these components must be included in an overall strategy.

Sinclair: What does this mean for IBcon?

Young: I think the current state of the market is reflected in the conference. Our exhibit floor was sold out two months in advance of the event, and this has not happened for a very long time. (We have since added a few more booths.) Our program is deeper and wider than ever before. With over 50 sessions and a global best practice showcase on smart, connected, energy-efficient buildings, there is no other conference in the world that covers the topic to this degree. We are long past questioning the relevance…we've moved on to reviewing the third iteration of a project and continuing to fine tune all aspects.
Sinclair: What are the significant topics for 2015?

Young: That is a great question. There are a few areas that are distinctly obvious because of their pervasiveness—we see them recurring in a way that can't be ignored. The number one item is security. Almost every one of our 125+ advisors has security on their to-do list. Everyone is being told by their boards and executive leadership to make it a priority. We are devoting quite a bit of time to this topic; we are going to have a Cybesecurity Forum during preconference which will include speakers from Homeland Security as well as the FBI. We are also incorporating the security discussion into IBcon and all of the other preconference events…it is a big topic.

Sinclair: Any other big topics that come to mind?

Young: The number one problem with the program is that we have too many topics to discuss. This will be one of the most comprehensive programs we have ever had. Some of the other major topics are: 1) understanding the marketplace; 120+ solutions and counting; 2) designing and implementing a Unified Building Communications Infrastructure (UBCI); the foundation for a smart building; 3) developing, training and maintaining a new generation of building engineers who understand the new IT-enabled smart building paradigm; and 4) the Internet of Things (IoT) and how it will continue to influence what a smart building looks like.

Sinclair: It looks like you have your hands full! Any final thoughts on IBcon?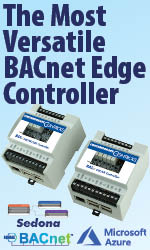 Young: Yes! The smart building world is changing. We are not talking about yesterday's building automation, we are talking about a much more complex version of a smart building. Owners and operators need to focus on the five components of a smart building: energy, operations, occupant experience, sustainability and financial optimization. These buildings also need to be open architected, interoperable, integrated and IT/IP centric. Anyone interested in where this market is going needs to be part of this event. The comprehensive program, the exhibit floor with leading-edge solutions, the case study showcase representing 50 of the smartest buildings in the world, and of course the conversations in the hallways where relationships are built. We hope everyone from your community will find their way to IBcon 2015 on June 8-10 in San Antonio…I am confident they won't be disappointed! So much to learn…so little time!
The RealcommEDGE magazine is the only publication focused exclusively on technology, automation and innovation for the commercial, corporate, government and institutional real estate industry. It provides readers with innovative thoughts and ideas on the topics of Automated Business Solutions and Intelligent Buildings. This Conference Edition is a sneak peek at some of the products and best practices cases studies that will be presented at Realcomm & IBcon on June 8-10, 2015 in San Antonio.

---


[Click Banner To Learn More]
[Home Page] [The Automator] [About] [Subscribe ] [Contact Us]