---
Across My Desk

snippets, blog bits, tweets, linkedIn posts, and url links that are about to fall off my desktop

Ken Sinclair

Founder, Owner, Publisher AutomatedBuildings.com
Every month there is a blizzard of information contained in the emails and newsletters that cross my desk on their way to AutomatedBuildings.com. Some of this information is not in the form of any type of content we can publish but I feel I should share with you these snippets, blog bits, Tweets, LinkedIn posts, and URL links that are about to fall off my desktop.
Daily LinkedIn shares and posting

Also, http://automatedbuildings.com/ maintains this LinkedIn online blog for the magazine, a great place to interact.
On a daily basis I tweet as @Ken_Sinclair https://twitter.com/Ken_Sinclair

I actually now have a few moments ;-) https://twitter.com/Ken_Sinclair/moments
Tweet links I think will be of interest and part of our rapid industry evolution.
I also write a column twice a month for Contractor Mag
https://www.contractormag.com/home/contact/20884391/ken-sinclair
But I still have stuff falling off my desk I feel I should share.
My Top Tweets, posts, podcasts, and video interviews
Video/Blogs/Podcasts
https://www.mondaylive.org/past-shows
ControlTalkNow April
Top Linkedin post
6820 views Talking Today's Tools in the UK - These tools will transcend BMS and Analytics platforms incorporating the best elements of other industry platforms and provide System Integrators and end-users with levels of flexibility, power and visibility that the industry will ultimately come to see as an expectation.
3840 views What is an HMI, and why do we need it in the BMS? - Regardless of the type, the goal is always the same: to provide the User with an insight into the operation of the system or machine.
3300 views Great job Glen Allmendinger Harbor Research amazing information moving forward Diverse players have the opportunity to forge new ecosystems of players to take advantage of new Private LTE and 5G networking technologies to fully integrate and manage multiple installed networks and existing infrastructure.
Click here to download an overview of our Private LTE & 5G Networks Research.

3020 views Building Automation During a Pandemic - The COVID-19 pandemic has made terminology like "shelter in place" and "personal protective equipment," commonplace.

Control Network Newsletter
Join us online and share your views

https://twitter.com/Ken_Sinclair
https://www.linkedin.com/in/ken-sinclair-8246965/detail/recent-activity/posts/
Desk Droppings
Here is voice track from CABA presentation we start at 5:15 into the meeting

The CABA Intelligent Buildings Council works to strengthen the large building automation industry through innovative technology-driven research projects.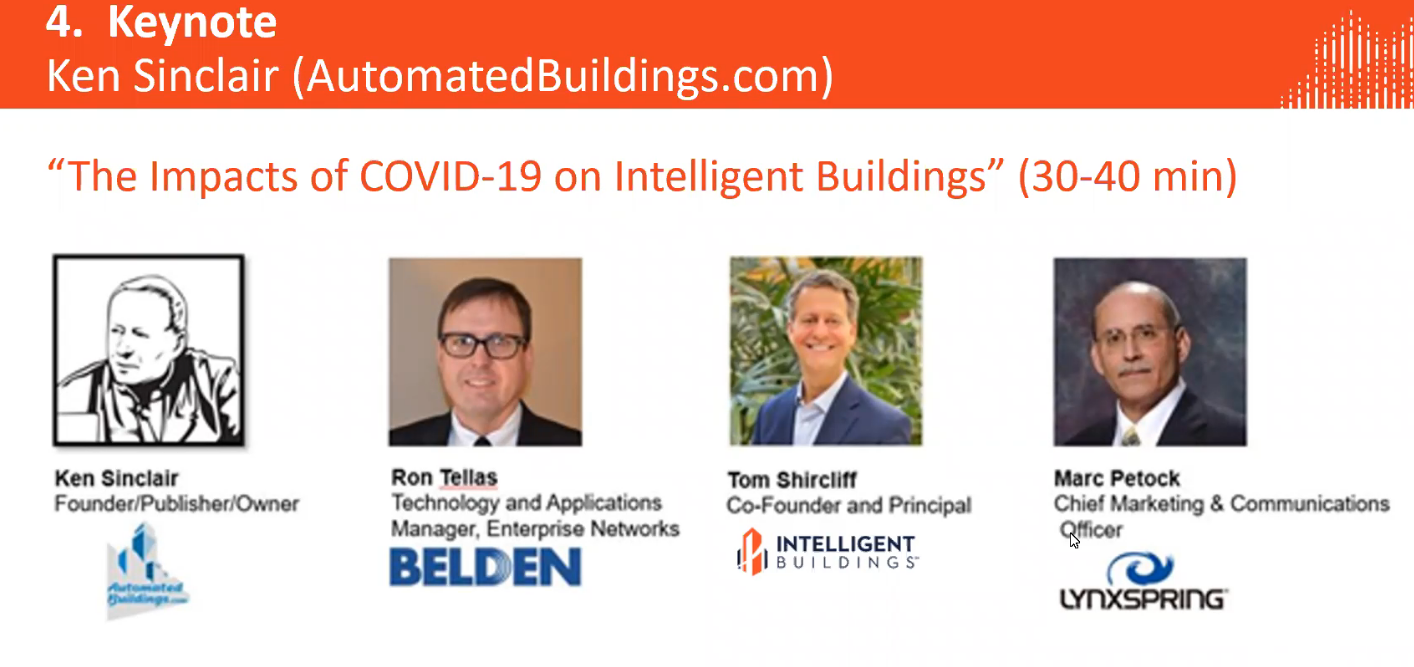 Nexus #19 (4/21/2020) Evaluating new smart building tech, an update on VOLTTRON, and a trillion-dollar opportunity James Dice Apr 21

We estimate that flexible customer-sited resources (electric vehicles, thermostats, batteries, smart water heaters, etc.) could shift up to 30% of peak electricity demand in five years — but getting them to actually do so will be the hardest and most rewarding challenge.

—Shayle Kann

Happy Tuesday! Here's an outline of this week's newsletter:

🔍Deep Dive: Evaluating Smart Building Tech🔎

🤔 On my mind this week

👩‍💻 The latest LinkedIn discussion

🧰 What's new with VOLTTRON?

🔌 My thoughts on the trillion-dollar opportunity in grid decarbonization
5 Building Automation Companies to Get Excited About By Lewis Martin
As it is for so many, this is a crazy time for the building automation industry. Offices are empty meaning there's little to automate or make more efficient. Buildings, industry and the world are all on pause while we try and work through this tumultuous time.

---


[Click Banner To Learn More]
[Home Page] [The Automator] [About] [Subscribe ] [Contact Us]