---
As Realcomm scours the globe for real estate innovation, we come across projects that significantly raise the bar for intelligent design and technology implementation. This week, we take a look at the Digie Award-winning Pacific Controls Headquarters in Dubai, which is the first-of-its-kind, LEED Platinum rated, Green Building to also use solar energy for lighting and fresh air cooling. In addition, PCS headquarters has an integrated building automation system that uses both wired and wireless sensors, controls, and M2M communications. We are pleased to present Pacific Controls Headquarters as this month's Innovation Spotlight!











Project Overview Pacific Controls (PCS), an integrated automation controls company, started construction on their new 120,000 sq. ft. headquarters in Dubai Techno Park in September 2005. The owners mandated from the start that it be LEED-certified and, as part of the certification, employ an integrated, fully automated building management system (BMS) to meet all the monitoring and control requirements of the LEED criteria.
The project was completed in September 2006, and now serves as the "Center of Excellence" for the company's R&D activities in the automation business in the Middle East. It will also monitor facility services (security, air-conditioning, electrical distribution and energy use, lighting, fire detection, elevators, pumps, water tank levels, etc.) for public and private sector residential, commercial, industrial, and mixed-use real estate assets in the region remotely through their Command and Control Center.
Dilip Rahulan, Chairman and Chief Executive Officer of Pacific Controls, said, "Our investment in Green Buildings is demonstrated through our commitment to sustainable projects and the use of alternative energies in commercial buildings. We support the vision of the Government of Dubai regarding sustainable development and the use of alternative energy, and our iconic project will put Dubai on the international map of Green Buildings."
Building Automation Nigel MacKenzie, Chief Technology Officer for PCS HQ in Dubai, was responsible for all the technology deployed in the facility. Nigel designed, selected, and installed all the building systems using in-house resources. As Tridium is a PCS partner in the Middle East, Tridium's Niagara Framework was used to integrate all the building systems, which were then converged to the Cisco IP backbone.
The Niagara Framework allowed the support of open standards, such as oBIX, OPC, Lon, BACnet, and Modbus, and offered fully integrated, Web-based control of HVAC, lighting, access control, IP telephony, and facility management in a secure environment using Cisco firewall and other high-level policies.
The Niagara Framework provided all functions (such as alarming, scheduling, logging, archiving) and the graphical user interface (GUI). Nigel also chose IP-based access control and IP cameras for surveillance. Access control is tied to the BMS by software integration, forced entry alarms and door-held-open alarms are sent to the BMS, and cards can also be assigned to turn lights and air conditioning on/off.
One of the challenges PCS faced was achieving some levels of interoperability with the Niagara, including integration with the Cisco touch screen phone. Those challenges were overcome and users can now change the room temperature and operate the lights using the IP phone.
The M2M (machine to machine) communication is based on cellular GPRS/EDGE technology, which enables fast deployment of new devices. The cellular network is always on and self-monitoring and produces exception reports and sophisticated publish-and-subscribe techniques for reporting and data maintenance efficiency. Open standards, such as XML Web services, allow the raw energy data to be used by enterprise applications and the archived data can be analyzed to create benchmarks for different building types.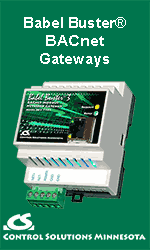 Command and Control Center The Central Command Control Center provides 24/7/365 remote monitoring of all electro-mechanical and security services for number customer assets with clients such as Dubai Municipality, Dubai Development Board (DDB), Emaar, Nakheel, as well as a growing number of individual buildings and residences in Dubai.
The functions of the Command Control Center include:
- Providing real-time alarm and data regarding status of equipment in the buildings/infrastructure
- Improving service delivery through pro-active surveillance, and ensuring accurate and prompt response to faults and failures of equipment on sites
- Acting as control center for the Building Management Systems (BMS) and all related systems
- Acting as control center for fire alarms, security alarms, and medical emergencies
- Acting as control center for all future alarm systems
LEED Platinum Rating In order to achieve the LEED Platinum rating, PCS had to meet the following criteria:
Sustainable Site
- Minimize soil erosion, waterway sedimentation, and dust generation during construction
- High space-to-development ratio
- Storm water collection and reuse, natural draining areas, little impact on natural water hydrology
- Lighting design that has minimal impact on the nocturnal environment
Water Efficiency
- Landscaped areas to be irrigated by using rain water and recycled waste water
- Efficient watering systems
- On-site sewage treatment plant
- Water-saving devices installed to reduce potable water use and reduce wastewater production
Energy and Atmosphere
- HVAC and hot water systems designed to maximize energy performance and reduce ozone depletion
- Efficient lighting, day lighting, insulated building envelopes, vapor absorption and energy efficient chiller
- Insulated walls and roof
- Automated Variable Frequency Drives (VFDs) for pumps
- .08% of building energy provided by 60kw Solar Photovoltaic system and 100 tons of Solar Thermal air conditioning system
- HVAC system that does not contain HCFCs or Halogens
Materials and Resources
- % of construction materials sourced locally
- % of the building material value to consist of rapidly renewable materials
- % of construction material is waste recycled or reused
- % of building materials from recycled goods
- % of building materials were salvaged
- % of wood products certified by Forest Stewardship Council (FSC)
Indoor Environment Quality
- Construction materials chosen to minimize irritation to installer and occupants
- Two, fresh-air circulation and filtration units
- Temperature, humidity, and CO2 levels continuously monitored and controlled
Innovation & Design Process
- Exceed requirements for Green Building ratings in use of local and regional materials and green housekeeping
The bottom line is the PCS HQ is probably the best example on the planet of how a clear vision for sustainability, using off-the-shelf automation tools coupled with engineering savvy, can produce a world-class building that will long enjoy a measurable increase in operating efficiency and reduction in operating expenses (such as building management personnel) while maintaining the highest standards of responsibility for the environment.
---


[Click Banner To Learn More]
[Home Page] [The Automator] [About] [Subscribe ] [Contact Us]