---

Helps Buildings of Today Meet the Needs of Tomorrow

Brian Patterson
Chairman,
EMerge Alliance
This time last year, a group of industry leaders came together to promote a different way of looking at power distribution in a building, forming the EMerge Alliance.















Responding to pervasive trends in power, building products, lighting and other electrical devices, and interior furnishings, the group has developed a new standard that focuses on safer, more efficient and more flexible power distribution. The good news is all the technology already exists. It just isn't evenly distributed, yet.
Think about this… the use of direct-current (DC) -powered devices has already surpassed the use of alternating current (AC) -powered devices in a building.
Standard devices within a space, such as fans, lights, appliances, computers, fire suppression devices and projectors, don't actually use AC power. Most of these devices run on 24 Volts (or less) DC power and require some transformation from AC to DC on the distribution route. The distributed transformation causes inefficiencies and occasional redundancies, such as in lighting.
Does this mean that a building should immediately create a wholesale conversion to DC power?
No, in the same way that if we immediately convert automobiles to electric power, we realize that the infrastructure doesn't exist to support them.
AC power in buildings will likely always exist because some of the large HVAC units require AC power. But, if we consider a hybrid approach for buildings where power sources could be drawn from standard AC power and then run from DC power when DC power is more available, then we have created a solution much like the Prius or other hybrid vehicles.
There has been a growing call to action to make things better in this regard.
To date, this has principally taken the form of smart grid efforts driving more intelligent management of large scale distribution systems and a growing effort to employ alternative and renewable energy generation.
At the end of the day though, the mainstream form of power generation and distribution is AC, while the emerging forms of distributed power generation are natively DC.
Smart grid efforts need to be met with smarter buildings.
The fact that buildings are normally set up to distribute AC power and devices are increasingly becoming DC power consumers, we have a second need for power conversion, which is often hidden inside of the devices themselves.
It's one thing to read the label of a rectifier or power supply and record the efficiency loss, it's another to guess at what's going on inside of devices, such as electronic dimmable lighting, which don't reveal conversion losses.
Add to that, the higher cost and lower reliability that these individual conversion components contribute to each device's cost of ownership, and you have a reason to start thinking about changing the way things are done with regard to building power going forward.
Simply said, we have a fundamental and growing mismatch between our traditional power distribution means and our rapidly changing power use needs within buildings.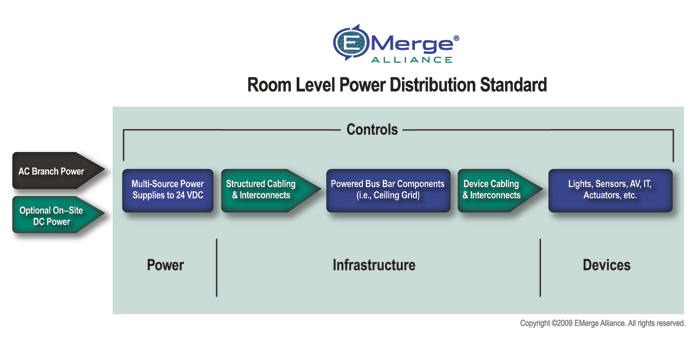 We're no longer just talking about computers and audio-visual equipment as DC power users, we're talking about mainstream electronic lighting ballasts, digital sensors and controls, safety and security equipment, and the latest killer application, solid-state lighting.
Think about lighting and the evolution these technologies have made. As lighting technologies have been introduced over the years, there are slow, steady gains in efficacy and some event typically takes place that results in a jump in efficiency.
• For incandescent – halogen
• For fluorescent – T8 electronic ballasts – and higher efficiency ballasts
• For metal halide – pulse start/arc tube advancements & different chemistry
• For CFLs – from magnetic to electronic
Electronic, Electronic, Electronic……in other words DC-driven.
Now, Light Emitting Diodes, or LEDs, represent the latest lighting devices based on DC power, demonstrating exponential improvements in efficacy and predicted to unseat mainstay technologies in the future.
Today's LED system efficacy can reach greater heights if the AC to DC conversion at the fixture level could be eliminated. In a DC distribution system, LED efficiency would be at least 15 percent higher.
Since it was founded, the EMerge Alliance has been working toward a solution aimed at eliminating many of the device-level conversions and aggregating them up at a higher level to improve efficiency and flexibility. That solution is here.
The Alliance has just released its new, open standard for room-level DC power distribution in commercial buildings.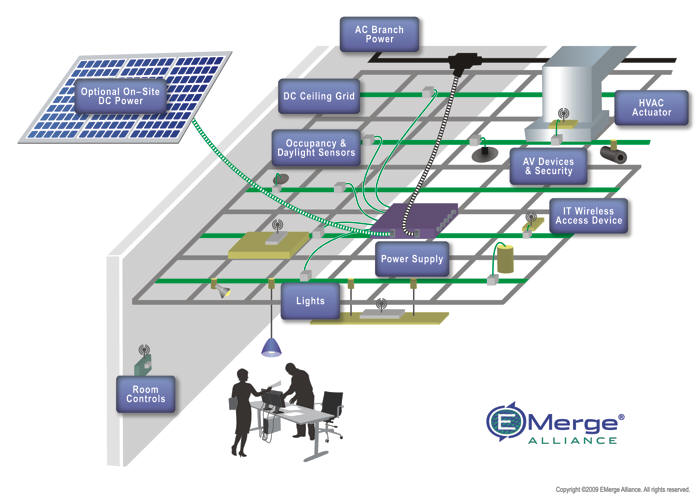 The EMerge Alliance Standard allows buildings of today to adapt to the needs of tomorrow by defining critical physical and electrical requirements that help achieve the following goals:
• Reduced energy losses by eliminating device-by-device electrical conversions from alternating-current (AC) power to DC power
• Use of safe Class 2 power levels, wherever practical, as defined by the National Electric Code
• Broad capabilities for faster and simpler moves, adds, and changes in occupied spaces
• Movement towards interoperable device-level controls and Smart Grid integration at the building level
• Easier integration of native DC power sources, such as solar, wind, fuel cell and batteries, with traditional AC power sources
• Flexibility to implement new energy-saving devices, such as LED lighting and controls, and energy-saving technologies, such as renewable power sources, more efficiently and effectively
The Standard establishes a more efficient means of powering the rapidly increasing number of digital, DC-powered devices found in today's workplaces. It creates an integrated, open platform for power, interior infrastructures, controls and a wide variety of peripheral devices to facilitate the hybrid use of AC and DC power within buildings. In the standardized scheme, AC power is converted to low-voltage DC for efficient distribution at the room level, eliminating the inefficiency of numerous AC to DC power conversions at the device level.

The Standard also provides for an optional connection to on-site alternative power generation, including solar panels and micro-turbines that naturally generate DC power. Historically these native DC power generators required their power to be converted to AC for local distribution, reducing their efficiency and increasing costs. Using native DC power generated from on-site sources to drive DC loads more directly can dramatically improve building efficiency, reduce energy costs and reduce environmental footprints.

Throughout development of the EMerge Alliance Standard, the Alliance incorporated technology requirements and contributions from a wide variety of industry stakeholders, including leading product manufacturers, service providers, utility companies, and technology integrators.

What's next?

The Alliance's next milestone will be establishing a third-party registration and evaluation program for labeling products based on the Standard. This program will benefit Alliance members, system specifiers and building owners by ensuring a variety of products will be available from the growing EMerge Alliance membership base and that all products will be easily identifiable in the market. The program is scheduled to begin this winter.

As the market anticipates EMerge-registered products, it is likely that many types of lights and other electrical devices will be incorporated, including solid-state lighting. While LEDs are particularly well suited for direct integration with 24 Volt DC power distribution, electronic fluorescent lighting fixtures also can be easily made or modified for low voltage DC distribution, since they too are driven internally on DC power. A building's AC power typically is converted from AC to DC at the point of use in many types of fixtures and devices.
All components used in EMerge compliant systems will need to meet their own product-specific or industry-specific codes and guidelines (electrical and/or structural). The Standard details for members what codes and guidelines are relevant for typical applications of the Standard. EMerge has been working closely with key bodies like ASHRAE and UL where additional guidance may be necessary for engineers and specifiers.
Participating companies expect early applications in a variety of building venues. The Standard applies equally well to new or renovated space, and is scalable from an individual room to full building level implementation.
Use of the Standard will help bridge the gap between commercial building designs meant to accommodate uses that didn't change for twenty to thirty years and those that are following dramatic life-cycle changes that occur as often as two to three years.
But even timely and useful change doesn't happen by itself. It takes an industry to build a building; so it stands to reason that it will take an industry to change the way it does so.
About the EMerge Alliance
The EMerge Alliance is an open industry association leading the rapid adoption of safe, low-voltage DC power distribution and use in commercial interiors through the EMerge Alliance Standard. This innovative standard integrates interior infrastructures, power, controls and peripheral devices in a common platform to facilitate the hybrid use of AC and DC power. Now, building owners can gain unprecedented design and space flexibility along with greater energy efficiency and improved sustainability. The not-for-profit Alliance is accepting new members at various levels. For more information about the EMerge Alliance, visit www.EMergeAlliance.org.
---
About the Author

Brian T. Patterson, EMerge Alliance Chairman, General Manager, New Business Development, Armstrong World Industries
Brian Patterson is General Manager of New Business Development for the Building Products Division of Armstrong World Industries.
Throughout his career, Brian has been deeply involved in the electronics industry, managing product engineering, sales, marketing, licensing & operations in both domestic and global assignments. Before joining Armstrong in 2003, he held senior positions with Kollmorgen Corporation, AMP Incorporated and Tyco International. He has several patents and patents pending in the fields of fiber optics and power/signal technology. He has also held guest professorships in business management at Long Island University and Susquehanna University.
In his role at Armstrong, Brian leads new business development efforts that bring the division together with like-minded partners in new collaborations aimed at improving commercial buildings, such as his work with the EMerge Alliance.
---

[Click Banner To Learn More]
[Home Page] [The Automator] [About] [Subscribe ] [Contact Us]