---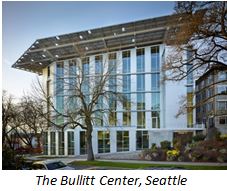 Visionary Leadership at the Bullitt Center

Denis Hayes, President of the Bullitt Foundation has been quoted as saying that the Bullitt Center in Seattle is "a bold attempt to do everything right". In this case, doing everything right meant disrupting traditional commercial property development practices to implement visionary performance-based design and management strategies, yielding exceptional levels of operating efficiency.

The 50,000 SF Bullitt Center in Seattle opened in April of this year as a new commercial building working to meet the ambitious goals of the Living Building Challenge – the world's most strenuous performance standard for sustainability. Key building design requirements included Net Zero energy and Net Zero water use – generating as much electricity and water through solar photovoltaic panels and rainwater catchment as would be consumed by the building in a typical year. The building also set standards to avoid the use of many toxic "Red List" materials and to incorporate numerous cutting-edge and environmentally-sound design and construction features including operable full-height windows which open automatically to bring in fresh air on cool days, on-site sewage treatment, and an in-floor heat pump system served by twenty six 400-foot-deep closed-loop geothermal wells.

Cloud-Based Technology as Enabler
To meet their aggressive building performance requirements, the Bullitt Center design team incorporated a series of highly integrated controls, automation, and metering systems to track building performance. The Bullitt Center development team selected the web-based Axcess platform by Climatec Building Technologies Group as the user interface to track, manage, and report critical building energy, sustainability, and equipment information in real time. Axcess is a cloud-based platform that helps owners operate their facilities more efficiently. At the Bullitt Center, Axcess integrates with multiple underlying building technology and metering systems and aggregates performance data to provide high-utility visualizations of building performance in real time, with distinct reporting for different stakeholders - from building operations to public information kiosks.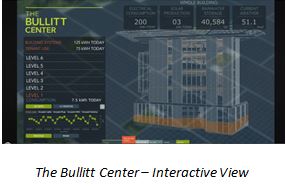 Building tenants use the web-based performance platform to see how their behavior impacts efficiency and to manage individual energy and resource budgets, with real-time displays of their electricity and water usage by floor, including user-selectable time periods and relative consumption in categories such as lighting, plug loads, HVAC, and IT.
Building Engineers use the Axcess platform to view time-based performance metrics ranging from an individual sensor to building-wide performance, including solar production and water catchment versus budget, electrical and water consumption versus budget, and detailed resource consumption by category including lighting, plug loads, HVAC, and water. The platform includes Fault Detection and Diagnosis (FDD) – continuously applying performance-based software rules against real-time data from underlying building systems to identify operational inefficiencies and prioritize corrective action.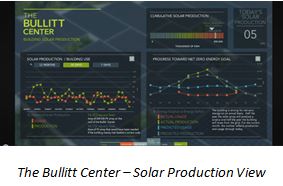 Building Managers view building performance at the macro level, using real-time information such as year-to-date solar production and energy consumption versus established goals and occupant energy performance - all to ensure that aggressive building performance requirements are met or exceeded. Visitors to the Bullitt Center can view much of this information via an intuitive interactive touch screen kiosk within the building lobby.

Summary
The Bullitt Center is a spectacular example of visionary leadership converted into action. Design, construction and control strategies at the Bullitt Center are already serving as a clear model of what's possible when a principled project establishes an industry-leading vision of performance. With daily tours and educational activities supported by the University of Washington Design Lab, the Bullitt Center truly seems to be fulfilling its' mission as "a bold attempt to do everything right".

Note: The Bullitt Center conducts scheduled tours open to the general public, by appointment only. Learn more about the Bullitt Center at http://bullittcenter.org. Learn more about the Climatec Axcess platform at www.climatec.com.
This building is part of CoRETECH2013 tour. http://realcomm.com/coretech-2013/program-details.asp
"The Bullitt Center, Seattle" photo credit: Ben Benschneider"
---
About the Author
John Schack is the National Director of Business Development for the Axcess division of Climatec Building Technologies Group. John has held leadership positions in the commercial HVAC and control systems arena for over 25 years, focusing on technology solutions driving energy and operational efficiency gains.

About Axcess by Climatec

Axcess is a cloud-based offering delivering energy and sustainability solutions for Climatec customers, with specific focus in Enterprise Energy Management, Fault Detection and Diagnosis, Central Plant Optimization, and Sustainability Management. Axcess has been selected as a finalist in the 2013 Control Trends Awards for Best Building Application of the year. Learn more about Axcess at www.climatec.com.



---


[Click Banner To Learn More]
[Home Page] [The Automator] [About] [Subscribe ] [Contact Us]