---
A Living Building? - The Bullitt Center

The goal of the project is to demonstrate the possibility of a truly net-zero, self-sustaining design.


KMC Controls

Earth Day 2013 served as a backdrop for the official opening of a new facility, billed as the world's "greenest" and most energy efficient office building. A property owned by the nonprofit Bullitt Foundation, The Bullitt Center in Seattle, Washington, is a six-story, 50,000 square foot, $18 million office building located at the heart of the Central and Capitol Hill district intersection. Nestled alongside commercial offices and apartments, The Bullitt Center is a chic commercial lease space unlike any other. The building incorporates so many state-of-the-art environmental and sustainability features that new city ordinances had to be drafted to accommodate them. The goal of the project is to demonstrate the possibility of a truly net-zero, self-sustaining design.
The facility was officially commissioned with all the pomp and circumstance one would expect for a project boasting many impressive "firsts" for a green site in the United States. The Bullitt Center is the first commercial office building in the U.S. to meet the requirements of the international Living Building Challenge (certification pending) and the first to collect rainwater and process it on-site for potable water use. The project is also aiming to achieve LEED Platinum certification. Other notable features include an efficient, low-leakage shell, large windows, sustainably sourced wood products, on-site rainwater collection, and on-site waste processing.

The Seattle architectural firm The Miller Hull Partnership provided design and architecture, renowned builder Schuchart was chosen as the project's general contractor, and PAE Consulting Engineers designed the electro-mechanical system. The cutting-edge environmental and energy-saving features of the structure are controlled by a KMC Controls BACnet DDC system and monitored by a KMC TotalControl software workstation.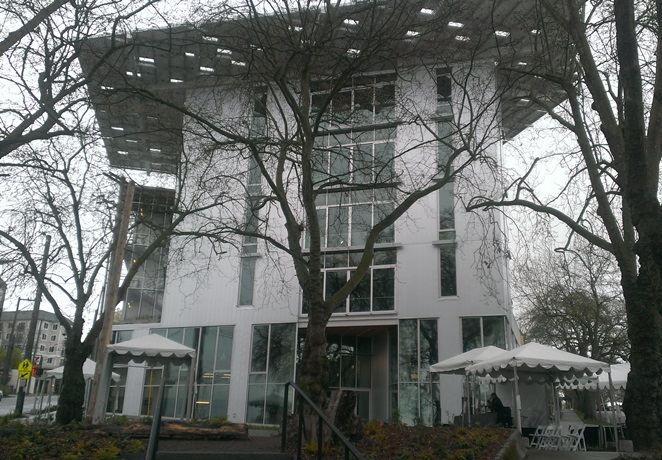 Installed by KMC's Authorized Installing Contractor Northwest Automation of Tonasket, Washington, and spearheaded by controls engineer Roger Norman, the uniquely designed controls system integrates many more innovations than most typical building automation systems. At the Bullitt Center, KMC BACnet Building Controllers and FlexStats are used for control of radiant floor heating and cooling zones. KMC FlexStats are also used for indoor air quality management and to provide free cooling. The top-shelf equipment list includes an AAON 100% outside air rooftop air handling unit with heat recovery, Titus VAV boxes, and Florida Heat Pump / Bosch heat pumps sourced by 26 ground thermal wells – which also generate heat for domestic water in addition to heating and cooling process water.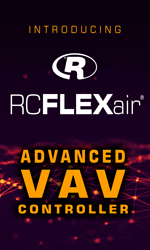 Some of the most impressive applications of the KMC devices include control of rainwater collection, filtration, and purification into potable water from a 56,000-gallon underground cistern, grey water collection, control, pumping, and distribution to the building's green garden areas. KMC controls also allow for precise control of the facility's "smart" windows which automatically open when outside air and weather conditions are favorable, or whenever free cooling is desired. The building additionally boasts a 14,000 square foot rooftop photovoltaic solar array to produce the equivalent of the building's energy needs, an innovative floor plan designed to position all work areas within 30 feet of windows, composting toilets for on-site sewage processing, amenities to encourage bicycling, and an indoor environment free from toxic fumes generated by certain furniture or paints. In fact, the facility is so energy-efficient that simple plug-in devices such as computers, printers, and appliances are expected to account for nearly half of the building's real energy consumption. To cut down on non-point source pollution and storm water runoff, the Bullitt Center's landscape features a green roof and planting strip, as well as pervious hardscapes to allow rainwater to penetrate the soil surrounding the building.

The Bullitt Center's energy performance metrics are displayed in an educational format for tenants and visitors on a real-time Tridium/JACE dashboard via a large touch-screen interface. This is just one example which helps achieve the project's stated goal of acting as an educational platform to promote replication of energy-efficient, performance-based buildings. To that end, the Bullitt Center team is working hard to share the lessons they've learned over the course of the Bullitt Center project to encourage others in the green building arena. Indeed, the Bullitt Center is a very good example from which to learn.

On September 17, 2013 in Las Vegas, Nevada, the industry association known as BACnet International, named this project the "Best of Show" for the outstanding controls integration project of the year.


---


[Click Banner To Learn More]
[Home Page] [The Automator] [About] [Subscribe ] [Contact Us]