---
Smart Building Synergy

Through Building Energy Management Systems and Enterprise Energy Management Software

Allan McHale,

Director,

Memoori
Both Building Energy Management Systems (BEMS) and Enterprise Energy Management (EEM) have major parts to play in delivering Distributed Energy and Demand Response services connecting across Smart Buildings and Smart Grid. This reinforces that together they can also reach across associated applications. This must be synergy personified.

Integrating the technical services in buildings is not a new development but more recently advances in technology together with the need to reduce CO2 emissions from buildings has spurred on demand and opened up new business opportunities. Memoori's new research report "The Market for BEMS and EEM 2013 to 2017" " seeks to establish how this will develop, and together how they will achieve more than the sum of their parts when they are fully integrated, not just interfaced; delivering more benefits and a better return on the clients investment.

There is no doubt that through alliance, acquisition and integration; these two separate businesses will play a vital role in maximizing energy conservation in buildings whilst generating income and reducing operating costs.

BEMS Market Sizing Data & Business Development

We estimate that the world sales of BEMS at installed prices was $15.6 billion in 2012 and we forecast that by 2017 it will have reached $23 billion. The figures are based on the total installed value and include all controllers, valves actuators and sensors and supervisory software.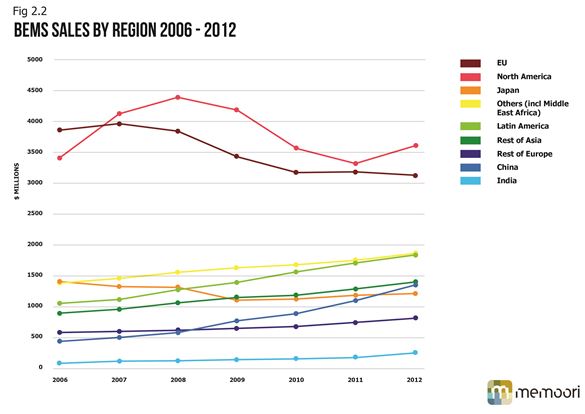 The largest market is North America with a share of 23.27% followed by the EU at 20.25%. Demand in North America and the EU declined in 2007 and 2008 respectively as the construction of new buildings declined.

The BEMS market in North America returned to growth in 2012 and the EU is forecast to stabilize in 2013 and then return to growth in 2014. Asia will deliver the highest rates of growth. China and India are the fastest growing markets and they are expected to sustain current growth rates of around 18% to 2017. Latin America and the Middle East are forecast to grow at CAGR of 8% from 2013 to 2017.
This business is well established and dominated by 4 major companies. However the channels of distribution have changed over time and this has brought about better opportunities for the smaller players as the reduction in direct sales to the end user has declined. Open systems is putting Supervisory Software developed and maintained by BEMS companies under pressure from outside sources and the medium sized players struggle to keep up to date. Software is not their forte. But the major challenge for BEMS suppliers is that their business is morphing into the much wider Enterprise Energy Management (EEM) business and at the same time interfacing with Smart Grid and they need to accommodate this.

EEM Market Sizing Data & Business Development

The two major prongs of the EEM business lie in making Smart Buildings much smarter and the Smart Grid fully ADR right across the transmission and distribution network by providing a real time analysis of supply and demand. These two markets alone have the potential to spend upwards of $225 billion by 2030 with Smart Buildings looking the more attractive and robust business because it will be funded by the private sector and an attractive ROI can almost be guaranteed. The US market for EEM solutions is estimated to be $6 billion in 2012, and could grow to $15 billion by 2020.

The last decade has seen EEM develop from provided a specific energy domain service delivering a data aggregation and consolidation service to an enterprise scale service providing cost reduction and energy efficiency applications in Smart Buildings. The more sophisticated software package can deliver optimal energy solutions across all facets of energy supply, consumption, conservation and total emissions control in single, multi-buildings and multi-sites, across different countries.

Growth is being driven by the need to meet CO2 emissions in the low carbon economy and large multi-national corporations are seeking solutions to provide an enterprise view of energy use and associated costs that can also be implemented across multiple facilities. This is not a "one size fits all" solution as vertical markets by building type have different needs and priorities in addition to vendor preferences.

We therefore expect that the Smart Building sub markets will be targeted by type of vertical building. However EEM companies need to be able take the data from the BEMS and this is where, for retrofitting existing buildings, they will need to extract and join data from BEMS systems that operate on different communication protocols.

Fundamental Structural Changes are Underway

Leading BEMS companies have massive heritage estates and are amongst the world's major Energy Service Companies (ESCOs). They are therefore in a strong position to help EEM suppliers get a foothold in the Smart Building Market. However BEMS suppliers and ESCOs are also intent on taking a piece of the EEM business.

Although not particularly well known for their prowess in EEM, they have been acquiring companies with this expertise for the last five years. BEMS / ESCO companies active here include Johnson Controls, Honeywell, Schneider Electric, Siemens and ABB. They are the world's leading suppliers across both businesses and the last three are also leading international suppliers of Smart Grid products and services.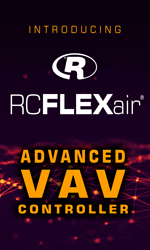 At this time they don't have the software technology to build platforms for major projects but Schneider Electric recently signed a strategic technology agreement with one of the world's major software companies, OSIsoft. OSIsoft will provide their PI System, an infrastructure technology for the management of real-time data and events whilst Schneider Electric will provide comprehensive energy management control.

The major EEM companies have the capacity and capability to deal direct with the owners of very large Smart Building real estates and they will have contact with sources that will influence the buying decision on EEM purchases. These companies will be targeting comprehensive EEM systems in Smart Buildings.

EEM will bring about a sharp evolutionary change to the building services and management business because the buyers demands will require a high level of commercial and technological expertise that is not yet honed by many of the suppliers. To acquire these skills they will require alliance and partnerships between the various groups of players and across the vertical markets. Those that grasp the opportunity will be rewarded with a highly profitable and fast growing business.

More details on Memoori's report can be seen here - http://www.memoori.com/portfolio/bems-market-2013-to-2017/


---

[Click Banner To Learn More]
[Home Page] [The Automator] [About] [Subscribe ] [Contact Us]