---
Across My Desk


snippets, blog bits, and url links that are about to fall off my desktop

Founder, Owner, Publisher AutomatedBuildings.com
Every month there is a blizzard of information contained in the emails and newsletters that cross my desk on their way to AutomatedBuildings.com. Some of this information is not in the form of any type of content we can publish but I feel I should share with you these snippets, blog bits, and url links that are about to fall off my desktop.
2015 ControlTrends Awards has officially begun! This is your opportunity to nominate your favorite products, solutions, vendors, technical support people and executives. Help us recognize the heroes and superstars of our HVAC and Building Automation industry. Nominate those people, products, and solutions that help sustain our industry and make it so important and successful. The top five or six nominees in each category will then be placed on the final voting ballot in December. Please pass this nomination ballot to your co-workers and colleagues!
The Things Network community is on a mission to crowdsource a global open and independent Internet Of Things network Just a few months ago we managed to cover the entire city of Amsterdam with a new type of wireless network using a technology called LoRaWAN (Long Range Wide-area network). The network was built, from the bottom up, by people like you.
IoT Lets Occupants Provide Real-Time Feedback
The Building Internet of Things can enable occupants to provide real-time feedback about building conditions, which can provide greater levels of comfort and control. Several software packages on the market today allow occupants to use their smartphones to report whether they're hot, cold, or just right, as well as other building requests, like trash pickup or something not working properly.
Combines the latest alarm technology with intelligent building control to provide, says ABB, a 'winning combination'. It covers the features and functionality of this system, including activation (absence and presence), deactivation, monitoring, the standards and guidelines of intelligent building control and alarm systems, risk classifications, plus application.
HappyOrNot helped over 1,500 companies collect feedback from more than 80,000,000 people. Our Service helps you to make people happier and grow your business. Here's how:
Proposed Research
Demonstrating the Value of High-Performance Buildings
NRC is uniquely positioned to demonstrate that smart, integrated technologies produce organizational productivity gains in addition to energy and environmental savings. We will demonstrate that these gains are related to improved indoor environment conditions and that their value is equivalent to other corporate programs. This evidence will accentuate the importance and speed the adoption of these solutions in the high-performance building industry. This work will build upon the approach described in our 2014 white paper for CABA and in the World Green Building Council report "Health, Wellbeing and Productivity in Offices".

Global EASY IO Partner Event, France Contemporary Controls attended the Global Easy IO Partner Event in Paris, France, which featured new products and features from the industry that will further enhance building management and energy solutions for all building types - with the goal of significantly reducing installation costs.
SAMI is an acronym for Samsung Architecture for Multimodal Interactions. It's our shorthand for what we call a data-driven platform with simple open APIs and SDKs to send and receive diverse data. We've tried to make it dead simple for developers to execute REST API calls to SAMI or set up WebSockets to receive data in real time. It's based on three big ideas critical to success in the cloud: users always own their own data, it's a fully open ecosystem, and it's data and device agnostic.
11 Internet of Things (IoT) Protocols You Need to Know
There exists an almost bewildering choice of connectivity options for electronics engineers and application developers working on products and systems for the Internet of Things (IoT).
Whose technology protocols should these manufacturers incorporate into their gear? Should they adopt ZigBee, Apple's HomeKit, Allseen Alliance/AllJoyn, or Intel's Open Interconnect Consortium? Other 802.15.4 technologies? There are too many competing choices.
URBAN HUB is an interactive platform for people working on the future of cities and mobility. We collect personal stories about urban landmarks and future ideas for the sustainable development of cities worldwide. Do you want to be part of URBAN HUB? We'd love to share your stories!

Wireless Lighting Control Comes of Age BY CRAIG DILOUIE, ON OCTOBER 27, 2015 The value proposition is short and sweet—using radio waves instead of wiring eliminates wiring, with multiple potential benefits. "The primary benefit of wireless RF lighting controls is that they can be retrofitted into a space at any time and can be easily scaled as needs change," says Eric Lind, Vice President-Global Specifications, Lutron Electronics Co., Inc. "Existing buildings can now take advantage of energy savings and occupant benefits associated with wireless lighting controls without the need for a total building makeover."
Building Internet of Things (IoT) builds on systems and tools that are already widely understood and often commonly used in buildings today. Indeed, the goal of the Building IoT is simplification. "In our mobile world, people are used to simplicity," says Chris Purcell, chief technology officer, McKinstry. "Similar to any major system project, the success of a Building IoT initiative is tied to your ability to quickly use the tools and maintain them as requirements change."
Building Internet of Thing's emphasis on connectivity,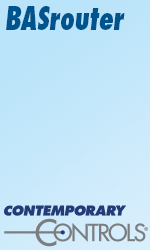 data-sharing, sensors, and control. Among the elements tied into its BAS are energy recovery wheels to recover heat energy from the ventilation system, chilled beams to help cool the building, a system that treats and re-uses water for flushing toilets, and a lighting system that reads the sun to determine how much electric light to provide to each floor. The tower is transparent, with the ability to daylight more than 90 percent of its office floors. "We have a window system that during certain portions of the year will open and close to naturally ventilate the building. The BMS controls these motorized windows based on sensors that read temperature, humidity, and pollution levels," Snyder says. Additionally, these windows open in the summer to remove heat and close in the winter to retain heat.
The Space and Equipment Planning System (SEPS) is the "seed" of owner requirement knowledge for healthcare facilities. Even before the design work starts a typical hospital has over two million data points such as departments, spaces, size, floor finish, air changes, room equipment, equipment attributes, etc. SEPS is the knowledge base to "grow" healthy BIMs with accurate data that can be managed over time.
IWMS or Integrated Workplace Management Systems are the latest iteration of the corporate real estate and facilities information management journey. These systems merge the enormous number of business processes associated with running a corporate real estate portfolio with the potential benefits: lower operating expenses, energy conservation, more strategic insight, better occupant experiences and achievement of sustainability objectives. Such lofty goals should make managing corporate real estate information management a high priority.

The article describes building Internet of Things (IoT) applications that exist now and are on the way, such as the integration of mechanical equipment / components (chillers, boilers, variable frequency drives) with building automation systems (BAS) to collect data for more efficient maintenance practices, daylight harvesting to reduce energy use through the adjustment of lighting based on daylight levels, and smartphones used as security credentials at turnstiles.
Digital signage is dramatically changing how organizations are communicating, replacing bulletin boards and posters with high impact visual messaging that increases operational efficiencies and engages staff and customers. Operations and Human Resources professionals are finding that traditional communication channels are not an effective means to realize business goals. A unified Content Management System (CMS) platform, running everything from performance dashboards to employee training portals, can drastically improve employee satisfaction and retention, productivity, policy compliance and more.
ONVIF, the leading global standardisation initiative for IP-based physical security products, has confirmed the Release Candidate for Profile A, a draft specification that establishes an interface for access control clients and expands the configuration options for ONVIF conformant access control systems.
---


[Click Banner To Learn More]
[Home Page] [The Automator] [About] [Subscribe ] [Contact Us]