---
| | |
| --- | --- |
| Hosted versus In-house | |
Well, are all of you ready for a shift in software distribution? For those of you who donít know, a revolution in the way software is distributed is at hand. It is changing the way your vendors and service providers procure, distribute, deploy, manage, and bill for software applications. What am I talking about? One of the most rapidly growing areas of the software industry, that of Application Service Providers (ASP) or hosted solutions.












ASPís are comprehensive software and support services, developed to deliver state-of-the-art and world class computerized maintenance management systems (CMMS) right to your door via the Internet. The ASP companies allow you to access maintenance applications that are stored on servers, which are centrally managed and maintained. The ASP maintains your entire system, giving you access to it through a Web browser. Anything you could do with an in-house application can be done through the Net in exchange for a monthly service charge.
So, what does this mean to you, the maintenance professional that has to live with the latest trend? Relief, is the word that comes to mind. How?
Think of this all too familiar scenario:
The maintenance department has again become the target for management improvements. You have been asked to improve productivity; increase PM completion; reduce inventory levels; get software, hardware, associated support costs under control; and, oh yeah, do not burden the IT department while your at it. Since the IT department doesnít possess the resources and/or technical expertise to support your effort, you are left with the same old questions. Do you have the necessary know how, budget, labor or software systems to implement the solutions?

So here you are again. To get all the functionality you need, you purchase one-time software product licenses (based on the number of users and/or the size of your company) and high annual service contracts. You have to buy new hardware and also hire outside service professionals to help implement the application, configure the hardware, migrate the data and finally train your people. All the while, trying to figure out how to pay for all these up-front costs out of current operating budgets. Not to mention, Iím sure all of you are tired of writing large checks to consulting firms for projects that never seem to be finished or end in disillusionment.
Well, the hosted industry is going to change all that. They are going to allow a business to have access to specialized, high quality, and complex software applications, such as CMMS, CAFM, and document management. The hosted companies manage updates and changes to the application, the database, the security, and the hardware. They offer training, setup, 24X7 help desk, data management and analytical support as part of standard packages. In addition, weigh-in the fact that your staff will have access to maintenance information at anytime and from anywhere, all they need is a browser, no special workstations. All this for a known, fixed monthly fee.
CFI recently did an analysis for a CMMS client based on the following: 30 power users (supervisors, clerks, planners, scheduler, etc.), 90 work reporting only users (technicians), 50 PCís that need to be upgraded, Internet cost of $20 per month per user, average IT loaded salary of $100,000 per year, CMMS license cost $2,850 per user with a 20% Software Annual customer service plan, and a Hosted cost of $207 per month per user.
Letís run their numbers. In dollars and cents, it takes an average of about $127,000 a year to set up and operate a CMMS application over 5 years, (see Table 1.) At the end of the five year period, hardware and software will probably have to be updated, so the cycle starts again. In contrast, the annual cost for a browser enabled hosted application is about $87,000 per year, (see Table 2.) So when all the numbers are run, the ASP approach winds up eliminating an average of 32% of the total cost of ownership of the application per year (Figure 1.) With a company profit margin of 5%, that extra cost translates into a requirement of $800,000 in extra sales.
Another factor to consider is the up front cost. Looking at Table 1 again, the first year of in-house operation is $369,000 compared to a hosted of $97,000. That is a whopping 380% difference. When you look at that, why would you go another way?
<![if !vml]>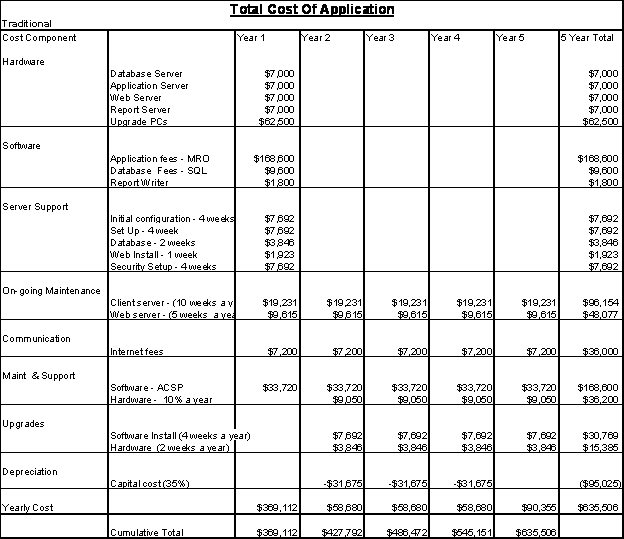 <![endif]>
Table 1: In-house application cost for 5 year period (estimated).
<![if !vml]>

<![endif]>
Table 2: Host application cost for 5 year period (estimated).
<![if !vml]>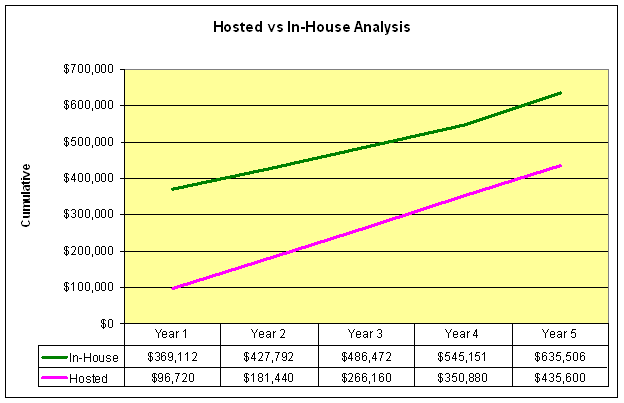 <![endif]>
Figure 1: Cumulative Cost comparison.
ASPís utilize standardized software setup packages and templates, this reduces customization by cutting out some of the bells and whistles you have come to expect (but which most companies donít utilize anyway). Secondly, Internet data transfers are not yet reliable enough everywhere to support all mission-critical data exchanges, they are getting better but not quite everywhere yet.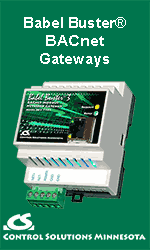 The choice is yours. Realize, though that if your department is a target for improvement, an ASP may be the answer.
---
About CTI
Computerized Facility Integration, L.L.C. (CFI) is the leading Application Service Provider (ASP) dedicated to leveraging the capabilities of web-based facilities management technology. CFI creates a world-class solution with an innovative blend of targeted business processes, well-defined goals, technology, personnel and training.
CFI's full range of services allow companies to quickly deploy applications without the associated cost and burden of owning, managing or supporting the applications. We combine all facets of our cutting-edge technology to create and implement facility management solutions that make the most effective use of technology for our clients.
---


[Click Banner To Learn More]
[Home Page] [The Automator] [About] [Subscribe ] [Contact Us]