---
Building Automation and especially remote monitoring has a strong history in Finland partly because of Finland´s harsh climate conditions and long distances.












Today's building automation market in Finland is dominated by three international companies, Siemens Oy, TAC Oy, Honeywell Oy and two local companies Atmostech Oy (owned by Invensys) and Computec Oy. They have 85% of market share. Market value is 100 million euros.
In Finland consultants are quite eager to find and use solutions that are based on the newest technical innovations.
Fidelix Oy
Fidelix Oy, founded 2002, is a relatively new company in the market place. Managing director and founder is Mr Tapani Spangar. Mr Spangar was also founder and former owner of Atmostech. Fidelix Oy´s business idea has been to develop Building Automation System FX-Net, that is based on the newest IT technology: TCP/IP-communication and browser based user interface. Today Fidelix Oy has over two hundred installations around Finland, Sweden and Estonia. Other export areas are under discussions.
Fidelix Oy´s Building Automation System FX-Net has following features
Open Safe Communication
The FX-Net communication is based on the TCP/IP protocol: supervisory unit, main station and substations can be connected to Intranet, Internet or to a separate building automation system network. In Internet or Intranet data transfer can be protected in many different ways. A separate embedded firewall program called Fidewall is available for the substations. This prevents intrusion attempts from the outside. Data transfer can also be tunnelled through Internet with the help of the VPN-software and at the same time kept secret with the help of cryptography. Separate firewall equipment can also be used.
Browser-based System
The FX-Net system is using the web browser as the user interface at all levels: in the substation, main station and remote monitoring unit. Using the browser the system can be used without separate main station software. Each substation of the system works as a server with which the user can communicate with the web browser. The openness of the system makes it possible for the owners of the buildings to choose the most suitable maintenance company and, if they so wish, to use for example consulting companies' services.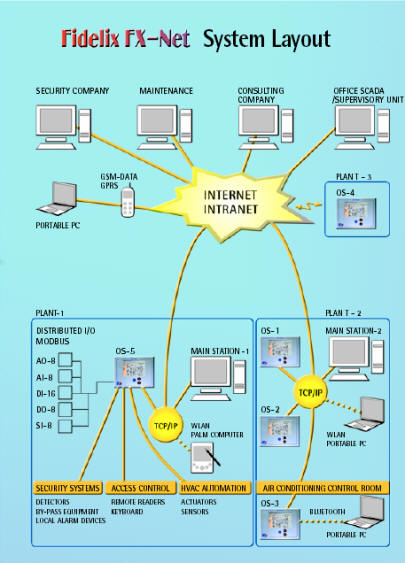 Industrial PC as a Substation
The FX-2020 substation design is based on an industrial PC guaranteeing high performance of the system, good availability, almost unlimited communication possibilities, and a platform for future development. Communication with the I/O modules is based on the commonly used Modbus protocol offering benefits of distributed I/O-system and cutting down cabling costs.
Tailor-made Programming
FX-2020 programming is based on the widely known international programming standard IEC 61131-3. The software tools Fideprog and Fidegraf programming offer fast and efficient programming using program and graphics libraries. The simulation program ensures the functionality of the application software prior to the installation on site.
Integrated System – Intelligent Building
Fidelix FX-Net provides a possibility to integrate building automation with the security system. This way the benefits and savings of the intelligent building are put truly to use. For example access control system notifies the BMS system about the arrival of the occupant, meanwhile the BMS system will start the air conditioning in a certain part of the building and switch on the lights. This kind of integrated solution offers better control than traditional BMS systems and saves energy.
Whether the original Fidelix FX-Net installation is a Building Management System or a Security System, it can always afterwards be extended to be an integrated solution.
Genuinely Open System Exploiting Standards
Fidelix FX-Net offers several open interfaces for connecting other manufacturer's equipment and software.
Communication
The system is capable of using a number of different field buses including Modbus, EIB and LON. Communication between substations takes place through the TCP/IP protocol typically using an Ethernet network.
General Control Room
Fidelix FX-2020 substations can be connected to the SCADA-systems, such as FIX, Citect, Iconics, InTouch using Fidelix OPC-server software. The OPC server software is installed on the same PC as the SCADA software reducing the installation costs.
Open Data Base
The data collected by the substations can be saved into an open data base, such as SQL, MDB, etc. The stored data is available to third party software packages that connect either directly to the database or use ODBC interface.
Tailor-made Interface
Fidelix has many years experience in building all kinds of interfaces for other systems and equipments and can, therefore, implement also tailor-made solutions for the customers. Fidelix has wealth of experience in developing custom interfaces to third party systems and products. Our experienced development team can implement tailor-made solutions to special customer requirements on request.
Versatile I/O Modules
The Fidelix FX system can be easily extended to meet practically any I/O requirements using our intelligent I/O-modules. Each module has its own processor and they can be distributed using twisted-pair cable making installation flexible. Each physical point has its own plug-in wiring terminal enabling easy installation and servicing. The I/O-modules use Modbus as the communications protocol, but also other field buses, such as LON and EIB are possible.
I/O-Modules: DI-16 Digital Input Modules, DO-8 Start/Stop Module, AI-8 Analogue Input Module, AO-8 Control Module, Si-8 Security Module and Combi-36.
---


[Click Banner To Learn More]
[Home Page] [The Automator] [About] [Subscribe ] [Contact Us]