---

DDC knowledge has become critical in the current HVAC market, but the only sources of information have been highly technical until now.

LAMA Books
Barbara Ragusa
barbara@lamabooks.com
DDC knowledge has become critical in the current HVAC market, but the only sources of information have been highly technical until now. We asked Leo Meyer, the author of the recently released Digital Controls for HVAC Technicians to share with us an introduction to Digital Controls and it's advantages. "DDC is actually a simpler system to work with than other systems," Meyer tells us. "You'll find how simple HVAC with DDC can be and how simple troubleshooting is with DDC." What follows is an excerpt from Meyer's book.











You might find it hard to believe, but for an HVAC technician, a DDC system is much simpler than a pneumatic system. Let's compare the two systems.
In many ways, DDC systems and pneumatic systems are similar.
Both systems perform the same functions:

o Sensors monitor controlled variables such as temperature, humidity, and flow.
o Actuators energize or modulate controlled devices such as motors, valves, and dampers.


Both systems have the same mechanical functions:

o Automatic dampers control airflow.
o Automatic valves control hot and chilled water flow.
In some important ways, DDC systems and pneumatic systems differ.
Fig.1 shows a single zone heating and cooling pneumatic system with mixed air control. (The operation of this system is explained in detail in the book Control System Basics for HVAC Technicians, LAMA Books) Briefly, the relays and receiver-controllers are necessary to transmit the proper output pneumatic signal (air pressure) to position the actuators for the dampers and valves.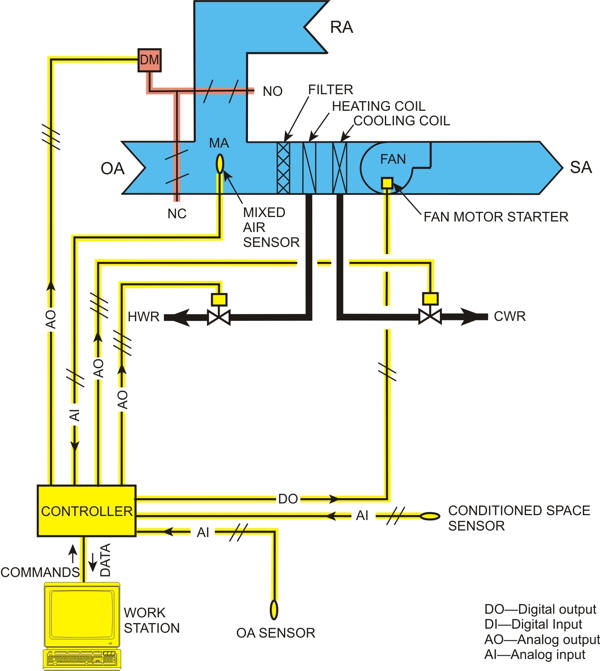 Now look at Fig. 2 This shows the basic components of a DDC system for a similar HVAC system. Don't be put off by the number of wires shown, because these are installed by the computer technician. The system is simpler for the HVAC technician because the complex system of relays, receiver-controllers, high-pass relay, and minimum position relay is eliminated. All of these functions are performed within the controller:
Wiring from electronic sensors transmits electrical input signals to the controller.

Wiring from the controller sends output signals to the damper and valve actuators causing them to open, close, or modulate as required. The damper and valve actuators are electrically operated motors.
A work station central computer communicates with several controllers to receive, process, and store data.
DDC systems for HVAC have many advantages over pneumatic systems.
Simpler
No moving parts for controller

Fewer and simpler mechanical components

Fewer maintenance problems than pneumatic systems:
o No air compressor or air lines to maintain
o No air leaks
o No dryers or filters
o No problems of moisture in the lines
o No need for routine calibration
Better control
Conditions stay more constant with less offset (control point is close to set point).

An off-site computer can be used to supervise the HVAC system:
o Monitor performance.
o Change settings.
o Diagnose problems.
Safer, because only those with a password can access the system.

More adaptable to new developments in HVAC system design.

Can be integrated with other building systems such as fire, security, and lighting.
Time-saving
Information about the system can be obtained at a keyboard.

Set points and control strategies can be modified at the keyboard.

Detailed data may aid in troubleshooting problems.
Providing Data
A major advantage of a DDC control is the vast amount of information that can be obtained at the press of a few keys. Data that would require hours to gather is now available in a few seconds. The amount and type of information that can be obtained depends upon the size and type of the system as well as the number and location of sensors in the system. The following are common data:
o Outside air
o Supply air
o Mixed air
o Return air
o Conditioned space air
o Hot water supply
o Hot water return
o Chilled water supply
o Chilled water return
Additional Functions
Monitor condition of critical equipment such as chillers.

Give warnings such as alarms and text messages.

Retrieve and store operating data.

Perform complex calculations.

Provide more system information at a central work station.

Provide system history and trends.

Print records and data.
In short, a DDC control system adds more capability and flexibility to an HVAC system. It allows an operator to control and adjust a system from a central work station. The operator can change set points for such conditions as air and water temperature and time schedules from the central work station.
Energy Management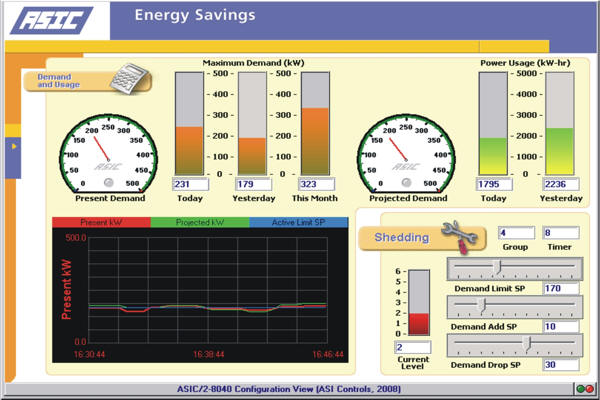 DDC provides a powerful tool for energy management Fig. 6. The system makes it easy to gather information about electric power demand and energy consumption. It can give you information about electric demand at peak hours when electric rates are highest. It can let you schedule the operation time of high-energy users for different times of the day to reduce both demand and peak hour consumption.
Maintenance
Regular maintenance reduces building operation costs and provides more reliable operation. DDC can set up a maintenance schedule so that the computer will notify the building operator when each inspection and maintenance procedure is due. In addition the DDC can monitor the operating values of each piece of machinery and predict potential failures or need for additional maintenance or adjustment.
Building Security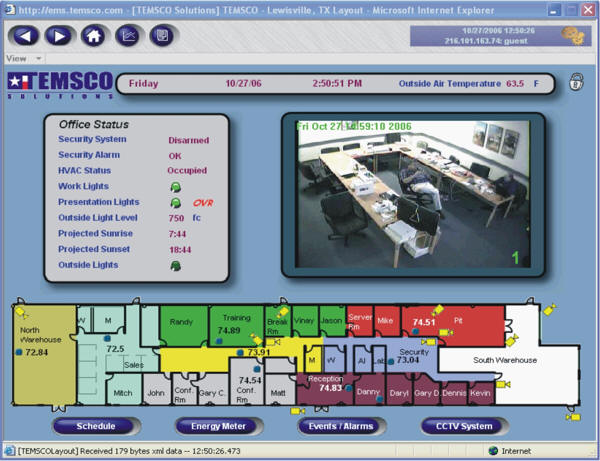 The DDC system can manage building security by operating and monitoring security cameras, managing door access cards, and verifying whether doors are locked or unlocked Fig. 7. The system gives alarms when a secure area has been entered.
HVAC Alarms
An HVAC alarm system can be programmed to give an alarm signal for system malfunctions. The alarm is set off when conditions are outside a specified range of values.
The alarm can be programmed as audible or visual or both. It may be an email or a phone call to an outside number, such as the cell phone of the building operator.
Note that an HVAC alarm system is different from a building security alarm system which gives an alarm when a secure area has been entered.
Lighting System
A DDC system can be programmed to switch off a block of lighting when the space is unoccupied. Other typical applications are to schedule outside lighting or to turn floors of lights on and off to fit an evening janitorial schedule.
Digital Controls for HVAC Technicians is available on LAMA Books website www.lamabooks.com or call 888-452-6244.
---

[Click Banner To Learn More]
[Home Page] [The Automator] [About] [Subscribe ] [Contact Us]