---
Some facilities managers are content to ease into green technology. Others pursue it aggressively. The facility manager at one of San Francisco's landmark commercial buildings is one of the latter.















As chief engineer for the building, he has been committed to making it as energy efficient as was humanly possible since he took the position in 2006. "I'm fortunate," said the engineer. "The ownership of the building is committed to creating a Class 1A environment. They like intelligent buildings, enhancement, and efficiency, and those are concepts that I live and breathe." Unfortunately, the ownership does not want their building identified.
The building opened in 1986 and has been an important element of San Francisco's skyline ever since. It is a multiple-use building with upscale retail tenants in the first few floors, high-level office space in the middle and a luxury hotel on the top floors.
With tenants like those, it's clear why it's important to maintain an optimal comfort level. The challenge is to do that while maintaining the best energy efficiency possible. The biggest part of the challenge is with the HVAC systems. While the they do have a building automation system, they don't have DDC floor-level temperature and volume control. Legacy pneumatic control on the VAV zone level were and still are the standard. The engineering staff were blind to floor-to-floor, zone-to-zone space conditions.
A DDC opportunity
Then in 2008, they got a break.
A large tenant floor restack opened the door to convert six entire floors to DDC. They worked with Johnson Controls to develop a plan to put in an Ethernet backbone top to bottom and convert all six pneumatically controlled floors to full-blown DDC. It took a lot of time to strip out the old system and run the wiring for the new one. The project was successful and they now had a deeper look into those floors and had their HVAC under digital down to the BAS front end control. The problem is that it still left them blind to the other 80 percent of the building. The challenge was that they still had a lot of full-floor leases and none of those leases would start to run out until 2012. They planned to continue incremental floor-by-floor DDC conversions as the opportunities presented themselves, but it was clear it would take a long time.
A wireless solution
Then one day the Chief Engineer saw an article about a new wireless pneumatic thermostat from Cypress Envirosystems. At almost the same time, an engineer from a mechanical consulting firm they work with sent them a link to Cypress's home page.
They went on Cypress's web site and learned some more about the Wireless Pneumatic Thermostat or WPT. It simply retrofits to the old legacy pneumatic and communicates with a server via a radio signal. They learned that they could install and calibrate a WPT in 15 minutes or so. But they are not ones to take unnecessary risks. We spoke with them at some length and they agreed to install a test sample in their building management suite which has six zones. We installed the six WPTs. They have receivers that take the signal from the WPT, bring it back into their server and make that WPT addressable. Then we turned our server into their Ethernet trunk which is their com trunk to their Johnson Controls Metasys building automation system. With old pneumatics, they were blind as to what was going on in that space and had to actually visit the space, take a temperature reading and read a branch pressure on each pneumatic thermostat. With the WPT, they can monitor each zone from their BAS. They can see the temperature in that office, see and reset the set point of that thermostat, and read a pneumatic branch pressure. It tells them what mode that zone is in. Is it trying to heat, cool, or in a happy medium. They can see the battery capacity and can take that zone from an occupied to an unoccupied state. They say they are 100 percent smarter than they were with the old pneumatic thermostat; and they did it at about 20 percent the cost of full blown DDC and in a fraction of the time without being invasive to the building, and without interfering with the building's tenants.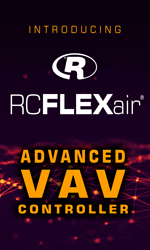 "After a year we critiqued the initial six WPTs performance," said the Chief Engineer. "They worked well with our BAS and gave us the ability to remotely control set points, to monitor zone temperature and pressure, and program temperature setbacks. We don't pull any punches when evaluating new products, but we all liked their performance very much."
The thermostats are a combination of technologies. A motor controls the pneumatic thermostat's thumb wheel . It's connected to a radio so the engineer can command and control each wheel separately from a remote location, either through a remote server, an EMS, or a building automations system. Both the radio and the motor run off a three-year battery. The pneumatics have their own power source, so we don't have to provide for them. A sensor inside monitors the temperature of the room, and there is a pressure sensor so the system knows the pressure in the pneumatic line. The system works well with demand response strategies.
A larger installation
After the initial test, the engineer and his ownership decided to convert two full floors to the WPTs.
That meant installing 60 wireless stats on two 17,000 square foot floors. We developed an interactive CAD floor plan graphic for the two floors. So now on each floor, they can look at 30 temperatures. They can click on any zone and look at the five components. It gives them a great range of adjustability. They can stay ahead of problems and see where and when they need to calibrate. Because of the results from the initial test suite and the ensuing two-floor installation, they have decided to do the rest of the building incrementally.
"Now I am in close contact with the utility account reps at PG&E and waiting to discover what incentive dollars I'm eligible for," said the Chief Engineer. "The WPTs fit in nicely with our long-range plans. We are going for LEEDS certification. We already have a 91 Energy Star rating. I'm currently in the middle of a retro commissioning project and I'm also looking into wireless lighting controls and wireless steam trap monitoring. If I have my way, we're going to be the greenest building in San Francisco."
---


[Click Banner To Learn More]
[Home Page] [The Automator] [About] [Subscribe ] [Contact Us]