---
| | |
| --- | --- |
| Enabling Best of Breed Building Automation Solutions | As published in The Gateway September 2010 |
Introduction
The building automation marketplace is currently awash with numerous standards and protocols. Each of these communications protocols has emerged from varying initial conditions and domain specific requirements. Some of these protocols are standards based and considered "open" in that they are not controlled by any single for-profit entity while others are entirely proprietary. Some standards are geared towards general purpose building automation communication use while others, like the EnOcean wireless standard, are optimized for specific requirements and domain tasks. This article will explore the role of ASHRAE's BACnet standard in today's BAS marketplace and how EnOcean technology can be brought into this industry wide environment.















What is BACnet?
BACnet is a communications protocol for Building Automation and Control NETworks. It is an ASHRAE, ANSI and ISO standard. (1) Work on the specifications started in 1987 and was finalized eight years later, becoming ASHRAE/ANSI Standard 135. The philosophy behind the design of BACnet was to facilitate communication between building automation and control systems for a wide variety of applications such as heating, ventilating, air-conditioning control, lighting control, access control, and fire detection systems along with associated equipment.
BACnet defines standards for all aspects of a building automation system from what kind of cable to use for the physical infrastructure of a BAS network to how to form a particular request or command and the format of the response. The BACnet Priority Array is one of the concepts that most differentiates BACnet from other protocols; this is a specific property type described by the standard as one of the command prioritization mechanisms. (2) Also defined are 30 object types, listed in the following table, specific to the BAS world.

Benefits of Combining EnOcean Technology with BACnet Standards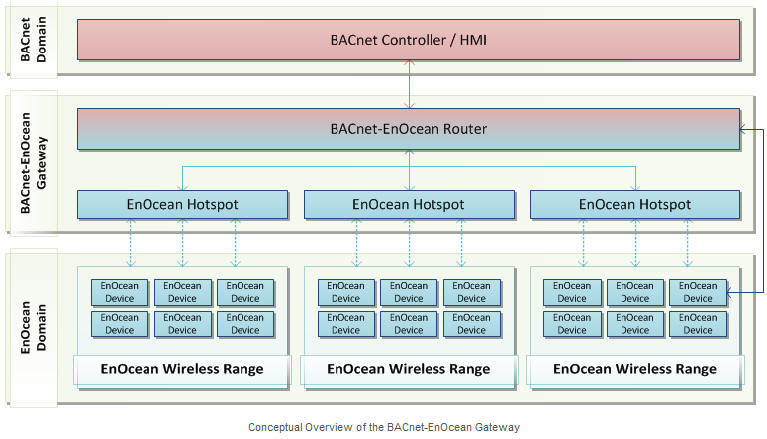 Combining the industry-wide deployment of BACnet with the versatility of EnOcean wireless technology can bring numerous benefits to building owners and facilities managers. By utilizing BACnet as a backbone, EnOcean switches, sensors and devices can cost effectively penetrate the "last-mile" of building infrastructure. This approach yields rapid upgrades of existing BAS installations and brings the latest technology to areas of buildings that, until now, have existed beyond the scope of most solutions.
Being able to operate wirelessly and without a traditional power source are the key strengths of EnOcean technology. Brining those strengths into the BACnet world leads to innovative solutions and tremendous market potential. The S4 Group is currently developing the S4 Open: BACnet-EnOcean Router and EnOcean Hotspot, working together comprise the BACnet-EnOcean Gateway, to bridge the gap between these two important segments of the building automation marketplace.
Application Examples
Existing EnOcean Enabled Hotel
An existing high-end hotel with room automation provided by EnOcean technology seeks to unify control of building operations. Each room is its own EnOcean domain. Automation services provided include HVAC control, lighting control, blind control, window open detection and occupancy detection. The hotel owners want to be able to remotely monitor room status, override set points, override occupancy status, and pre-condition the room for guests so that it is comfortable by the time they arrive. After guest check in, room conditions can be controlled by the room occupancy status.
To achieve this result, each room is retrofitted with an S4 Open: EnOcean Hotspot. One, or more, S4 Open: BACnet-EnOcean Routers will monitor and manage the EnOcean Hotspots and provide an EnOcean to BACnet gateway service. The BACnet gateway is fully bi-directional and supports all BACnet services and features allowing the rooms to be integrated into both the hotel management system and the primary building automation system. This integration facilitates optimal energy management of the building, data collection for trend and historical analysis, and maximizes occupant comfort.
Historical Building Upgrade
A historic building on a college campus has minimal automation installed and is having air quality problems in common areas and lecture halls. Because of its historic nature, new wire runs are not practical in public areas. Because of the historic construction materials and methods, cellular phone service is marginal in interior spaces and 802.11 wireless technologies tried do not penetrate walls and floors effectively.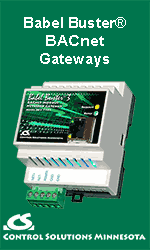 The building, however, can be instrumented with EnOcean wireless technology; EnOcean provides an optimal solution from an ease, and cost, of installation standpoint. The S4 Open: EnOcean Hotspot and S4 Open: BACnet-EnOcean Router enable data collection from each EnOcean domain on an ongoing basis. The addition of a BACnet compatible continuous re-commissioning application tunes the mechanical system controllers for optimal performance and energy conservation. The availability of EnOcean wireless sensors for temperature, humidity and IAQ monitoring allows easy insertion of additional instrumentation whenever and wherever required, facilitating data collection and re-engineering of mechanical systems that address problem areas as they are detected. All BACnet interfaces are available to both the local building BAS and to the campus-wide automation system.
Residential Building with HVAC Control and Lighting Problems
A multi-story, residential apartment, building constructed in the 1960s as a rental complex covering ½ of a city block needs an updated building automation system. When constructed, minimal standards were met for lighting control, stand-alone fan coil units were installed with local control for heating and cooling and central heating plants and chillers were installed. Tenant complaints include inconvenient placement of light switches within the units and frequent hot or cold conditions within the apartments. Management would like to upgrade the apartments to address the tenant complaints and to have better management of energy consumption in the facility. However, a complete remodel is impractical because the building is completely occupied and it is deemed too costly as most units were updated within the last 5 years.
A budget conscious solution would include updating each unit with EnOcean wireless controls, sensors, and switches including HVAC control, lighting control, window open detection, and occupancy detection. This provides optimal comfort and energy management within each apartment. It also allows easy placement of light switches where supplemental switches are needed or more accessible switches for residents who are wheelchair bound. The addition of a S4 Open: EnOcean Hotspot in each apartment and multiple S4 Open: BACnet-EnOcean Routers in the mechanical support area allows remote monitoring of all spaces and gives the maintenance staff the ability to diagnose problems in apartments remotely. Energy usage in common areas can be better managed with occupancy detection to control lighting levels and HVAC settings.
Conclusion
Both the EnOcean and BACnet protocols are mature, reliable and have international industry traction and acceptance. Each performs excellent in its respective domain; bringing them together, in one seamless solution, is the logical choice for hybrid wired and wireless building automation networks. The S4 Group, Inc. is currently working with the BACnet Wireless Working Group, EnOcean and the EnOcean Alliance to determine how to most effectively and efficiently map BACnet specific functionality to EnOcean devices and finalize a standard for EnOcean and BACnet bidirectional communication. After this groundwork is in place development on the S4 Open: EnOcean-BACnet Gateway and EnOcean Hotspot will progress rapidly. If you'd like to know more about these projects please contact Steve Jones, managing partner of The S4 Group, (steve@thes4group.com) or visit www.thes4group.com.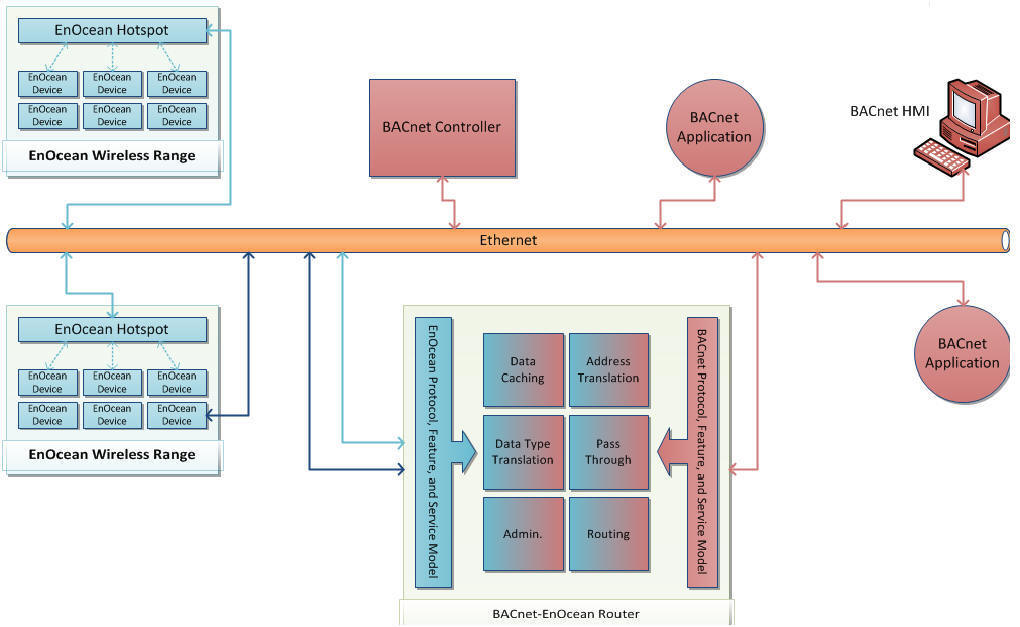 Functional Overview of the BACnet-EnOcean Gateway
Bibliography
(1). Wikipedia. BACnet. Wikipedia. [Online] [Cited: 7 15, 2010.] http://en.wikipedia.org/wiki/BACnet.
(2). Cosby, Scott. BACnet: Priority Array. Chipkin Automation Systems. [Online] [Cited: 7 14, 2010.] http://www.chipkin.com/articles/bacnet-priority-array.
(3). Newman, H. Michael. BACnet Tutorial Overview. Official Website of ASHRAE SSPC 135. [Online] [Cited: 7 14, 2010.] http://www.bacnet.org/Tutorial/HMN-Overview/sld001.htm.



---


[Click Banner To Learn More]
[Home Page] [The Automator] [About] [Subscribe ] [Contact Us]