---

EMAIL INTERVIEW – Ken Smyers and Ken Sinclair
Ken Smyers, with the Edward C. Smyers Co., in Pittsburgh, has over 30 years of experience in the HVAC, Building Automation, and Controls Industry and is Co-Founder of the ControlTrends Awards, which was established to recognize the superstars and heroes of the HVAC and Building Automation Industries. Ken is also very much involved with Eric Stromquist and ControlTrends.org, a leading internet source for HVAC and Controls information.
---
2013 ControlTrends Awards

The 2013 ControlTrends Awards will be held January 21st, 10:30AM to 1:30PM at the BB King Blues Club in Times Square, New York.

Sinclair: Let's talk about all the changes in the HVAC industry and the growing popularity and success of ControlTrends. Is there a correlation?
Smyers: Yes, and thank you. It's all about current content. In dealing with the incredible volume of change within our industry, whether it's a new controller with two processors and an SD card or a change in corporate management, there's a time premium to stay current. While there are many great sources of written content -- AutomatedBuildings.com, of course being one of the best, ControlTrends has become the creator and curator of much of the HVAC industry's visual content – that coveys these important industry changes. ControlTrends is about bringing the HVAC industry's people and their personalities to life.
We think that people introducing and explaining the changes -- telling the story, whether it's product-related or personnel-related, has the most immediate and effective impact. And, we welcome the opportunity to service the HVAC industry in a larger capacity by posting vendors and manufacturers' news and messages, especially their video media format.

ControlTalk NOW (News of the Week) and ControlTalk 2.0 have been very successful. Since ControlTrends began interviewing some of the HVAC's corporate leaders, product specialists, marketing and technical gurus, the viewership has doubled after each show. The information these experts are sharing is very much sought after, and this library of posts is available to the ControlTrends community 24/7, whenever it's convenient for them to visit ControlTrends.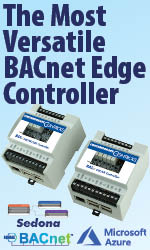 Sinclair: The 2012 ControlTrends Awards were an industry first and fun success. How are the 2013 ControlTrends Awards progressing?
Smyers: The nomination period for each category ends October 15th, 2013. There has been a three-fold increase in participation this year and it's really exciting to see this aspect of the industry unfold. To participate in nomination process, please visit ControlTrends Awards Nomination Link. The voting for the five top nominated finalists in each category will begin October 16th, 2013 and requires registration, please visit ControlTrends Awards Register to Vote.
We have an incredible venue and the excitement is already building. The 2013 ControlTrends Awards will be held January 21st, 10:30AM to 1:30PM at the BB King Blues Club in Times Square, and thanks to our media and corporate sponsors, it's going to be an amazing event – bigger than Dallas. The ControlTrends Awards will give special recognition to many of the HVAC industry's finest people and products, and our Master of Ceremonies, Marc Petock, and the ControlTrends Award staff are preparing a memorable and entertaining program.


For more information read the press release.




---


[Click Banner To Learn More]
[Home Page] [The Automator] [About] [Subscribe ] [Contact Us]