---

EMAIL INTERVIEW – Bennet Levine and Ken Sinclair
Bennet Levine - Research & Development Manager, Contemporary Controls

Bennet has over 20 years of industry experience developing a wide variety of controls and communication products for Contemporary Controls. He provides product development leadership, guidance to the engineering team and direction for the expansion of the company's products. At Contemporary Controls, Bennet is currently assisting in the development of many leading-edge networking and control products. He has authored many articles on the use of Ethernet in control systems published for numerous industry trade publications. Bennet holds a BSSE degree from Southern Illinois University.

For over 35 years, Contemporary Controls has been designing and manufacturing the system building blocks used to automate buildings, machines and processes. Contemporary Controls has manufacturing locations in the United States and China, and additional support offices in the United Kingdom and Germany. The US headquarters is located in Downers Grove, Illinois.
---
BAScloudVPN Service

The BAScloudVPN remote monitoring service can provide simple, secure, remote access for System Integrators to check in remotely and see what is happening at a job site.

Sinclair: What is the BAScloudVPN service?
Levine: The BAScloudVPN remote monitoring service from Contemporary Controls provides distributed VPN communications in a simple to install manner.
Sinclair: What can the BAScloudVPN service do and what are the benefits?
Levine: The BAScloudVPN remote monitoring service can provide simple, secure, remote access for System Integrators to check in remotely and see what is happening at a job site. This can save System Integrators time and resources from not having to send technicians to job sites for every customer problem that occurs. The service can be also be used in other ways however, remote access to job sites is the most popular use of the BAScloudVPN service.
BAScloudVPN benefits:
Secure communication tunnels utilizing encryption
No capital investment in resident VPN servers
Free download of OpenVPN Windows PC client software
Support for iOS, Android and Linux OpenVPN clients
Applicable to both permanent and temporary remote access
Flexible man-machine and machine-machine applications
Quick realization of a remote access project
Wired or wireless operation over the Internet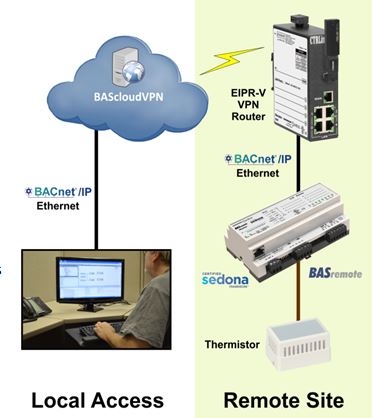 Sinclair: How does the BAScloudVPN work?
Levine: There are three components to the BAScloudVPN service.

The EIPR-V VPN router.
A PC, Android phone, iPhone, iPad, or Android tablet.
The BAScloudVPNServer.
The EIPR-V router is located at the remote job site, which provides a VPN connection for devices to our BAScloudVPN server. The customer's PC, cell phone or tablet PC communicates via a VPN to the BAScloudVPN server, after installing the appropriate client software. The server then connects these devices together. This allows the customer to remotely connect to the job site over the Internet in a secure manner. Our VPN uses an open source technology known as OpenVPN.

Sinclair: What if there is no Internet access at the job site?
Levine: The EIPR-V router installed at the job site can connect to the Internet via a cellular network, using a customer supplied cellular USB modem, or via job site installed Ethernet networks which will provide access to the Internet.

Sinclair: What type of communications is supported by the BAScloudVPN?
Levine: The BAScloudVPN can transmit any communications that can be carried by the Internet. For example, the customer could use the BAScloudVPN to carry NiagaraAX communications. They could run Workbench on their office PC and communicate over the BAScloudVPN to a JACE located at their customer's site. From their office PC, they can view webpages of the job site equipment through the BAScloudVPN. From their office PC they can also view/configure job site BACnet devices through the BAScloudVPN.
Sinclair: Can customers use the BAScloudVPN to interconnect multiple sites over the Internet?
Levine: Yes. They can have an EIPR-V installed at multiple job sites, which will allow them to communicate together via the BAScloudVPN server.
Sinclair: How do customers go about getting the BAScloudVPN service?
Levine: Customers can order our BAScloudVPN service on-line at www.BAScloudVPN.com and the EIPR-V at www.eipr-e.com.

There are several service options available depending on customer needs including our BAScloudVPN-S which is a six-month cloud VPN subscription that includes one router and two client certificates or our BAScloudVPN-C which is a six-month client subscription that includes an additional OpenVPN client certificate.

A necessary component of the service is a compatible VPN router installed at the remote location. A subscription is required for each VPN Router installed on a remote site that requires BAScloudVPN access. New users have to get an account started, which is included in the first six-month subscription at no charge. Each subscription includes one VPN router security certificate plus two OpenVPN client security certificates that can be downloaded from our BAScloudVPN server once an account is established.

Visit our
BAScloudVPN.com
page for more BAScloudVPN remote monitoring service information.
---


[Click Banner To Learn More]
[Home Page] [The Automator] [About] [Subscribe ] [Contact Us]