---
Advocating For A Hands-On Approach to BAS Training

Quality training can be found through several entities. These include manufacturers, contractors, apprenticeship centers, trade schools, community colleges, and online learning services.



Jon Vietti
Owner
DDC Support Services

There's been a lot of talk lately about the emerging workforce crisis in the mechanical, electrical and plumbing (MEP) industries. Employers in the construction trades are desperate to find workers. In many regions of the country, if you have a detectable pulse and can pass a drug test you have a job.

The crisis is real.

But here's the great thing about crisis – Crisis presents opportunity, and opportunity produces solutions.

The very nature of MEP jobs require skill, and skill requires training. To compound this problem an increasing percentage of this work involves some element of "smart" technology, aka Building Automation (BAS), which requires an even greater level of skill and competency.
So, who provides workforce training for BAS?

Quality training can be found through several entities. These include manufacturers, contractors, apprenticeship centers, trade schools, community colleges, and online learning services.
There are pros and cons to each of these entities. (I will tackle that subject in a separate article.)
Within these training entities, there are also various teaching modes that are used. These include lectures, videos, power points, labs, field trips, seminars, webinars, and simulators. Again, there are pros and cons to each of these modes.

Five years ago, I resigned from my position as a lead systems integrator with a large design-build mechanical engineering firm located in the Pacific Northwest. My dream was to start a company that would provide training resources for instructors working in the afore mentioned entities, striving to educate their student using one or more of the afore mentioned modes.
It was my firm conviction (and still is) that the best learning takes place in a mentor-led, hands-on experience environment. I set out producing a line of building automation controls simulator units that were accompanied with a "packaged" curriculum.
Three challenging issues quickly emerged:
1. Who will teach this material?

Along with a shortage of workers, there is a shortage of instructors that have the skills to teach BAS. Student-teacher ratios are too high to expect the instructor to really be a true mentor to each student.

2. Whose BAS controls do I use in the simulator units?

Do I use a single major manufacturer like Honeywell or Johnson Controls, or do I try to have a variety of manufacturers represented?

3. How do I keep the simulators and curriculum from becoming antiquated?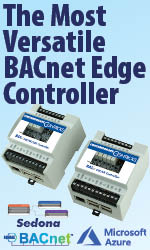 Rapidly emerging technologies have a direct impact on Building Automation. Frequent operating system upgrades and shorter product end-of-life cycles are getting to be the "new normal" in the controls industry.

Have I been able to solve these challenging issues? Not even close. It is very much a work in progress. But here are some of the things I have started to implement that are having a positive impact:

1. Design the curriculum to be more step-by-step, self-led or small group driven (2 to 3 student teams). Utilize more of the manufacturer's support documentation as part of the curriculum. Give instructors more complete curriculum. Offer some "Train the Trainer" BAS controls seminars.

2. Use control components in the simulators that are as "generic" as possible and cover all the bases.
Companies like Lynxspring offer Tridium Niagara JACE/Edge controllers in open-licensed versions, and also offer a broad spectrum of ancillary DDC components. Non-licensed, non-proprietary BACnet communicating, Sedona programmed controllers produced by companies like Contemporary Controls and Easy IO are great candidates for use in BAS simulators.

3. Curriculum and the simulator units should be "modularized" so that when one topic or component needs to be updated it can be done without the need to replace the entire system.
In a previous article by Leo SaLemi titled "Education the Never Ending Story" Leo rightly states, "We need to take an 'Agile' approach to education . . ."

I believe that if BAS educators where to deploy these three approaches, they would go a long way in making their training programs more "agile".


---

About the Author
Jon Vietti is a controls consultant with over 30 years experience in the electrical, HVAC, SCADA, PLC, and industrial process controls industries. He has an FMA credential from BOMI and is Tridium Niagara N4® certified. He is a passionate educator and advocate of hands-on, relevant Building Automation controls training. Jon is the owner of DDC Support Services located near Portland, Oregon.
---

[Click Banner To Learn More]
[Home Page] [The Automator] [About] [Subscribe ] [Contact Us]