---
Across My Desk

snippets, blog bits, tweets, linkedIn posts, and url links that are about to fall off my desktop




Ken Sinclair

Founder, Owner, Publisher AutomatedBuildings.com
Every month there is a blizzard of information contained in the emails and newsletters that cross my desk on their way to AutomatedBuildings.com. Some of this information is not in the form of any type of content we can publish but I feel I should share with you these snippets, blog bits, Tweets, LinkedIn posts, and URL links that are about to fall off my desktop.
On a daily basis I tweet as @Ken_Sinclair https://twitter.com/Ken_Sinclair I actual now have a few moments ;-) https://twitter.com/Ken_Sinclair/moments
I tweet links I think will be of interest and part of our rapid industry evolution.

Also, http://automatedbuildings.com/ maintains this LinkedIn online blog for the magazine, a great place to interact.
I also write a column twice a month for Contractor Mag http://www.contractormag.com/author/Ken-Sinclair
And a column once a month for facilitiesnet Home of Building Operating Management & Facility Maintenance Decisions Magazines

But I still have stuff falling off my desk I feel I should share.
My Top Tweets, posts, podcasts, and video interviews
https://twitter.com/Ken_Sinclair
https://www.linkedin.com/in/ken-sinclair-8246965/detail/recent-activity/posts/
Other Industry Stuff
We are part of this More than 50 free seminars on a range of topics will keep you in-the-know. Conducted by experts representing top industry organizations, these sessions last from one to two hours, so you can learn something new in the classroom and still have plenty of time to spend visiting the exhibits.
Schedule now online please put us on your calendar.

Take full advantage of your time at the 2019 #AHRexpo and expand your expertise with our education sessions! Outlined on our website here http://automatedbuildings.com/frame_education.htm

PNNL develops open-source 'OS' for energy management September 11, 2018 - Pacific Northwest National Laboratory (PNNL), with funding from the U.S. Department of Energy (DoE), has joined the Eclipse Foundation and developed Volttron open-source software to offer a new 'operating system' (OS) for energy management and building control.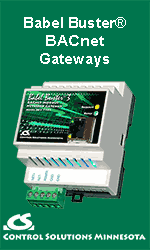 The not-for-profit Eclipse Foundation, a global organization with more than 250 members, will continue to steward Volttron as an open-source platform to help users deploy new controls for energy applications and systems. Research conducted on the PNNL campus showed engineers using the software could consistently reduce peak electricity consumption by 15% without affecting building occupant comfort.

Several organizations around the world, including Canada's SES Consulting, are already using Eclipse Volttron on thousands of devices to manage and save energy. It can run in the cloud or on a single-board computer, such as a Raspberry Pi or Linux-based system.
The Key Ingredients to Designing a Smart Office Building The evolution of the workplace over the past decade has been enormous. We've seen cubicles turn into open-plan work spaces, which have then turned into activity-based work fitouts. Buildings have become more than standalone rectangles — they are now places where people want to immerse themselves and be connected.
Defining DERMS: A Technology Whose Time has Come With the onslaught of distributed energy resources (DERs) into utility networks, the industry is abuzz about the potential of distributed energy resource management systems (DERMS) to effectively manage a more distributed grid. Along with the excitement and vision, however, comes questions about how DERMS fits into the real world of utilities.

Talk Data to Me: Real Estate Analytics and the Voice Search Revolution Alexa, open Real Estate." "OK. What's your price range?" Don't be surprised if this becomes a common conversation held by a potential homebuyer and their smart speaker. The studies all show that voice search is growing exponentially. Google voice search queries were up 35 times from 2008 to 2016, according to Google trends. According to the latest forecast from emarketer.com, the number of smart speaker users in the United States will rise at a compound annual growth rate of 47.9% between 2016 and 2020, jumping from 16.0 million to 76.5 million users. The smart speaker is not going away. In fact, the same emarkerter.com report claims that a tech device hasn't been adopted this quickly since the smartphone. It's no shock— anyone who's been able to have a question answered by Google or Alexa with hands covered in bread dough understands the power of hands-free searches.
Industrial Ethernet University 15-Year Anniversary Industrial Ethernet is a popular and dependable technology, but without a solid understanding of the technology, value time and money can be wasted on configuration and network setup problems. For the past 15 years, the Industrial Ethernet University (IEU) has been teaching proper protocols and applications through self-guided lessons. To celebrate its 15-year anniversary, IEU has been updated with a new look, to better present the educational material.

IEU is a virtual education center that was originally launched in the fall of 2003, providing objective, content-rich learning materials on Ethernet, especially as it relates to installations on machines and in factories. Students can learn both basic and advanced Ethernet topics. All material is based on the IEEE Std. 802.3 and relevant Request for Comments (RFCs). The material is vendor-neutral since the purpose of the virtual university is to educate the public for the benefit of the industry.

AIM is the trusted worldwide industry association for the automatic identification industry. For nearly half a century, AIM has provided unbiased information, educational resources and standards to providers and users of these technologies. AIM membership provides access to an insider's perspective on trends and opportunities along with a voice in shaping the growth and future of the industry. Member benefits include education, advocacy and community, as well as a role in creating industry standards through collaboration AIM members represent a diverse group of industry professionals -- academics, consultants, distributors, independent software vendors (ISV), manufacturers, nonprofits, re-sellers, start ups, system integrators, and end users of automatic identification & data capture (AIDC) technologies.
Training Resource Automatic and DDC Control Fundamentals and Energy Conservation for HVAC Equipment-Part 1
---


[Click Banner To Learn More]
[Home Page] [The Automator] [About] [Subscribe ] [Contact Us]