---



Electronic Signage Networks represent the integration of now available technologies, and at a time when public safety needs are higher than ever before.

Lyle Bunn, Senior Partner
Apogee Partners
Electronic Signage offers a cost-effective way of communicating public safety and alert information while providing new revenue for property managers and retailers. This need and the growing capabilities of electronic signage in areas of image provisioning, connectivity, display triggering are fueling the installations of signage and kiosk networks. Electronic Signage Networks (ESN) integrate display (such as LCD, plasma, etc), input devices, digital storage and communications technologies (such as WiFi) under the control of a software called "Dynamic Image Provisioning Applications" (DIPA) to support public safety, information and commercial goals.












Building Safety Becomes an Insurability and Creditworthiness issue
"An organization's use of public safety information technology should be considered in assessing insurability and creditworthiness of organizations" said the 9/11 Commission Chair, Thomas H. Kean, in releasing the final report of the National Commission on Terrorist Attack upon the United States. "We expect future attacks", he added. (see page 415 of the report).
The 9/11 Commission's recommendation harmonize with the views of the Department of Homeland Security (DHS) which declares "it is committed to using cutting edge technologies and scientific talent in our quest to make America safer". DHS's Science & Technology directorate is tasked with researching and organizing the scientific, engineering and technological resources of the United States and leveraging these existing resources into technological tools to help protect the homeland. Universities, the private sector, and the federal laboratories are defined as important partners in this endeavor.
In the event of a terrorist attack, natural disaster or other large-scale emergency, the Department of Homeland Security assumes primary responsibility for ensuring that emergency response professionals are prepared for any situation. This entails providing a coordinated, comprehensive federal response to any large-scale crisis and mounting a swift and effective recovery effort. The Department also prioritizes the important issue of citizen preparedness. Educating America's families on how best to prepare their homes for a disaster and tips for citizens on how to respond in a crisis will be given special attention at DHS.
Planning and implementing electronic signage is made easier by the fact that all of the required technology elements are now available, reducing integration complexity. Several firms have planned and are now installing systems of various numbers of displays, from a few to thousands of displays. One such firm, In-Store Merchandising Solutions (see www.windowadvantages.com) has experience in planning and implementing systems for use in municipal, retail chain and corporate centers. 2Bros Technologies (see www.2brostechnologies.com) located in Long Beach, CA is able to provide local supply and installation of individual elements or complete signage networks as well. Each of these firms are able to provide exit and safety signage, as well as other "dual use" signage as described later.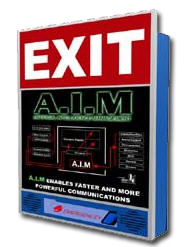 Providers of key elements, such as the control software are able to provide information and contacts useful to network planning. Considerable information is available at www.adsn.ca.
Technology: Breakthroughs in communications, control software as well as monitoring and image triggering devices have been made as display technologies have advanced. ESN offers an important, powerful tool for public safety. Its increasing cost effectiveness, allows for displays in more numerous locations including for example, exit stairways.

WiFi (Wide area Fidelity) has seen a fundamental development with WiFi-Plus multi-polarity antennas. The obstruction penetrating capabilities enable communications in urban, retail and rural environments that has not been possible, and further does so at 3 to 5 times lower cost. This technology is enabling more and larger "hotzones", including citywide areas.
Control software has emerged at a new plateau of functionality as the "Dynamic Image Provisioning Application" (DIPA). The DIPA backoffice system being specified into electronic signage networks can accommodate display screen-splitting, triggered and override messaging, interoperability and file format handling and scalability to several thousand displays. This allows for "dual use" deployment; displays used for both commerce (retail, advertising, branding, pricing, training, etc.) and public safety and information (alerts, direction, etc.). The new capability of DIPA responds to dual-use ESN
Monitoring and Image Triggering: Display devices offer a location to house monitoring equipment providing input to trigger a human decision or automatic message. Cameras, audio, infrared or heat sensors can feed directly into a staffed security or response center in a transit systems, retail locations, secure areas, etc. Using the features in DIPA, threat signals could automatically trigger an image display to provide information or instructions, in the same way that traffic counters and motion detectors could trigger traffic routing, arrival and departure information.
A threat signal could be generated by hazardous materials detection based on spectral analysis, molecular matching, reactive materials, as well as smog, smoke or heat analyzers. Biometric matching or facial image comparisons through a camera view provide an input based on volume of traffic and individual characteristics such as ethnicity, gender and age ranges.
Radio Frequency Identification (RFID) including electronic bar or product coding offers a powerful tool for image triggering in retail environments. By displaying suggested additional purchases based on those already selected, product selection is influence and the retailer can enjoy increased revenue per visit.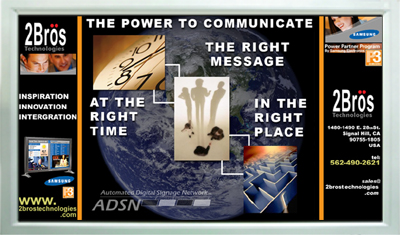 The combination of monitoring devices and DIPA in the signage network can feed captured images into systems for sharing with and among security, law enforcement or emergency response personnel. The systems may eventually not only notify security, but e-mail real-time video images to concerned law-enforcement agencies. Using WiFi, the images could also be picked up in police cars or using handheld devices. Sign-mounted surveillance systems, with remote swivel/zoom DVRs (digital video recorders), could track and record a suspect in real time as he/she moves until apprehended.
Electronic Signage Networks represent the integration of now available technologies, and at a time when public safety needs are higher than ever before. These needs, along with the need for commercial success are ongoing. ESN has value in meeting each of these needs with the same infrastructure. These, in conjunction with the benefits that are realized by all parties involved with ESN, suggest its increasing importance and bright prospects.
For additional information:
Large Building Automation: www.automatedbuildings.com
Dynamic Image Provisioning Application DIPA: www.adsn.ca
Emergency/stairway exits: display www.windowadvantages.com
Signage System planning & installation: www.windowadvantages.com, www.2brostechnologies.com
WiFi-Plus Multipolarity Antenna: www.wifi-plus.com
Biometric matching or facial image comparisons: www.advancedinterfaces.com
SAFECOM, Department of Homeland Security (DHS): www.safecomprogram.gov
9/11 Commission: www.9-11commission.gov

---


[Click Banner To Learn More]
[Home Page] [The Automator] [About] [Subscribe ] [Contact Us]