---
Compuware Builds New Global Headquarters

Uses Vykon® by Tridium® to Enable Smart Building

Phil Bomrad
Tridium

Case Study
Compuware is a billion-dollar company delivering software tools and professional services that increase productivity for approximately 25,000 customers worldwide. Until recently, their headquarter operations were scattered between several buildings in Farmington Hills, MI, which was creating inefficiencies and lost productivity. In 2001, Compuware began construction on a 1.5 million square foot complex downtown Detroit and divested their Farmington Hills facilities.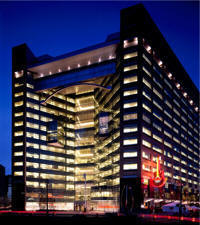 The new 15-story facility has two wings, an extravagant atrium, and parking garage. Limbach Company LLC was chosen as the mechanical design/build contractor for the facility and was tasked with integrating multiple systems and providing a single user interface. Included in the integration were Tridium Jace controllers, American Auto-matrix Unitary controllers, Trane Chiller Plant Unitary controllers, Square D Powerlink lighting panels, Siemens switchgear and fire panels, Powerware UPS and PDU systems, Active Flywheel systems and Kone elevators. Each of these systems used unique communication protocols and each had dedicated front-end user interfaces. Limbach needed to connect to each unique bus, unify data into a common platform, and provide a user interface to manage all underlying systems.
Limbach turned to Cochrane Supply, a large value-added distributor in Michigan, to aid in the engineering and design of the project. In turn, Cochrane implemented Vykon Building® from Tridium® as the enabling technology to meet project requirements. Limbach and Cochrane worked for over a year to install and engineer a unified system and dedicated fiber optic LAN for the facility systems.
The Challenge
Limbach and Cochrane had several challenges. There were four communication protocols that needed to be integrated and utilize IT-friendly protocols such as HTTP or XML. Although building protocols such as BACnet and Modbus can communicate on an Ethernet backbone, they can only do so in their native protocol, creating concerns for IT departments. To utilize the dedicated LAN for the facility systems, Limbach needed to convert unique protocols to universally accepted IT standards.
The contractors were asked to consolidate ten front-end applications into a single user interface to avoid costly software packages, dedicated workstations, and associated maintenance. Furthermore, a thin-client browser user interface was required so each of the four control centers and other personnel within the facility could monitor and control facility assets from any computer.
Finally, Compuware would be leasing two of the floors and part of the adjacent parking garage, and needed a method for tracking utilities and producing invoices for the tenants.
The Solution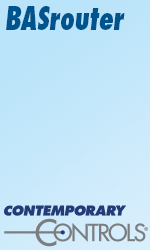 Limbach and Cochrane used Vykon by Tridium to meet their needs. There were over 30 JACE controllers installed to connect to underlying systems and convert building communication protocols to IT protocols. Within each JACE, integration and controls logic was programmed. The communication between JACE controllers utilized very efficient and secure IT standards.
The Compuware building has four controls centers that are manned 24/7, each requiring access to the diverse systems in the facility. Because multiple instances for ten dedicated packages would be such as maintenance problem, Cochrane implemented Vykon to create a unified front-end that utilized graphics and navigation from unique systems where appropriate, while adding sophisticated scheduling and alarming capabilities on top. This flexible and fully customizable GUI allowed Compuware to bypass dedicated front ends applications and associated workstations. Because Vykon is a browser-based user interface, the four control centers had real-time access to monitor and control facility assets, as did others with a network connection and access rights. Response time is considerably better than is typically seen in large commercial facilities.
Finally, Compuware will utilize the Vykon Tenant Billing application to allocate utility costs and generate invoices for tenants. This browser-based application will take meter reads via a JACE controller, and assign predetermined rates for individual commodities.
The Benefits
Compuware realize operational efficiencies with reduced energy, labor, software, and billing costs. In addition, they were able to choose best of breed mechanical and electrical systems, including lighting, HVAC, fire, and elevators, without the worry of integrating protocols or user interfaces.
---


[Click Banner To Learn More]
[Home Page] [The Automator] [About] [Subscribe ] [Contact Us]