---

Today's demand response products are more finely honed instruments that give decision makers the tools to design and implement a proactive energy strategy that helps manage risk every hour of the day.

Peter Kelly-Detwiler,
Senior Director of Energy Technology Services, Constellation NewEnergy
In today's competitive business environment, innovations in energy management are providing attractive business and financial options to CEOs and CFOs alike. Demand response is no exception and the fundamentals are changing rapidly. Constellation NewEnergy, an experienced energy advisor managing almost 500 megawatts of load response for customers across North America is driving innovations in demand response that have the potential to significantly alter the energy landscape. By integrating energy supply-side intelligence to a building's system operations, there is significant potential to drive energy efficiency and cost savings. Systems integrators, already responsible for introducing or managing the interconnectivity of a myriad of systems in a single or multi-site facility, are well positioned to leverage this paradigm shift.











Looking out across the landscape reveals a diverse commercial, industrial, retail and residential infrastructure with varying energy needs. A closer examination of the actual buildings reveals fully integrated systems that make these structures hum with coordinated activity. This ability to bridge and consolidate information from a myriad of operating systems on one open IT platform has revolutionized building management and operations. It is also providing the means to introduce efficiency and conservation efforts into the equation, such as automated lighting, internet access, phone systems or heating and ventilation control. Systems integration within a facility historically has been focused on the coordination of various individual components; today overall energy supply and demand is becoming the new driver for industry working in the interconnectivity space. Successful unification of inside building demand with energy supply represents an important shift for commercial energy users.
Demand response is integral to these efforts, whether for a single skyscraper or a multi-site retail chain expected to move in concert as one – for instance all stores opening at 7 a.m. and closing at 11 p.m. Demand response introduces a comprehensive and proactive energy management paradigm. It brings the supply side of the equation into focus and provides the intelligence that finance and procurement executives need to make informed decisions. Proactively managing energy needs and investments in a volatile energy market requires this kind of intelligence.
Traditionally, demand response has been primarily used in reaction to an independent system operator (ISO) initiated curtailment event. As is often the case with the initial introduction of a new technology - consider the first mobile phones which traveled in a satchel or the early computers which took up an entire room at MIT – initial demand response technologies relied on firing up the on-site generators, a fairly blunt instrument. Today's demand response products are more finely honed instruments that give decision makers the tools to design and implement a proactive energy strategy that helps manage risk every hour of the day.
Constellation NewEnergy is collaborating with systems integrators, manufacturers and others in the IT industry to identify and utilize open platforms for effectively delivering real-time and day-ahead energy pricing information directly to decision makers. This real-time data will allow managers to leverage existing systems and tailor purchasing strategies as never before.
The old paradigm of multiple systems in a facility not talking to one another due to proprietary practices or closed systems is falling by the wayside. Open systems are proving to be the most successful foundation for integrating the wide variety of control processes and infrastructure required to manage and orchestrate a successful operation. Even so, most of today's buildings are not realizing their full energy savings potential. Helping a business reduce costs by automating functions across a facility or across a multi-site operation is good business for the vendor and the customer. Bringing demand response into the equation is a means for systems integrators seeking to increase their business to further leverage this automation and bring more to the table for each customer. This in turn is a means for building more vertical capacity rather than continually seeking new markets to expand into horizontally.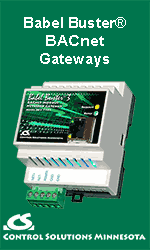 Looking to the future, buildings of all sizes will be flexing and pulsing in response to energy prices and elasticity in the marketplace. Proactively reducing and redirecting load throughout and amongst numerous facilities is the smartest and most efficient way to create the virtual peaking plants of the future. Imagine a big box retailer shifting load amongst 30 of its box stores based on inputs such as day-ahead pricing, customer patterns and weather. From there, it is a short distance to a future in which the ebb and flow of electricity will not solely be from the grid but rather amongst the individual and collective enterprises which comprise the energy landscape.
Constellation NewEnergy is increasing its efforts to work with systems integrators and merchants to introduce demand response onto existing open IT platforms. This shift to a new energy paradigm will position both systems integrators and their customers to fully participate in the emerging energy marketplace of the 21st century. The ultimate winners will be those companies that take advantage of and maximize the opportunities that are emerging as a result of innovation in the competitive energy marketplace.
---
About the Author
Peter Kelly-Detwiler is Senior Director of Energy Technology Services for Constellation NewEnergy, Inc., a subsidiary of Constellation Energy Group (NYSE:CEG). Mr. Kelly-Detwiler and his company-wide team oversee the integration of energy efficiency and load management technologies which help customers better manage their total energy bills and create optimal energy solutions. Mr. Kelly-Detwiler has been a valuable asset to NewEnergy since 1997, with nearly twenty years of experience in the energy industry. His accomplishments include managing the development of energy efficiency projects and reviewing economic impact of energy products.
---

[Click Banner To Learn More]
[Home Page] [The Automator] [About] [Subscribe ] [Contact Us]